Nicholas Scheller is a senior Computer Information Systems major. He is president of USI's chapter of the Association for Information Systems (AIS) student organization.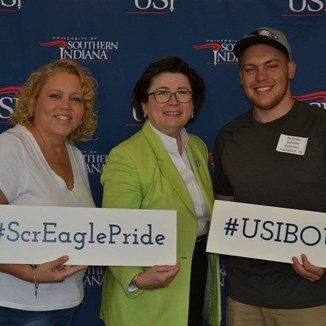 What makes USI and the Romain College of Business special to you?
USI is a very special place to me because I have been coming here when I was still in grade school. My dad, Dr. Kent Scheller, has been teaching here for many years and he would always bring me to his classes when I had a day off school or was on break. I remember campus when the Cone, Rice Library, and the Business and Engineering Building were just lots of grass. It makes me feel appreciative towards USI when I see the campus flourish and grow.
What has surprised you about college?
What surprised me the most about college is that I never thought I would get along with so many professors so quickly. USI is very personal, and they want their students to succeed to the highest degree. I feel like high school teachers give students a false perspective on how hard college work and professors will be; when in all honesty, they treat you like an adult and help you in every way possible.
What do you wish you had known as an incoming freshman?
I spent my freshman year at Purdue University. My ideology was if I was going to college to study about computers, I might as well go to the best place in Indiana to study computers. The only thing wrong with that is the size of the classroom and campus. There is no personal connection between professor and student in a forum with 200+ students in it. I wish I would have known that before I went to college. I would have spent my four years at USI if I had known that.
What attributes make a student successful in college?
To keep it simple: be open. College is where you can open up to everyone you see and they will (hopefully) help you out. It is hard if you go through a class without talking to the person next to you, and it's not fun if you stay on schedule and don't join a club, or Greek life, or intramural sport. Most of my high school class came to USI, but I talk more to people I met in class or clubs than friends I grew up with.
As your student organization's president, what are some things you hope to achieve?
Being president isn't just about putting something on my resume. I want to make the Association for Information Systems one of the largest organization at USI. The one thing that students and faculty don't understand about AIS is that it's not just for CIS or CS majors. AIS is for all majors because technology is going to be in every career in the future, and we want to help students on what to expect and how to be safe for whatever comes to reality.
What made you decide to pursue being an officer of your organization?
As just a member last year, I saw how well our officers loved the organizations and wanted to make it grow. That is what I want to do! I took the president position to carry on the legacy of the previous officers. AIS is still in its infant phase, but I want it to grow so it can walk on its own someday.
Who is your mentor?
I would say I have two very distinct mentors and they would be my dad, Dr. Kent Scheller, and my high school computer teacher, Mr. Spradley. My dad has taught me countless things that would help me academically and throughout life. He is always there for me and others, even when they don't ask for help - a trait I picked up too. Mr. Spradley always thinks of his students as his own children and would do anything for them. He was the first person who believed I could have a real career in the field of computing. He even offered me a job for our school corporation to work on Chromebooks when I was only a sophomore.
How do you stay focused when the demands of school, work, etc. seem overwhelming?
I just do things one step at a time, even if it means I must stay in the library till midnight to get things done. There are definitely days that are better than others, but I feel like that's a big part of the "college experience." What you do to study, work, or participate in any other activity all depends on how you manage your time, which is a big attribute employers look for. I'd rather study till midnight and get an A or B, than study for two hours to get a C. All of this works if you plan your day, or week, and take one thing at a time.
Tell us more about your student organization and why USI students should get involved with it!
The executive committee decided that this year, we will take a different approach to the whole idea of technology. We aren't looking for only CIS of CS majors, we are looking for every major on campus! We are using the phrase "professional development" this year because technology will help develop and grow your future profession in more ways than you can think of. Association for Information Systems wants to be your guide into your future career plans.
Where do you see yourself in ten years?
I'd like to have a better understanding of cybersecurity once I get into the real world. As to where I will be is a different question. By 2021, there are going to be over 2.5 million unfilled jobs in the cybersecurity field in the US alone. I would like to be somewhere close to home in southern Indiana or in the Midwest, but I may somehow end up on the West Coast someday. In 10 years, where ever I am, I hope that I am respected and admired in my field; and maybe one day, I could collaborate in a college textbook that is used here at USI.
Published October 3, 2018.