Mr. David Abbott, president of Heston Insurance Agency, is a member of Romain College's Board of Advisors, composed of senior business leaders who are acquainted with the needs of the community and of commerce and have a strong interest in establishing and maintaining direct and effective communication between the business world and the business classroom. He has been active with several community organizations, and currently serves as president of the Vanderburgh County Redevelopment Commission Board.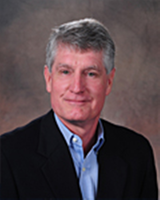 What is your connection to USI, and what makes USI and the Romain College of Business special to you?
I took one USI summer course while an undergraduate of Indiana University, Bloomington campus. That's the extent of my being a student at the university. I have been involved to some degree with the insurance program of the school in the past. More recently, I've been serving on the advisory committee. When I wrap it all up, to me it's just a great asset in the community. And, if I can be of help to make it a continued asset, I just want to be involved. 
From your prospective, what is unique about the Romain College of Business?
The college has a public university presence, but has a private university feel, where there seems to be a culture of relationship between faculty, staff, and student that you typically see in a public setting. I think that gives the school a uniqueness. I also really appreciate both of the deans I have worked with, I think they are high-quality leaders whom I've gotten to know. Those are two aspects that have stood out to me.
Tell us about some of the highlights as you've advanced in your career path.
The insurance industry, particularly what I do, is very dynamic, and we continue to be a locally owned and operated entity that has expanded with two offices in town. We are glad we have been able to do that, while a lot of our competitors no longer exist, or may have sold out to other firms. We appreciate our independence and local flavor. But at the same time, we are also affiliated with an organization with the acronym of ISU, no connection to Indiana State University. There are a couple hundred agencies around the country that are members, and you have to meet certain criterion to be in the group. Simply stated, it really gives us a position in the industry where are our combined efforts allow us to be treated as though we are a large national brokerage firm, yet we are locally owned and operated, and operating as we wish. That is a great benefit to us.
What attributes make a person successful in your industry?
I'd say hard work, persistency, and operate with the highest integrity.
What is one thing you wish you knew when you were in college?
I wish I would have taken my studies more serious. I took them seriously, but as time goes on, I really appreciate the fun of learning. Early in my educational process, it was more that I had to get through this to do something else. I wish I would have looked more at the enjoyment of learning, more than the duty of it.
What advice would you give a recent college graduate?
Those of us who are a little farther along in the process have good ideas, too, so I would encourage the students to really connect with all those who they might work with in their profession and in their job sites, and try to glean the best of the attitudes and the best of the ideas. Don't diminish what prior generations have done. Accept and appreciate diversity in the worksite; grab the good ideas and run with them. I tell my young son that if you show up and work hard every day, you're going to differentiate yourself.
How would you finish this sentence: If I were back in college, I wish I would have gotten a better understanding of________________.
My own strengths and weaknesses, and where that would have led to the next course of studies. I didn't go on to graduate school. I've always wondered if I shortchanged education too quickly.
What are some challenges you see your industry facing in the short-term and in the long-term?
My industry is really struggling to attract young talent. It's not generally an industry that's top of mind coming out of education. It tends to be something people migrate into after a position or two, and give it a try to see if it fits or not. It's a real issue in the present and going forward.
Who do you think are the most important/influential people in your industry today?
It used to be that presidents and the leaders of large insurance companies set the tone in the industry. Now the larger agent brokers are setting the tone and direction of the industry.
What's the most effective daily habit you possess?
Consistency. I'm a pretty consistent person. If I say I'm going to do something, I do it.
What factors do you consider most often when planning for the future?
I try to be attuned and very mindful whether I am using what gifts and abilities I have for the best purposes. If I'm not, why? Why am I not using them properly? What impediment am I, or others, creating that are not allowing me to do that?
What are you passionate about?
My family, my faith, and my commitment to work.
What topic could you spend hours talking about?
The Civil War. That's what I'm really into right now. I could go into a dialogue with anyone about some aspects of the Civil War.
What is one goal you still want to accomplish?
I have seven wonderful grandchildren, and I really want to see how they all turn out. I hope to see them get through school and see how they do as young adults. The youngest one is 4 years old, so I need a little time to see that happen. 
Published October 31, 2018