Mr. Scott Franzel is the senior vice president of technology at OFS, a leading manufacturer in the commercial furniture industry.  OFS is the company behind the national furniture brands of OFS and Carolina. OFS also owns Bryan Ashley, which supplies furniture for the hospitality industry, and a shipping and logistics subsidiary, Styline Logistics.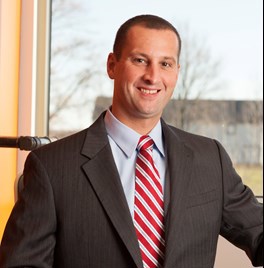 Reporting directly to the CEO, Scott is a member of the senior management team. He is also responsible for all technology operations, governance, strategic planning, and execution. Scott is a graduate of the Indiana University Kelley School of Business, where he holds a Bachelors of Science Degree in Business. Scott also holds a Project Management Professional (PMP) certification from the Project Management Institute.
Scott currently serves as a member of the Vincennes University (VU) IT Academic Advisory Board and Romain College's IT Alliance, an advisory group made up of senior information technology executives who advise the computer information systems and computer science faculty and students. Scott is also a board member for Mentors for Youth of Dubois County.
What is your connection to USI, and what makes USI and the Romain College of Business special to you?
I am a member of the USI IT Alliance. USI and its College of Business are special in the sense that many of its graduates will contribute to the long-term success of businesses in southern Indiana.
From your prospective, what is unique about the Romain College of Business?
Two things that really stand out to me are the passion and commitment of the faculty and the real life experiences students obtain through course work.
Tell us about some of the highlights as you've advanced in your career path.
I have had the opportunity to work with numerous companies across several industries throughout my career. These experiences have given me the opportunity to work with many technologies such as ERP, analytics, telephony, infrastructure, etc. I have also been part of major system deployments internationally. Gaining knowledge from experiences and mentors has been really important throughout my career.
How do most people enter the IT field, and what attributes make a person successful in the IT field?
Many graduates enter the IT field in some type of technical role such as a developer or support analyst. Developing strong business acumen and personal skills which compliment your IT competencies will go a long way towards career growth.
What is one thing you wish you knew when you were in college?
I wish I would have known to take more time speaking with my professors about their experiences in the corporate world.
What advice would you give a recent college graduate?
Take time to explore your opportunities. Understand your life goals and begin to plan your working career around those goals.
How would you finish this sentence: If I were back in college, I wish I would have taken more classes in________________.
Anything outside my comfort zone. Learning how to deal with uncomfortable situations will go a long way towards your professional and personal development. 
What are some challenges you see the IT field facing in the short-term and in the long-term?
Security seems to be the top priority and I do not see that changing anytime soon.  Keeping up with the pace of change and understanding emerging technologies will also be a challenge.
Who do you think are the most important/influential people in the IT industry today?
I believe consumers have the most influence over technology today. Constant demands drive innovation and accelerate new technologies at a pace we have not seen before.   
What factors do you consider most often when planning for the future?
When planning for the future, I always consider the barriers that may exist which prevent you from reaching your goals. Identifying goals is important, but having a plan to proactively remove barriers becomes advantageous.
What are you passionate about?
I enjoy getting involved. Speaking at conferences to share information, volunteer work, coaching youth athletics are all things I do, which I really enjoy.
Who inspires you?
My children - their never-ending energy and nonstop learning are a great inspiration.
If you could travel to anywhere in the world, where would you choose?
I would love to play a round of golf at St. Andrews.
Published October 22, 2018