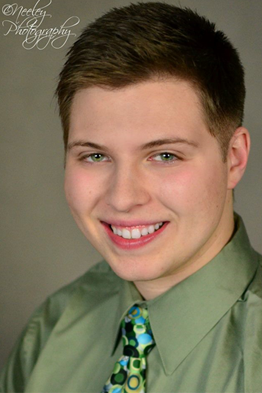 Senior Jesse Reising is double majoring in accounting and computer information systems, and is the president of USI's chapter of Beta Alpha Psi.
What makes USI and the Romain College of Business special to you?
The RCOB is a second home for me. I couldn't ask for a more welcoming and helpful staff. This place has given me so many opportunities, and I plan to stay involved as much as I can upon graduation.
What has surprised you about college?
The opportunities. Before I started college, I always saw it as a place where you just hit the books for hours on end. While that is partly true, I didn't realize how much more there was. I never pictured myself competing in case studies, traveling to different cities for conferences, and being so involved with the community.
How do you stay focused when the demands of school, work, etc. seem overwhelming?
That is a great question. I'll let ya know when I've figure that out.
What attributes make a student successful in college?
Motivation, organization, optimism, and follow through.
Who is your mentor?
While it's not written down anywhere, I'd say Dr. Brian McGuire (interim dean and professor of accounting). Any time I have a question regarding my educational or professional future, he is generally my go-to guy. He has also provided me with many opportunities throughout my college career, which has helped me become more involved with the RCOB and the business community within the tri-state area.
As your student organization's president, what are some things you hope to achieve?
My goal as president is to graduate and leave Beta Alpha Psi in a better state than ever before. To do this, my goals were to increase membership as much as possible, create more opportunities within Beta Alpha Psi, and bring the current members of Beta Alpha Psi closer together.
What made you decide to pursue being an officer of your organization?
In my first year of college I realized that by the time I graduate, I am going to be competing with all my classmates for the best jobs. I am not a 4.0 student, but I knew a lot of people who were, so I had to find my competitive advantage. I figured being the president of USI's Beta Alpha Psi chapter, an international honor society for accounting, finance and information systems, would give me the biggest edge over my competition.
Tell us more about your student organization and why USI students should get involved with it!
Founded in 1919, Beta Alpha Psi is an honor organization for financial information students and professionals. There are over 300 chapters on college and university campuses with over 300,000 members initiated since Beta Alpha Psi's formation.
Beta Alpha Psi is recognized and respected by the business community as a premier collegiate organization. The reputation of Beta Alpha Psi can open doors to outstanding career opportunities in the fields of finance, accounting and information systems. Potential employers know that when they see Beta Alpha Psi on a resume, they are getting the best!
In the 2017-2018 school year, 90% of seniors in USI's Beta Alpha Psi chapter already had full time jobs lined out for when they graduated. If you want a competitive advantage, Beta Alpha Psi can give that to you.
Where do you see yourself in ten years?
Professionally, I plan to have my CPA, CMA, MBA, and to be working full time at a company here in Evansville. Personally, I see myself married with kids and ultimately to be a great dad!
Published November 16, 2018