What do power, evil, and religion have to do with economics? Dr. Perry Burnett, associate professor of economics, teaches his Econ 306 students to better understand power and its abuses, how evil can happen, and how religion attempts to solve the problem of evil—all by using economic theories.
Burnett was inspired to offer this class as a way to re-engage some of discipline's roots in the social sciences and to provide a class that is more attractive to those who may only think of economics in terms of business, such as the stock market. "People have a false understanding of what economics is and a misunderstanding of what the discipline does. It's much broader than they think," said Burnett. "Economics is not only the foundation of all business, but it is a social science and study of human nature. We can better understand human behavior through decisions and exchanges. To succeed, you have to understand exchanges."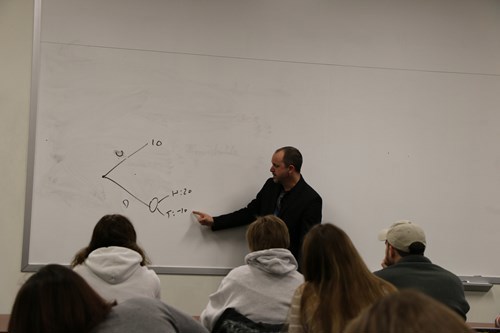 Burnett's class examines why evil exists from an economic perspective. He helps students craft a definition of evil, and uses examples of different behaviors to explain not why evil behavior happens, but how. The evildoer's primary intent is to make the other party worse off while making themselves better off, comparable to an economic exchange. His class also looks at why selfishness exists and economic theories of selfishness.
Acts of evil require some type of power, so the class examines the different types and structures, its abuses and where it enters into the decision-making process. "Understanding how power works means you are more informed and therefore better prepared for handling situations that may be potentially damaging to you, whether in a business or social environment," said Burnett.
Finally, the class looks at how humanity addresses all this through religion, and how it attempts to solve the problems of evil and selfishness.
Burnett keeps with economics theories and terms by comparing future-oriented behaviors to discount rates and modeling evil as a market failure due to imperfect information. This class isn't all dark and gloom, and acts of love and heroism are also analyzed. However from the unique framework of economics, these are considered irrational behaviors because they make others better off at the expense of one's own self.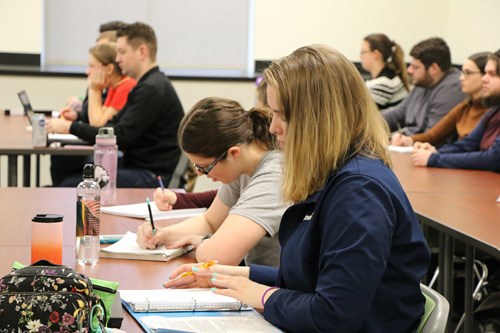 Students participate in numerous activities and economic games with classmates, all designed so they experience someone engaging in acts of selfishness against them, including the chance to take another student's bonus points.
The practical skills that come out of this class are analyzing the types and structures of power in a situation, as well as its possible abuse and how to counter it; learning to ask better questions, which are the verbalization of critical thinking that not only provoke others to think but lead to questions that can be answered and, therefore, solutions; and learning how to engage in more frequent and beneficial exchanges with others, both personally and professionally.
Trade can be not only goods, like corn and rice, but psychological and emotional exchanges. Economics can solve problems, pushing people out of evil and into good. "We have become less violent as a society because we are realizing we are far better off engaging in extended trade than violence. Trade is more beneficial," Burnett said. Students have confided to him that the concepts have helped them make sense of events in their own lives, and understand how certain things could happen to them - things some of them have carried with them for years. "Taking this course has been life changing for me, and I believe it has added another dimension to my education and self," one student commented. "I would absolutely recommend this course to anyone because it is one of my favorite classes I have taken at USI. Dr. Burnett is very inspiring."