Name badge photo submission guidelines
Current color photo of yourself
Solid background – no other people or objects in photo
Front view of face
Photo should be cropped from top of head to collarbone (we can crop the photo if needed)
No hats or sunglasses
No "selfies" or "glamour shots"
Eyes open and no glare on eyeglasses
See below for example: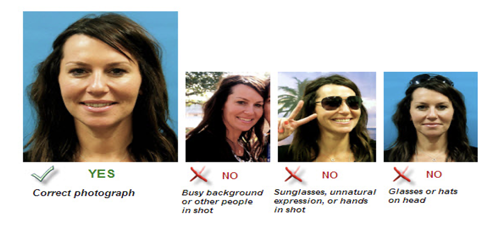 USI Dress Code Policy as it applies to the name badge photo:
Each student must wear a name tag that identifies that individual as a University of Southern Indiana graduate nursing student and follows the professional attire guidelines below.
Professional appearance is required for all clinical experiences.
Make up should be lightly applied.
Pierced body ornamentation is limited to two earrings per ear. The earrings need to be a small post, approximately the size of a typed letter "O." No jewelry or body adornments outside of the ear are permitted including tongue studs, eyebrow, and/or nose rings. Ornamentation that stretches or gauges the earlobe is not permitted.
All tattoos must be covered unless they are on the arm below the elbow and are no larger than the USI ID badge. If an agency policy has more restrictions regarding tattoos/dress code, that agency's policy will be followed.
In addition to USI's dress code, students must comply with the clinical agency's dress code if more stringent.