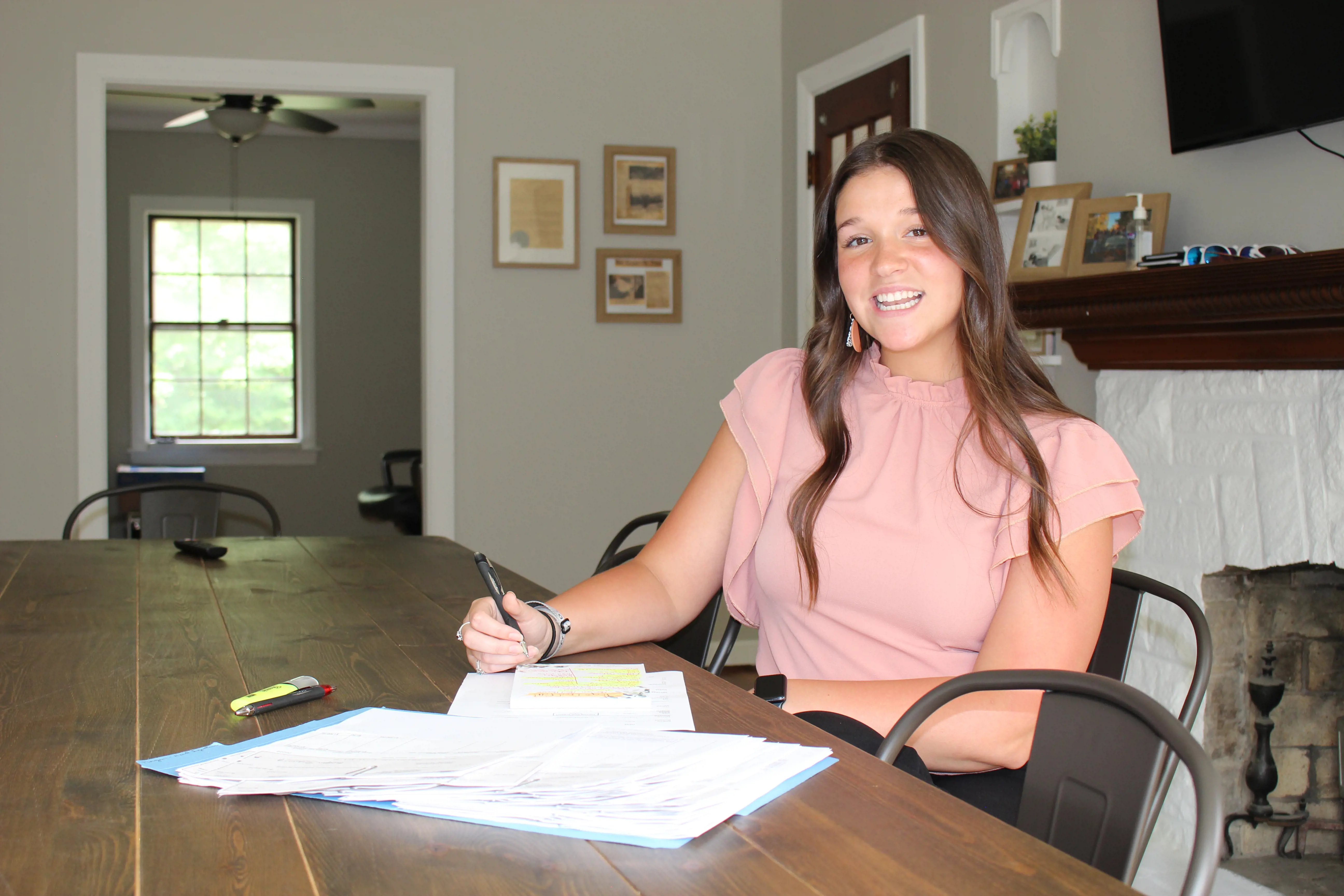 Pictured above: Cloe Hinkle, Financial Office Manager at Bethel Manor, USI B.S. Health Administration, Gerontology minor, Activity Professionals Certificate `23
Start your Career in Long-Term Care in...
The Activity Professionals Certificate program! In this program, students will gain the knowledge and understanding of the health care activity director, their purpose and function, including regulation and processes applicable to public and private sectors. Students will apply resident assessment and care plan development skills to evaluate short and long-term goals and to monitor participation.
In conjunction with any field of study at USI, a student can obtain this certification through successful completion of the 10 credits described below.The Activity Profession is a career path in and of itself. In addition, this career path is a launching point for professions such as health facility administrators (HFA) and other health care leadership roles.
The Activity Professional Certificate is a nationally and state-recognized certification for Activity Professionals or Activity Directors.
---
Course Work
---
This program enables USI students to acquire a certification by successfully completing four classes. Those 10 credits can be counted toward completion of the 120 required credits to confer a bachelor's degree, or non-degree seeking students are also eligible to earn this certificate.

As per the IDOH regulations, 90 hours of instruction are required for the Activity Professionals certification, and this is accomplished through four courses.
GERO 215 - 3 credit hours
Intro to Global Aging & Healthcare
Offered fall, spring, summer
GERO 316 - 3 credit hours
Age Related Health Changes
Offered fall
GERO 425 - 3 credit hours
Health Facilities Administration
Offered spring
GERO 427 - 1 credit hour
Activity Professionals Certificate
Offered fall
Current USI Degree-Seeking Students (you have already declared a major at USI or are undecided)

Complete the Change of Academic Program Form, available in the Health Services Department (third floor of Health Professions Center) or from the Registrar.
On the form

Enter NH-Cert in the Degree Change section.
Enter the code ACPR for the Activity Professionals Certificate in the "Add Major" section.
Submit the form to the Health Services Department.

Non-degree Seeking Students (you are not enrolled at USI)

Apply to the University - USI.edu/admissions
Once admitted, complete the the Change of Academic Program Form, available in the Health Services Department (third floor of Health Professions Center) or from the Registrar.
On the form, enter ACPR in the "Add Major" section.
Submit the form to the Health Services Department.
Once you have declared the certificate with a change of major form and you are in progress to complete the courses for the certificate, you will apply to graduate using the online form for both your bachelor degree and certificate.
How to apply for both your bachelor and certificate together:
     Go to myUSI
     Click on student records – apply to graduate. 
     *Application for graduation is available through myUSI the semester prior to your planned graduation. Please see the How to Apply to Graduate page for more information.
Do I have to wait until graduation to receive my certificate?
     NO! If you plan to complete your certificate prior to your final semester, then you can apply to receive the certificate once you've enrolled in the last certificate course.
     Please reach out to the program chair, Dr. Erin Reynolds (ereynolds@usi.edu) to complete the online form. 
You will receive your certificate from the USI Registrar's Office. 
Advising is available to any student interested in the certificate. Potential students are welcome to reach out to any Health Services Faculty to discuss adding the certificate.
Follow this link to learn more about tuition and fees at USI.
Current USI degree-seeking students are eligible for Financial Aid* as well as all the support services offered at the university.
Non-degree seeking students are not eligible for Financial Aid, but may request enrollment verification if needed for employer-provided educational assistance or private bank loans.
*Financial Aid eligibility is particular to each student's circumstances and should be individually confirmed with the USI Financial Aid Office
---
What Can I Do With This Certificate?
---
As an Activity Director in long-term care, you will plan and oversee recreational events and programs for a community of older adults. You will create and lead activities like arts and crafts, music, dance, and sports to meet their social and emotional needs and promote active, healthy lifestyles.
---
The Activity Professionals Certificate Program aligns with the University of Southern Indiana (USI) mission/strategic plan and USI's federally funded Geriatric Workforce Enhancement Program (GWEP) initiative by increasing the educational programs to prepare students for a career working with older adults. The certification increases knowledge and marketability while supporting the workforce needs in the state of Indiana.
This program is in full alignment with the Activity Professionals certification requirements of the Indiana Department of Health (IDOH). The state of Indiana requires each skilled nursing facility (SNF) and licensed residential care facility (RCF) or assisted living facility (ALF) to employ a certified Activity Professional, as cited in the Indiana Administrative Code sections 410 IAC 16.2-3.1-33 and 410 IAC 16.2-5-7.1.
---
This project is supported by the Health Resources and Services Administration (HRSA) of the U.S. Department of Health and Human Services (HHS) as part of an award totaling $3,691,706 million with zero percentage financed with nongovernmental sources. The contents are those of the author(s) and do not necessarily represent the official views of, nor an endorsement, by HRSA, HHS or the U.S. Government.