THE USI INFORMATION TECHNOLOGY DEPARTMENT RECOMMENDS USING MICROSOFT OUTLOOK FOR EMAIL, HOWEVER, WE RECOGNIZE THAT SOME USERS PREFER TO USE OTHER CLIENTS, SUCH AS MOZILLA THUNDERBIRD.  WHILE WE WILL TRY TO HELP WITH THESE CLIENTS, OUR SCOPE OF SUPPORT MAY BE LIMITED. 
SOME FEATURES SUCH AS CALENDAR AND ADDRESS BOOK MAY NOT BE INTEGRATED WITH THE USI SYSTEM.
Thunderbird added support for Modern Authentication (OAuth2) in Thunderbird 78.  You can download this from http://ftp.mozilla.org/pub/thunderbird/releases/78.0/
It's still a bit tricky to set up now, but I hope this documentation will help.
1. When Thunderbird prompts you to set up your account, fill in your information similar to below, then click "Configure Manually" at the bottom of the screen.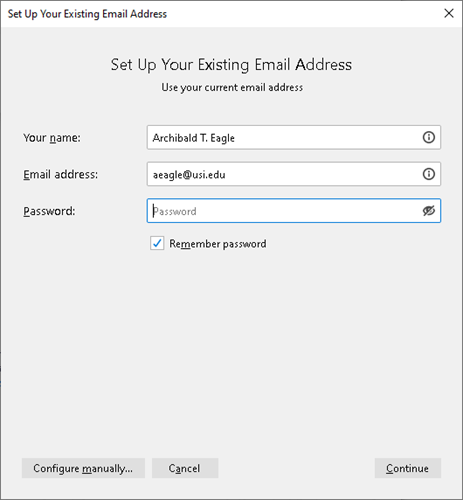 2. When the next screen is shown, fill in the values as shown, then click "Re-test".  There is no need to enter your password in this window, you will do that later.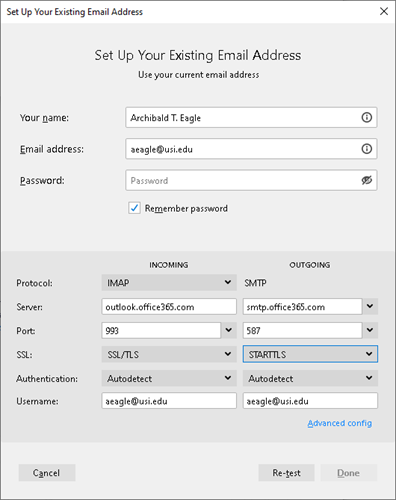 3. After clicking "Re-test", you will be presented with a screen that looks almost identical.  On this screen, change "Authentication" for both IMAP and SMTP to "OAuth2", then click "Done".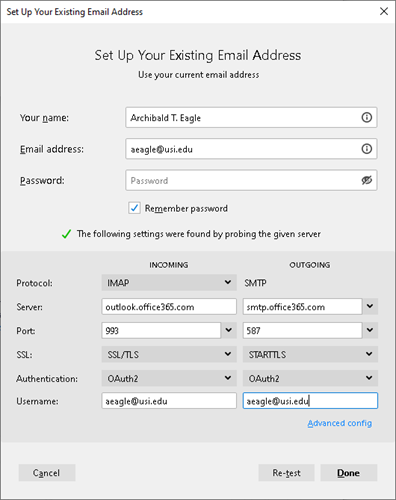 4. After clicking "Done" you will be presented with a normal Office 365 login prompt.  Login as normal.  After you complete the login, it should return you to Thunderbird and you should be all set up.