Note: You must open a ticket by emailing it@usi.edu or calling 812-465-1080 before using Jabber.
Cisco Jabber
Installing Jabber:
From a mobile device, go to either the Google Play Store (Android devices) or the Apple App Store (iDevices) and search for Cisco Jabber. Follow your device's prompts to install the app.
From a desktop or laptop, please visit this link on the Cisco Webex site: https://www.webex.com/downloads/jabber.html
Using Jabber:
In order to receive or to place calls, you must be logged into Cisco Jabber. Login to Jabber using your myUSI username and password.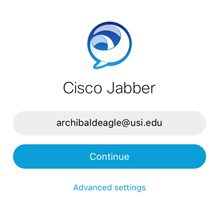 To answer a call, press the green button. 
Press the red button to decline a call and have it go to your Voicemail.
To end any call you place, press the red button.
Once logged in, the Tool bar appears on the bottom of the app.

Contacts: Use the search bar at the top to either search a name or to type in the number you wish to dial.
When searching by name, if you see a green dial icon, you can tap/click that icon to dial.
You can also type in the number you wish to dial into the search bar.  This can be a USI extension if you are calling someone in-house, or if dialing an outside line, remember to place an "8" or an "8+1" in front of the number. Jabber works as if you are sitting at your office telephone.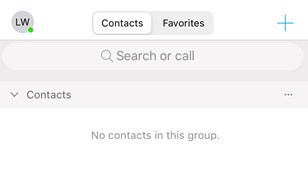 Calls:
Use this to access the keypad and see your Recent and Missed calls.
Here you will see a list of all of your recent and missed calls.  
At the top you can also click the Keypad button to display the dialpad. Here you may dial Jabber just as you would your office telephone.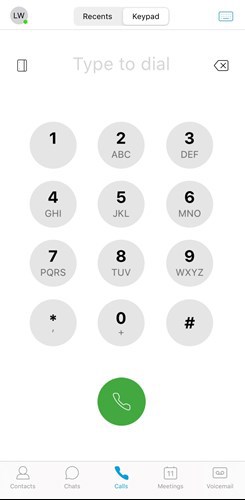 While in a call you will notice an ellipsis (...) icon at the bottom of the app. These are the Jabber Call Options. Simply tap/click the Options icon and you can:
Place a caller on hold
Transfer a call
Conference in another call
Park a call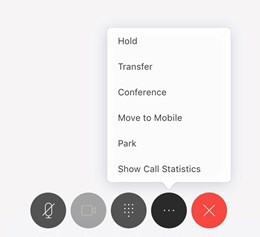 Voicemail:
This icon will display a Visual Voicemail list of all of your messages. You can tap/click a message to listen to it, or swipe/right-click to delete a message.
If you have any questions, please submit a Ticket to the IT Helpdesk.