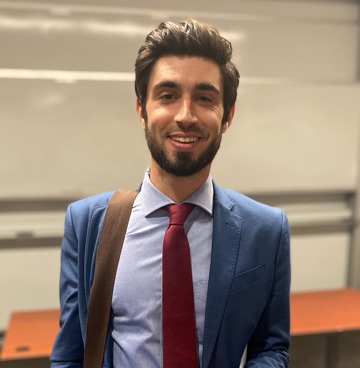 When Ross Mayfield was a college student, he never missed out on the chance to learn from guest speakers and presentations. He credits some of those lessons as even being "more useful" than a lot of the other things he learned while in college.
It's why he relishes the opportunity to help college students who are in the same exact shoes he was not that long ago.
Mayfield, an investment strategist at Baird Private Wealth Management, presented "Market Outlook and Building Wealth as a Student" in the Romain College of Business at the University of Southern Indiana on Tuesday afternoon in front of a full house of students, faculty and administrators.
"Stuff like this is what was valuable to me when I was in college," Mayfield said. "I hope that people can take away value from someone who's younger and has gone through it. I love being able to connect with people."
In Mayfield's line of work, he typically deals with clients who are either nearing retirement age or are already retired. But there was one message he wanted to get across at his presentation: "Time is your biggest asset."
It's one of the reasons he's focused on sharing this information with college students. From knowing not to stress out during ups-and-downs of the stock market to planning out where and what to put your money in, Mayfield covered a variety of topics with USI students. He wants to see young people be prepared well in advance of retirement.
"For students, whether they're college age or older, I would say invest regularly," Mayfield said. "Automate it, don't look at it, don't touch it. Compound interest is an amazing asset."
While he says there are many different threads when it comes to finance, if there's one lesson he hopes students take away from this presentation, it's that they need to take advantage of time as best as they can. Whether it's starting at 20 or 25, it's much better to be ahead of the game than behind.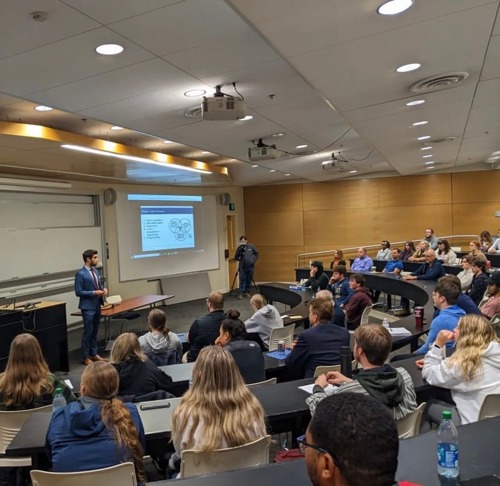 With many different apps and ways to track your investments nowadays, Mayfield believes it's easier than ever to get started.
"It's important to get going early to build a habit and make you a successful investor," he said. "Time is your biggest asset. If you have that on your side, you don't have to be the smartest person in the room."
Mayfield is a chartered financial analyst (CFA) professional who works closely with financial advisors to educate clients about the economy and markets. He also creates investment strategy content which is aimed at helping clients achieve long-term goals. He authors investment research for advisors and clients focused on financial markets, the economy and the benefits of long-term investing.
The Louisville, Kentucky native earned his bachelor's degree in finance from the University of Kentucky and his MBA from the University of Louisville.