Written by Kaitlyn Spurgeon, '23, accounting and finance, and president of the USI Chapter of Beta Alpha Psi
This past July, I had the privilege of representing USI's Lambda Mu chapter of Beta Alpha Psi with Dr. Brian McGuire at the 2022 annual meeting held at the Hyatt Regency Hotel in Orlando, Florida. The theme of the event was "Creating What is Possible" as we adapt to the ever-changing world of financial information. I feel that this was such an invaluable experience as I had the opportunity to learn more about the true spirit of Beta Alpha Psi, something that I strive to instill within the members of our chapter.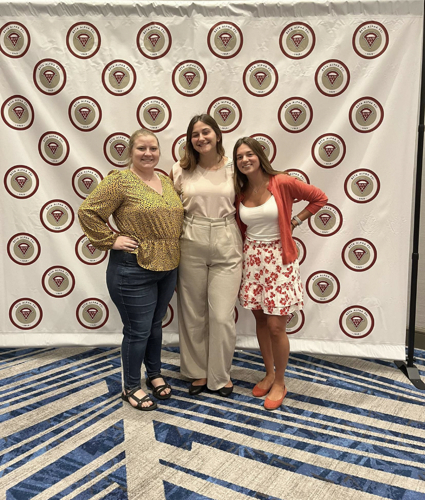 During the meeting, I was able to engage with numerous professionals and members of other BAP chapters, and I was even able to participate in this year's BAP Community Impact Day event. This was a huge service event that the organization puts on each year, and I was able to assist the organization by helping to run a literacy fair program that they had put on for the children of the Oviedo Boys and Girls Club. Additionally, I had the opportunity to hear from several speakers, including Brad Snyder, a U.S. Paralympic Athlete & Retired U.S. Navy Officer, and Ken Bouyer, EY Americas Director of Inclusiveness Recruiting. Here, I also had the opportunity to choose from a variety of topics pertaining to professional development and BAP best practices. Overall, it was an incredible experience, and I am glad that I was able to obtain several new ideas that I hope to apply to our chapter going forward. 
I am very grateful for my attendance at the annual meeting and for my membership in Beta Alpha Psi. It was such a wonderful experience getting to make so many new connections and learn more about the organization in person. Being a member and now president of the Lambda Mu chapter, Beta Alpha Psi has helped me to grow significantly in my professional development. Through my membership, I have been able to spark so many new professional connections that I would likely not have made otherwise, and this meeting is just one of the many opportunities that the organization has given me. I am so glad that I now get to help serve the organization that provided me with so much during my USI experience. 
Going forward, I hope to continue the organization's legacy of facilitating professional development opportunities such as these. I am making it a priority to inform fellow students of the numerous benefits in which their membership in this organization may provide and I hope to inspire them to take this big step toward beginning to plan for their professional career. I am very hopeful for the future of Beta Alpha Psi, and I am glad that I am able to help inspire the next generation of financial information professionals.