Written by Diego Socorro '23, marketing, and Vice-President AMA Chapter
The USI American Marketing Association recently traveled to Whitewater, Wisconsin, for the AMA Regional Conference hosted by the University of Wisconsin Whitewater AMA Chapter. The conference was a two-day event that brought together more than 10 collegiate chapters, primarily from states near Wisconsin, such as Minnesota, Michigan and Illinois, but also others including Florida and Texas. During the conference, marketing students competed in sales, content creation and mock interviews. In addition to the competitions, the marketers heard from multiple keynote speakers from the Metaverse Industry, such as Gartner Inc., GMR Marketing, and Canon Inc.
Being part of a group of eight students that traveled to Wisconsin was an awesome experience. It was great to represent USI in the many competitions, as well as exchange knowledge and network with many other chapter members in attendance. I was very happy to see some of the friends I made during the AMA International Collegiate Conference in Chicago in March of this year and at the Diversity-Leadership Institute at Indiana University during the summer. We got together one more time to do what we all love: networking and participating in marketing-related competitions.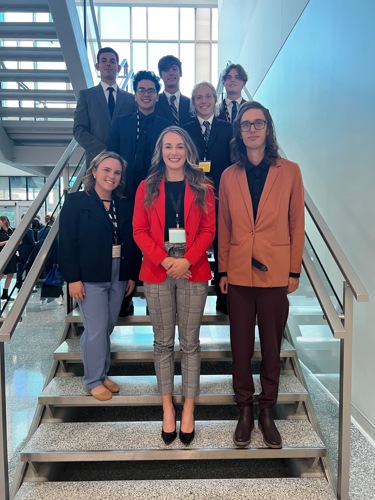 As Vice-President of the USI chapter and also as an international student from Venezuela, it was very satisfying to attend the conference with a group of eight USI students, compared to attending the AMA ICC in Chicago with only three members of our chapter. The conference was an opportunity for our new members to not only experience being part of AMA, but also to practice different skills in a very diverse environment. In the past few months, our members have hosted incredible events, class talks and recruitment activities that have made a huge impact in the size and diversity of our chapter, which is now 20 members. We are looking forward to the Spring semester to have fun and apply knowledge not only to building our careers, but to building the future of the USI chapter.