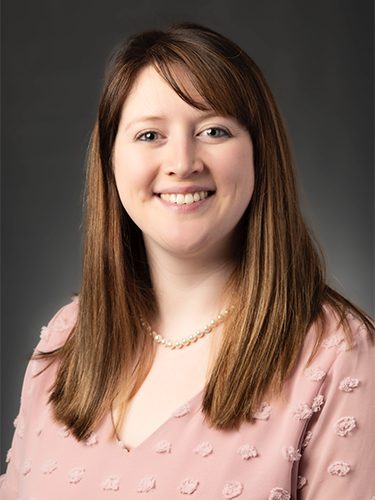 Alexandra Gilmore '17,  BSN, RN, CCRN, was named the 2023 Nurse of the Year at Baptist Health Floyd in New Albany, Indiana. She has worked in the hospital's intensive care unit for six years.
"USI was a phenomenal school that truly prepared me for my nursing career," she said. "The professors who are involved in the program are so knowledgeable and dedicated to their students. I always felt supported by professors that wanted me to succeed."
Gilmore said the clinical experience she received as a student at USI gave her advantage when she started her career. "We were constantly at the bedside learning new things and had so many opportunities to grow as nursing students," she said. "I am so thankful that I completed my degree at USI."
Gilmore says she chose the nursing field because she grew up in a family of medical professionals. Her mother is a microbiologist, her father is a paramedic, and her younger brother is on track to be a paramedic and firefighter.
She and her husband, Alex, live in Marengo, Indiana, and are the parents of three children. Their youngest was born on May 5, 2023.
---
 Read More Articles in the Synapse Newsletter: