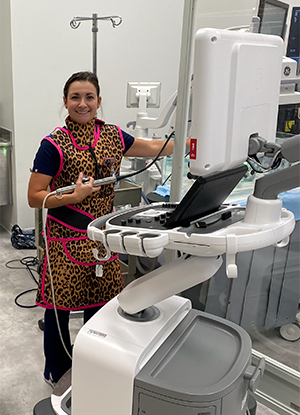 Sr. Imaging Specialist, Global Product Launch
Transcather Mitral and Tricuspid Therapies (TMTT)
USI Degrees: Master of Healthcare Administration (MHA) in 2016 and Bachelor of Science in Diagnostic Medical Sonography in 2013
From: Indianapolis, Indiana - Warren Central High School
Currently lives in: Vancouver, Washington
What is your current occupation?
I am a Senior Imaging Specialist on the Clinical Development Rest of World (ROW) Product Launch Team for PASCAL at Edwards Lifescience. My team is responsible for launching PASCAL (TEER) in countries outside of the USA. My specific role includes providing internal training for clinical specialist to become independent on proctoring physicians in procedures, training external physicians at determined hospitals to launch, and supporting the first 100-plus cases at the facility. The goal is to get the country independent on using PASCAL and to continue growing the footprint within their respected areas. This role allows me to use both my imaging background and my MHA, to manage the process from start to finish with each launching country.
What brought you to USI?
USI was close enough but also far enough away from home in Indianapolis, where I could get a sense of independence and still attend an amazing university. I was also offered a scholarship to be on the USI co-ed competitive cheerleading team at USI. To my luck, I realized I was attending a university that offered a degree in diagnostic medial ultrasound.
Please tell us how the College of Nursing and Health Professions prepared you for your career.
The College of Nursing and Health Professions provided me a lot of key skillsets that I am thankful to still use today. From taking on responsibilities for my education, to spending hours in the USI ultrasound lab, to having to become independent and professional in the clinical settings – I was provided the necessary tools in order for my career to thrive.
What would you tell someone who is thinking of coming to USI?
USI is an amazing university that provides an ample amount of opportunities. From athletics, to clubs to greek life, there is always something to get involved in. The professors and staff at the university are superior and will always go out of their way to ensure you are succeeding. Looking back, I always assumed that a career in sonography would always involve me being an employee at a hospital. I realize now with my career journey that there are so many opportunities outside the hospital setting for a clinician. Joining the medical industry has opened my eyes to the wide variety of roles to advance my career growth, while still being able to make a difference in the world and improving patient outcomes.