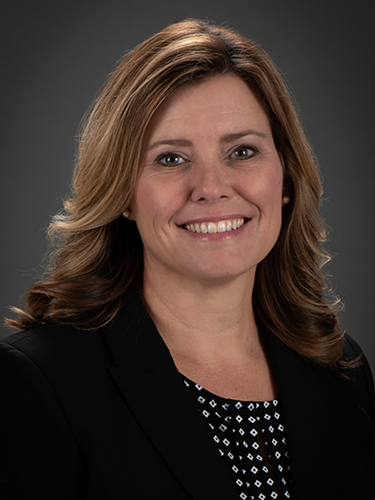 Dr. Ashley N. Carter '08 MSN, Assistant Professor of Nursing, has been awarded the 2023 Excellence in Teaching Award from the Indiana League for Nursing (ILN).
Dr. Jennifer Evans, Assistant Dean for Nursing in the USI College of Nursing and Health Professions, described Carter as an innovative educator and researcher who encourages critical thinking and problem-solving skills. "Dr. Carter's contributions to scholarship related to teaching reflect her deep commitment to advancing nursing education," said Evans. "Her publications in reputable journals and presentations at national conferences demonstrate her dedication to staying at the forefront of teaching practices."
Carter has been a nursing educator for 16 years, having first started her teaching career in 2007 at Ivy Tech Evansville, where she also served as Department Chair for five years before joining the USI Nursing faculty in Fall 2020.
At USI, she teaches and mentors students at a variety of levels in the Nursing Program, from first-year undergraduate students and online BSN completion students to graduate students in the Doctor of Nursing Practice (DNP) Program.
"Serving others is a value my parents instilled in me," said Carter. "I am blessed to have two strong influences in my life: my mother who was a teacher and my aunt who was a nurse. Both have supported me and cheered me on as I chose nursing and then pursued nursing education."
The ILN is a constituent league of the National League of Nursing, and membership includes nurses in clinical practice and nurse educators across the state of Indiana.
"It is an honor to be recognized for my years of work as an educator and to receive this award from my peers across the state," she said. "I have been blessed to work with and learn from some of the finest educators throughout my career and supported by leadership to continue to grow in my role. Collectively, we have always been driven to serve our students and communities in the best way possible."
---
 Read More Articles in the Synapse Newsletter: