State of The U

by President Ronald S. Rochon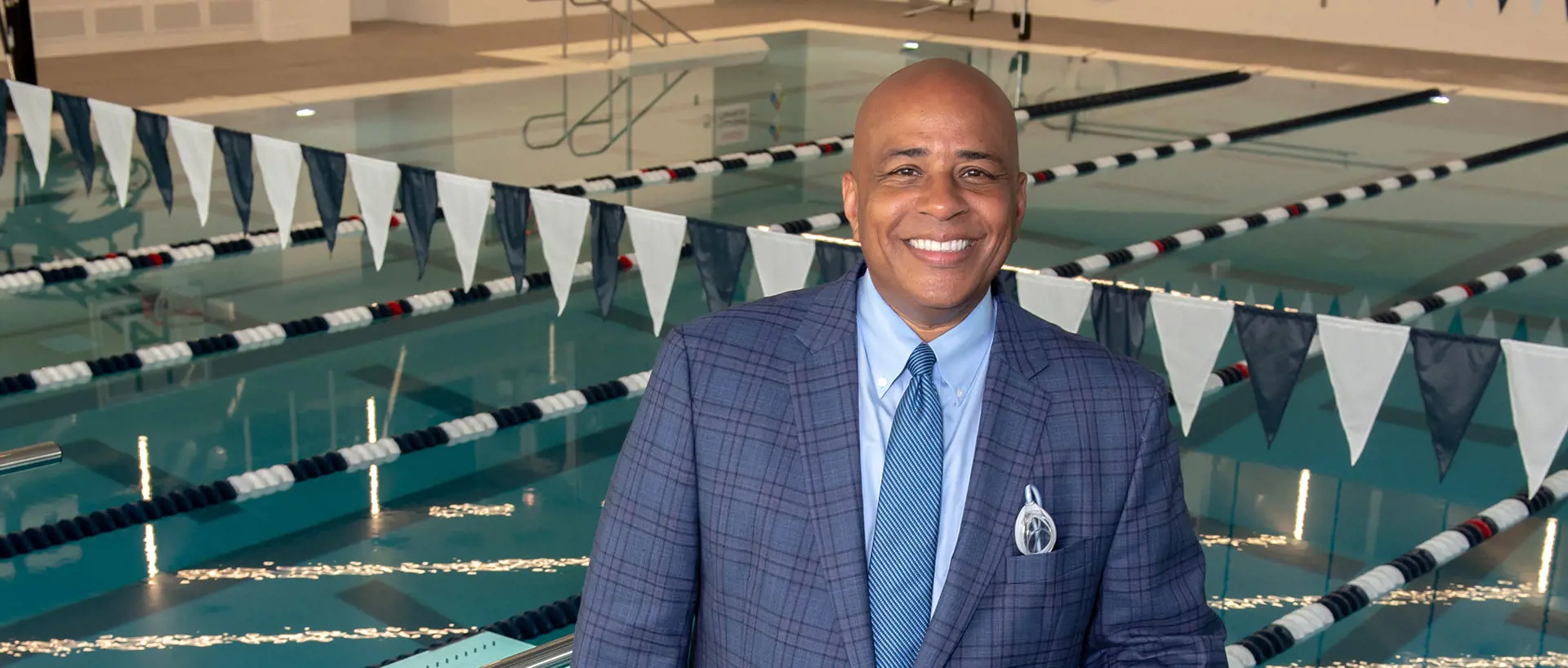 ---
Opportunity
---
My interest in water and learning to swim happened when I was in middle school, and my mother enrolled me in lessons at the 111th Street YMCA in Chicago. I love sports but was never athletic and always the last kid picked when teams were formed during gym class. But in the water, I became somewhat of a fish, rapidly rising through the swim-skill levels from minnow to dolphin. From there, I became a certified lifeguard and swim instructor trained in CPR and water safety. The turning point in my athletic pursuits came when I qualified for the Y's competitive swim team during high school—an opportunity not offered at my school. 
Swimming provided me a path in athletics, a lane of my own, away from the pressure I'd experienced in other team sports where I feared fumbling the football or leaving a player on base. In the water, in my lane, I performed solo to the best of my ability during each event, while still contributing to the team's overall success. My teammates were extremely athletic and gifted swimmers who pushed me to become my best. But a team is nothing without a coach. Coach Rod Manifold believed in us. He believed in me. He taught us to respect our bodies through good nutrition. He taught us considerable lessons about swimming and competition and to exhibit grace in both winning and losing. Through him and being on his team I learned valuable insight into trust, growth and discovery.
While competitive swimmers stay in their lane, their performances are tied to the team. My swimming was not only about me improving my own time, my own stroke, my own method of engaging the water, but my doing well for the team. Me serving as a representative of the team. That's what athletics means to me—being an essential part of a team. 
Over the years, USI has risen from a local institution to a national and international presence. Our students come from around the globe. Some graduate and go on to attend the most prestigious universities for graduate and professional school. Some leave us and immediately procure employment earning six-figure salaries. That is because of who we are. That is because of our faculty and staff. That is because of our academic programs. That is because of the reputation this institution has secured and accomplished over the past 57 years.
Just as swimming provided me a path forward in life, the University of Southern Indiana embarked on a new path forward by accepting the opportunity to transition into NCAA Division I athletics and join the Ohio Valley Conference. This move is just another step in fulfilling one of our key goals in the 2021-2025 strategic plan: elevate visibility and reputation. Competing at the Division I level will strengthen and enhance our academic and athletic reputations in the future. For the first time, we are going to have our athletic competitions—men's and women's—streamed on ESPN+. We never had that opportunity before, and it is quite significant. For the first time, we are going to be playing teams from around the country that are extremely distinguished—academically and athletically—and all eyes will be on USI.
As we move forward with noteworthy competitions, remarkable stories and future championships, students and student-athletes will come to the University of Southern Indiana and distinguish themselves. They will contribute in special ways to our community. They will be role models. They will exhibit their ambassadorship. They will do it as a team. Because, like the individual swimmer I once was, athletics is just one part of USI's community and team. Our academics have been in the DI lane for years.
I believe in our USI team. I believe in USI's ability to take on this new challenge. I believe in this opportunity for us to grow our reputation and increase our visibility among students seeking a place to advance their lives through higher education. Our years with the Great Lakes Valley Conference (we were a founding member) and Division II, our numerous team and individual national championship wins, our student-athletes' extraordinary academic success, and our growth as an institution have prepared us for this new challenge and advances us to a new lane. From here and with intentional teamwork, we dare to compete and win at the highest level. Welcome to the future of USI. Go Screaming Eagles.
President Ronald S. Rochon