A Seat at the Table

Student Trustees Shaping Policy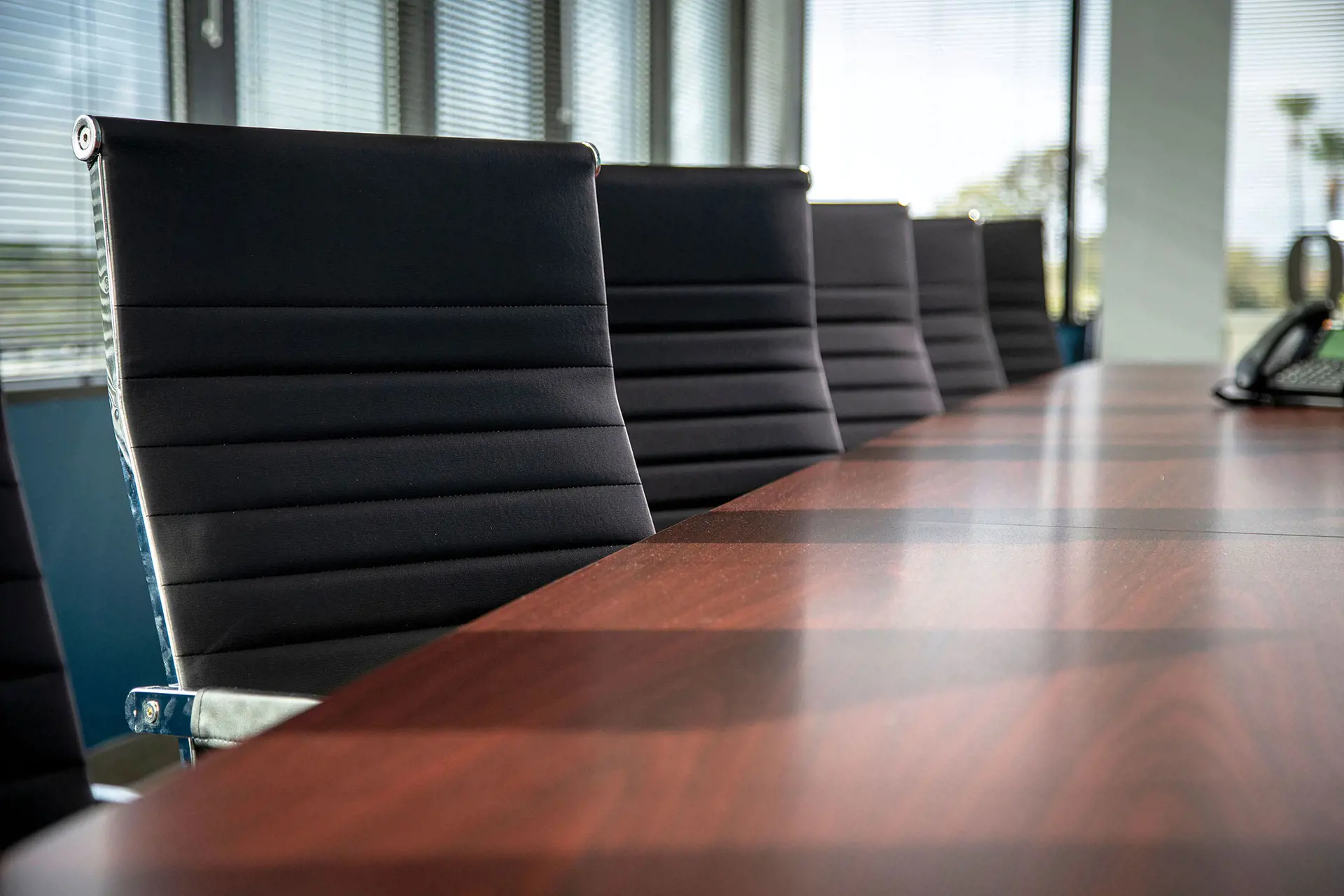 Most students who find themselves sitting at a table with the institution's top leaders—a table where decisions concerning the University's policies, finances, new construction, programs and more are made, where their voices and opinions are equal to everyone else—might feel like an imposter. But the students who, over the years, have served as one of nine members of the institution's Board of Trustees are not most students.
USI's Student Trustees are a select group. Only 19 of the tens of thousands of students enrolled and attending the University from 1985 (the year of USI's independence and the first appointment of a student to the Board of Trustees) to now have held the position. They come from each of the four colleges and are about evenly divided gender-wise.
The rigorous selection process is set forth by the Indiana Governor's office, including an application requiring an essay expressing why they are interested and what they will contribute to the Board, along with three letters of recommendation and their resumes. The selection process is overseen by the Student Government Association (SGA), and applicants are interviewed by a screening committee comprised of seven students and two advisors. The pool is narrowed to 5-10 finalists whose names are sent to the Governor's office for more interviews before the Governor makes the final selection. "It was imperative to me," said Kelsey McCullough, SGA President from 2020-2021, "that the committee was representative of our campus life and the unique values and experiences that we each held."
Despite the prestige high-level the position holds and the advertising SGA does for applicants, students are not always aware of the opportunity until a faculty member suggests they apply. Kristina Walker, Director of Advising for the Romain College of Business, recognized Anjali Patel (USI's 17th Student Trustee) had potential from the work she did as an AMIGO. "Right away, I could tell she cared about students," Walker says. "She worked diligently during orientations to make the day less stressful for [first years]." Caring is just one of the qualifications these students possess to represent the student population on the Board. "The committee felt it was important that the candidates sent to the Governor were representative of campus life," said McCullough. "We wanted someone who was involved, connected and informed about the strengths and weaknesses of campus life, but we also wanted someone who was willing to listen to the voice of students. We asked the candidates about their involvement in academics, extracurriculars and off-campus activities. They were also asked about diversity, equity and inclusion, and what role that plays on campus, as well as their understanding of governance in a higher education context."
The only technical difference between Student Trustees and the other Board members is the length of time they serve the University: Student Trustees serve a two-year term while the other members serve a four-year term. All attend six regular meetings annually as well as special meetings when called upon.
USI has had two seismic shifts in which Student Trustees played an impactful part. The first, in 1985 when the University gained independence from Indiana State University, and in 2022 as the institution transitions from Division II athletics to Division I. Eric Williams '89, management, (1985-1987) USI's first Student Trustee and Liam Collins '23, nursing, (2021-2023) reflect on what it was like for them to play a role in shaping USI's future.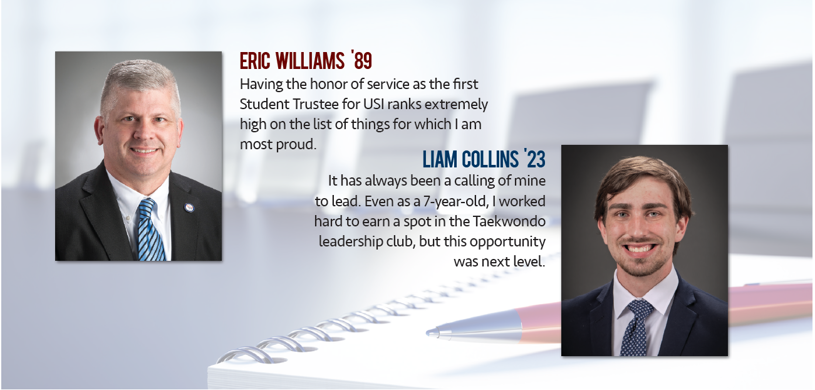 DESCRIBE WHAT IT WAS LIKE TO ATTEND YOUR FIRST BOT MEETING.
EW: At first, very intimidating. I had a sense of being in awe of the entire situation. However, the amazing Board members at the time, Dr. Rice and team, made me feel at ease. They also helped me better understand my role as a representative of the student body and the importance of that input in discussion and decision-making.
LC: Before my first Board of Trustees meeting, I was told by the current trustees my first meeting was going to be a "trial by fire," and they were not kidding! The agenda that day was full, and we hit the ground running. Sitting in a room with very prominent people in our community and being asked to give my input on issues was not something I had done before. I had to figure out where I fit into this mix of people, where I could contribute, who was who and so much more. Despite my nerves, every single person I met that day welcomed me with open arms and truly made me feel, and still make me feel, like I'm one of them.
WHAT WAS IT LIKE FOR YOU TO BE PART OF SUCH A MONUMENTAL SHIFT AS THE UNIVERSITY TRANSITIONED TO INDEPENDENCE/DIVISION I?
EW: At the time, I recognized that becoming an independent state University was a big deal and important to the region. It was empowering and helped drive home the idea that big things can happen when people work together for the common cause. It was not until after graduation and being in the community, especially as a leader at the Sheriff's Office, that I realized exactly how big of a deal it was.
LC: It seemed like every other conversation I had with people around that time was centered on USI and DI. I've reflected many times on how I am involved in a decision that will make history at USI. No matter which way we voted, which of course we decided to move to Division I athletics, the vote was a historic one for USI, for my University. The pressure was definitely on, but I truly feel we made the right decision.
WHAT WAS/IS YOUR PROCESS FOR GATHERING STUDENTS' PERSPECTIVES TO ROBUSTLY REPRESENT THEM AT THE MEETINGS?
EW: Almost entirely in-person…spending time on campus at events, hanging out, going to class and attending meetings created lots of opportunities to talk to other students. Electronic communication was almost nonexistent. Having been involved in a variety of other activities and groups on campus, I was exposed to a wide array of students, including their viewpoints and opinions.
LC: My biggest tool is simply having conversations. Part of being a good representative is being an excellent listener when you're in the community. Just taking the time to be approachable and listen to people has been so important for my role. Social media is also an excellent tool for learning what people are thinking, saying and wanting. If I notice any common trends, themes of praise or concern or hear any interesting ideas, I bring them forward.
HOW MUCH TIME DID/DO YOU DEDICATE WEEKLY AND/OR MONTHLY TO BOARD MATTERS?
EW: It really varied greatly. When the Board was considering a major construction project, there was a lot more time spent reviewing documents, ideas, plans, etc. Board members, myself included, received a great deal of information on a regular basis, especially leading up to meetings.
LC: For Board meetings, there are definitely hours of work to do to prep and know the material we need to know going into the room to discuss our plans. The day-to-day though is not a tremendous commitment, other than doing my best to stay vigilant in my engagement with the University community. During the Division I decision, the commitment time was a lot more than what is normally expected. There was lots of information to be taken in and understood, and it seemed as though we were meeting almost weekly with new information, especially in January 2022.
WERE/ARE YOU INVOLVED IN OTHER ORGANIZATIONS WHILE AT USI? IF SO, WHICH ONES?
EW: Yes, as many as I could manage. I relished the time I spent involved in various organizations. As a member of Sigma Tau Gamma fraternity, it was the positive influence and encouragement from many of my brothers that motivated me to get involved in a variety of areas, including Student Government. I also enjoyed being an AMIGO, intramurals, Activities Programming Board and Interfraternity Council. There was not an official club or organization, but there was a group of us that met very regularly in Redwood Lounge and operated almost as if we were an organization.
LC: In addition to being Student Trustee, I'm President of College Life Campus Ministry and Treasurer for Sigma Pi Fraternity on campus. I also do some peer tutoring in our Nursing program.
WHAT PRESSURES DID/DO YOU PUT ON YOURSELF AS THE STUDENT TRUSTEE?
EW: Pressure may not be the best word to describe it. I felt a great responsibility to those who had created the opportunity for me to serve in that capacity, and I did not want to disappoint any of them. Those around me made serving easy and enjoyable while stressing the importance of my perspective to the Board as a whole.
LC: I have pressured myself to try to please as many people as I can. This goal has been hard sometimes to accomplish. Sometimes, decisions might not be the "popular" ones, but they are the right ones for the University. With any decision that is made, there are always going to be people who dislike or who don't understand why we settled on a certain decision. I've had the pressure of trying to explain everything and make naysayers see the "why" behind certain proposals and decisions. Sometimes I can, but sometimes, there's just no way, and that's a hard pressure to fight.
TELL ME ABOUT YOUR DECISION-MAKING PROCESS ON PROPOSALS THE BOARD VOTES ON?
EW: I liked to consider myself to be a critical thinker and capable of making a decision I believed to be the best one, from the student perspective, with the information available. I asked a lot of questions of fellow Board members, staff and anyone else who would entertain my questions.
LC: With any decision, I first think about what this will do for students. That is always on my mind. Most of my decision-making centers around balancing the rewards and benefits, the risks and opportunity costs. The rewards of course being what USI receives from the proposal. The risks involve "what ifs" and cautions moving forward with decisions. The opportunity cost relates to what else we could be doing. If we're going to propose X amount of money and time is spent on project A, would it be better spent on project B? Once all the rewards, risks and opportunity costs are taken into consideration and any necessary questions are asked, I proceed with my decision.
WHAT CHARACTERISTICS DO YOU POSSESS THAT YOU THINK MOST QUALIFY YOU FOR THE POSITION?
EW: At the time, I'm not sure what qualifications I really had. Beyond being involved, pretty organized and having recently been elected by the students to serve as the president of the student body, I was interested and willing.
LC: I consider myself someone who can see the bigger picture in situations and be able to analyze how one decision can impact a multitude of areas, which is critical to being a Board member. I also find myself to be an efficient problem solver, open-minded to new ideas, flexible to change and quick to learn and adapt.
HAVE YOU EVER BEEN AMONG THE DISSENTING VOTES ON A PROPOSAL?
EW: That is a great question. If I did, I do not recall. My recollection is that in most cases, after much discussion, most votes were unanimous.
LC: I have not been a formal "dissenting vote" on a proposal at a Board meeting thus far. However, I have not been afraid to ask hard questions, point out flaws that need to be fixed and areas that don't make sense so the proposal that does get approved is the best it can be.
WOULD YOU FEEL COMFORTABLE DOING SO?
EW: With the Board membership at the time, absolutely. However, I think had I felt strongly about a significant issue and differently than the others, they would have wanted to understand my rationale and would have certainly factored that into their decisioning.
LC: I have not been in that spot where I've had to stand firm and dissent in a vote, so I can't say for certain. What I can say is, on a matter of principle and for my duty to USI, I would never vote in such a manner that did not bolster the mission and vision of USI and the student body. If a proposal like that was on the table, which at this point there never has been and there is no reason to believe there would be, then I would be comfortable to do the right thing, even if it meant losing the vote 8-1.