Scoreboard

Addisyn Blackwell '22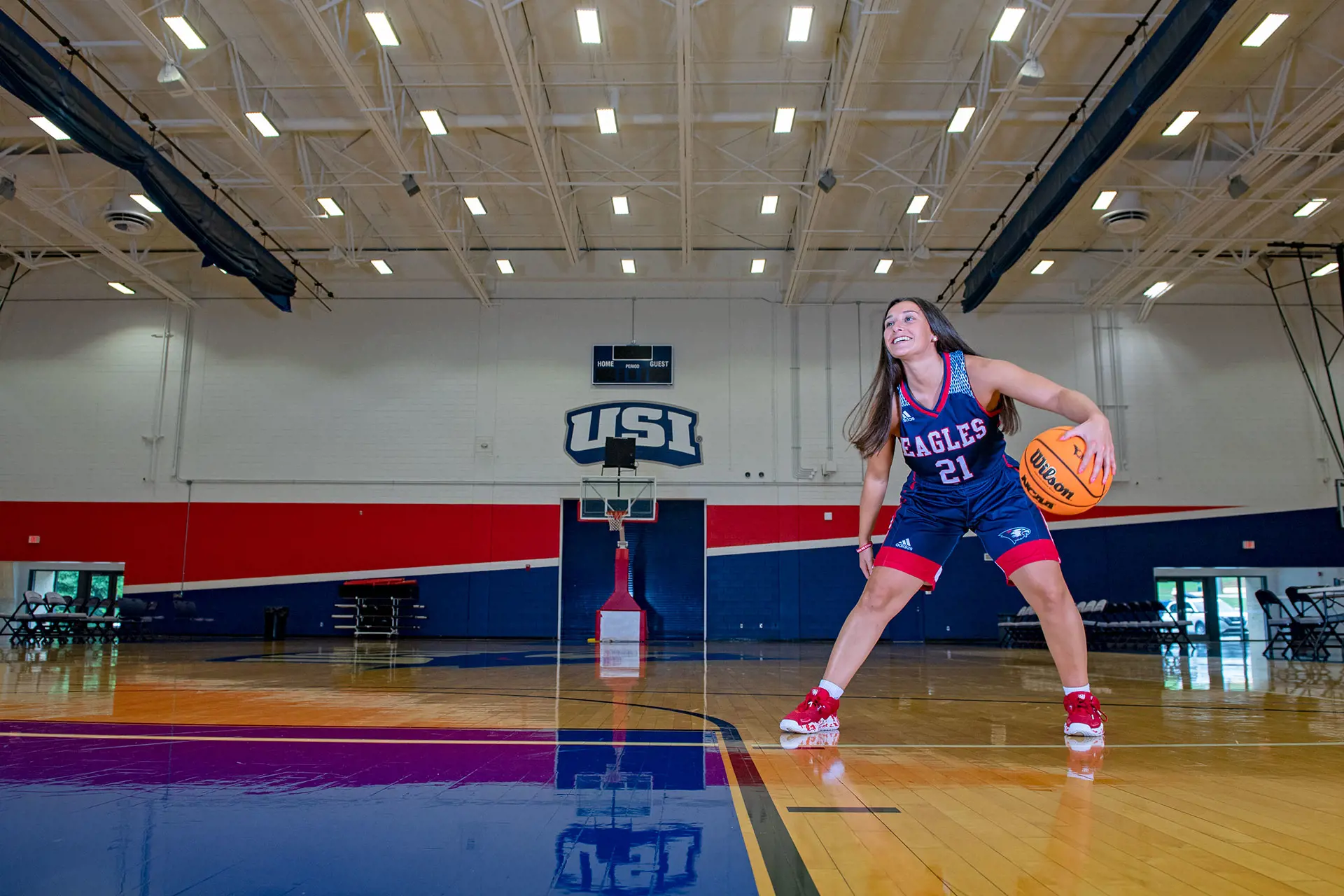 MAJOR AND GRAD YEAR?
I am an accounting major, and I will be graduating this December and then starting my MBA in the spring.
FAVORITE PRE-GAME HYPE SONG?
My favorite pregame song would probably have to be Bust a Move by Young MC.
WHAT DOES IT MEAN TO YOU TO BE A USI ATHLETE?
Being a USI athlete means that I represent our basketball program and our University. Having the opportunity to bring light to my University and the city of Evansville is a privilege. I am extremely grateful to be a part of such a great team and University.
WHAT'S THE BIGGEST LESSON YOU'VE LEARNED SO FAR IN YOUR USI ATHLETIC CAREER?
I have learned many lessons at USI; the most important [being] that college basketball is a marathon and not a sprint. It's important to never lose faith and never forget the reason why you started [something] in the first place. Embracing the process and learning along the way will create memories that will last a lifetime.
WHAT IS THE BIGGEST MISCONCEPTION YOU GET ABOUT BEING A STUDENT-ATHLETE?
People believe we get everything handed to us. As athletes, we are constantly pushing our bodies to the limits during practices and games, as well as balancing our schoolwork and community involvement. We sacrifice a lot of time and energy to give our best in each aspect of life. We are regular students that still must complete assignments on time and participate in class. We are responsible for making that commitment in the classroom and on the court. Being an athlete can be very rewarding, however, it is also a test of commitment.
WHAT'S YOUR GO-TO POST-MATCH MEAL/SNACK?
I am not too picky about food after games, but before games, I always snack on raisins.
REFLECT ON YOUR FAVORITE GAME AND WHY.
This season's final regular-season matchup [against] Lindenwood. Our team clinched the number one spot overall in GLVC conference play. Being able to cut down the nets and go out on top in our final season in the GLVC will always be special to me. It's even more special to do it with your best friends.
WHAT IS THE TRAINING PROCESS LIKE FOR BASKETBALL?
In the summer and preseason, we focus on getting our bodies in shape for the upcoming season by weight training, conditioning and physical testing. On the court, we have a lot of focus on skill development and learning material. The cool part about our team is that at any hour of the day you'll see players on the court, in the weight room or in the pool trying to get better for our team.
WHAT'S YOUR INNER THOUGHT PROCESS WHEN PLAYING A GAME?
As a point guard, I am an extension of the coach on the floor. I am responsible for getting our team in the right places on the court and making sure we run an efficient offense. Throughout the game, I am communicating with coaches and teammates to see what we need to do and or adjust during the game to win.
WHAT ARE YOUR THOUGHTS ABOUT USI GOING DI?
I believe this transition into DI will be very beneficial to not only our athletic department but to our University as well. Our athletic and University administrators have done a phenomenal job providing all the information and resources for this transition to the students and student-athletes. I believe all USI teams can compete right away in the Ohio Valley Conference (OVC) and having the opportunity to represent our University on a bigger stage will help attract more students, recruit and help grow this University on a national level. I believe that our community engagement will continue to grow as we will represent much more than our University, but the city of Evansville. In the future, I think it will be so cool to look back and see the growth of our University and see how far we have come. I am proud of this move to DI and I'm excited about the new opportunities!