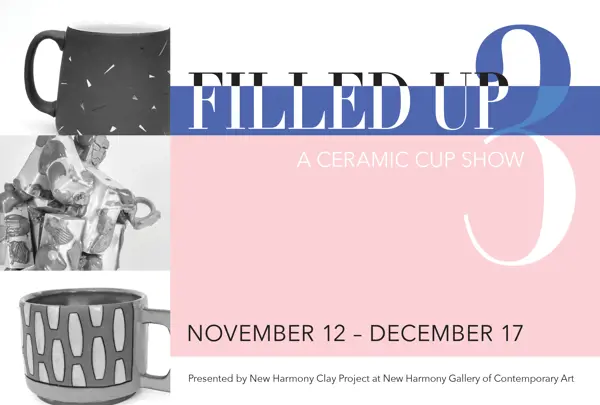 New Harmony Gallery of Contemporary Art, University of Southern Indiana, in partnership with New Harmony Clay Project, is proud to present Filled Up 3: A Ceramic Cup Show. Filled Up 3 features ceramic cups by contributing artists around the United States, juried by noted ceramic artist Malcolm Motubu Smith.
Opening events for Filled Up 3 will be on Saturday, November 12 from 4:00 p.m. – 6:00 p.m. CT and include a juror's talk and award announcement at the Gallery, followed by a public reception.
An additional public reception for Filled Up 3 will be held on Saturday, December 3 from 4:00 p.m. – 6:00 p.m. CT, where visitors can begin removing purchased works from the gallery.
Gallery hours are 10:00 a.m. – 5:00 p.m. Central, Tuesday – Saturday.
Malcolm Mobutu Smith is an artist and teacher, currently Associate Professor of Ceramic Art at Indiana University in Bloomington, IN. He earned an MFA from the New York State College of Ceramics at Alfred University in 1996 and studied at the Kansas City Art Institute and Penn State University where he completed a BFA in ceramics in 1994. Professionally, Smith is active in presenting workshops and lectures and participating in residencies, including visits to Haystack Mountain School of Craft, Watershed Center for Ceramic Arts, and the Robert McNamara Foundation. His works have been presented at The Luise Ross Gallery, New York City, and are held in numerous private and public collections, including the Nerman Museum of Contemporary Art in Kansas City, FuLed International Ceramic Art Museum, Beijing, China, the Haan Museum, the Indiana State Museum, and the New Taipei City Yingge Ceramics Museum in Taiwan.
New Harmony Clay Project (NHCP) is an artist residency and educational center located in historic New Harmony, IN. NHCP fosters an environment that supports the investigation of new ideas and work in the ceramic arts. It was established in 2015 by Lenny Dowhie, an internationally known ceramic sculptor and Professor Emeritus at University of Southern Indiana. NHCP is supported by the Robert Lee Blaffer Foundation, Efroymson Family Fund, Greater Houston Community Foundation and Lenny and Anne Dowhie Trusts. Its goal is to encourage emerging and professional visual artists/ educators in ceramics by giving them quiet space and the time to develop a new body of work. NHCP is located within the Sarah Campbell Blaffer Ceramic Studio in New Harmony, next to the Roofless Church.
New Harmony Gallery of Contemporary Art at University of Southern Indiana promotes discourse about and access to contemporary art in the southern Indiana region. New Harmony Gallery of Contemporary Art is a proud outreach partner of the University of Southern Indiana.
Photo Credits (top to bottom): Dylan Beck, Alisha Porter, Taylor Mezo
This exhibition is made possible in part by the Efroymson Family Fund, the Lenny and Anne Dowhie Trusts, Arts Council of Southwestern Indiana, and the Indiana Arts Commission, which receives support from the State of Indiana and the National Endowment for the Arts.
---
Inquires: NewHarmony.Gallery@usi.edu