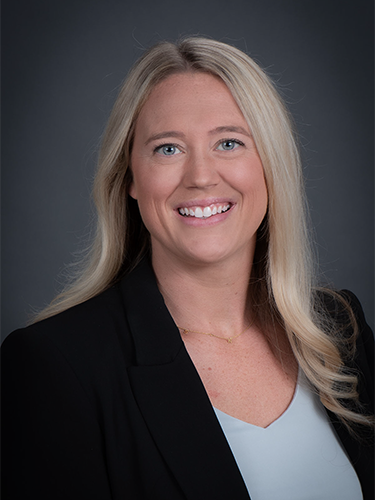 Abigail McIntosh, MSN, APRN, FNP-C
Nurse Practitioner at Deaconess Clinic at Work
USI Instructor in Nursing
USI Degrees: Bachelor of Science in Nursing (BSN) in 2013 and Master of Science in Nursing (MSN) with a specialty as a Family Nurse Practitioner in 2020.
From: Louisville, Kentucky
Where have you worked as a nurse and nurse practitioner? I was a nurse at Deaconess Hospital on ortho/neuro trauma unit for two years. Then I did travel nursing for three years at IU Health in downtown Indianapolis and at an infusion center. Then I went-back to Deaconess part time while I worked on my NP degree. I currently work at Deaconess Clinic at Work as an FNP.
You are a new faculty member. Describe your experience with teaching at USI. I have been teaching at USI since August. This has been a big transition for me because my whole career has been focused on patient care. Teaching has been wonderful. I feel that I can make a greater impact on the future of nurses and nurse practitioners being at USI than I would be able to at the clinic. I love precepting nurses on the unit and training new NPs at our clinic. This is a way for me to continue education on a larger scale. I am grateful for this opportunity to work with future healthcare professionals.
How does it feel to be teaching future nurses? I think the best part of teaching future nurses is the joy and excitement they get out of nursing. I have been working with junior nursing students. They are excited to learn, get hands-on experience and put together what we teach in the classroom. This has been rewarding to watch them grow and develop their skills.
In your own words, why is it important to recognize nurse practitioner week? It is important to recognize nurse practitioner week because we worked hard to become a provider and continue to work hard to give our patients the best care. As an NP, we care so much about the well-being, health and happiness of our patients. It is nice to feel the appreciation in return.
Anything else you want to add? The last piece I would add is becoming a nurse practitioner has been an incredibly rewarding job. I was able to take my bedside skills, communication abilities and knowledge with me into a provider role. The blending of a nurse and a provider to become a nurse practitioner allows me to treat my patients with quality care and compassion. Needless to say, I love my job!