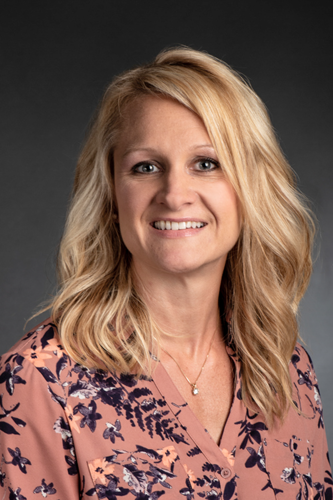 Michelle J. Wakefield, MSN, FNP-C, CLNC
Instructor in Nursing
Director of MSN APRN Tracks
APRN Clinical Liaison

Degrees Earned from USI: Associate of Science in Nursing and Bachelor of Science in Health Administration in 2002 (I was a double major); Bachelor of Science in Nursing in 2009.

Where did you receive your NP degree? I earned a Mater of Science in Nursing from Indiana State University 2013. I am a Board Certified Family Nurse Practitioner. I am currently in the DNP program here at USI.
From: I was born and raised in Evansville and am a graduate of Mater Dei High School.
Where have you worked as a nurse and nurse practitioner? I currently work at Women's Health Care PC located at The Women's Hospital in Newburgh where I specialize in women's health. I also work at Deaconess's Pelvic Health and Wellness Center located at The Women's Hospital in Newburgh where I specialize in urology/gynecology. I am a primary care provider for ProCare HealthSpot in Evansville. Lastly, I work for Progressive Health in Mt. Vernon, Indiana, specializing in occupational medicine.
How long have you been teaching at USI? Since 2019
How does it feel to be teaching future nurses? Teaching in the graduate nursing program is a deeply rewarding experience. It's a privilege to contribute to the education and development of future nurses who are not only passionate about healthcare but also committed to advancing their knowledge and skills. Witnessing their growth, enthusiasm, and dedication to making a positive impact on patient care is incredibly fulfilling. The opportunity to share insights, instill critical thinking, and foster a collaborative learning environment is both an honor and a responsibility that brings a sense of purpose to my role as an educator.
In your own words, why is it important to recognize nurse practitioner week? Recognizing Nurse Practitioner Week is crucial to acknowledge and appreciate the invaluable contributions of nurse practitioners to the healthcare system. Nurse practitioners play a pivotal role in delivering comprehensive and patient-centered care. By celebrating Nurse Practitioner Week, we honor their expertise, dedication, and the unique role they play in improving access to healthcare services, enhancing patient outcomes, and addressing the evolving healthcare needs of our communities. It's an occasion to raise awareness about the vital role of nurse practitioners and to express gratitude for their tireless efforts in promoting health and well-being.