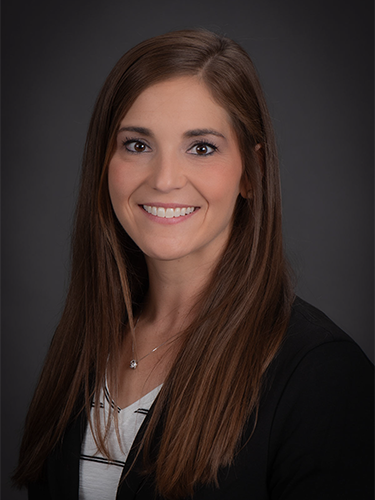 Megen Brown, MSN, APRN, FNP-C
Nurse Practitioner at the St. Vincent Center for Children
USI Instructor in Nursing
USI Degrees: Bachelor of Science in Nursing (BSN) in 2010 and Master of Science in Nursing (MSN) with a specialty as a Family Nurse Practitioner in 2013.
From: Henderson, Kentucky
Where have you worked as a nurse and nurse practitioner? I worked as a nurse at St. Mary's (now Ascension St. Vincent) as a NICU/PEDS nurse prior to obtaining my NP degree. As an NP, I have worked at St. Vincent Center for Children in Evansville. There, I practiced in pediatric neurodevelopmental/behavioral for almost six years. I changed my specialty in October 2019 and currently practice in pediatric endocrinology (still at the Center for Children).
You are a new faculty member. Describe your experience with teaching at USI. I am new to the faculty role, but it is one that I am truly enjoying. All faculty and staff have welcomed me and have been eager to help as I learn to navigate this new role.
How does it feel to be teaching future nurses? If I could describe how it feels to be teaching future nurses in just one word, I would say it is fulfilling. I have spent the majority of my career teaching patients and their families, which I do love. Prior to transitioning to the faculty role at USI, I would occasionally have a nursing/nurse practitioner student that followed me during clinic. I found during that time that I also enjoyed teaching the student and witnessing their excitement that I had experienced as a student nurse. I am honored to have been given this opportunity to teach and to have such an impact (hopefully a good one) on the future nurses
In your own words, why is it important to recognize nurse practitioner week? Nurse Practitioners have proven to be a vital component to the healthcare system, especially with the increasing demand for healthcare providers and the critical needs for healthcare services. I feel that nurse practitioners are one of a kind. Deep down, we are nurses. However, we combine our clinical expertise in diagnosing and treating with our drive to educate patients about disease prevention and overall health promotion. We continue to help improve overall access to care and patient outcomes. Some nurse practitioners are the main healthcare provider for many people!