Historic New Harmony's mission is to preserve and promote its utopian legacy and inspire renewal and fellowship between people and communities through our programs and collections. Historic New Harmony's Advisory Board is crucial to the fulfillment of this mission. Our board members show their support daily by promoting education, scientific, and charitable activities and programs by contributing both their time and money. As we continue this new digital newsletter adventure, we thought there was no better way to show our gratitude than to spotlight those that serve.
FEBRUARY 2023
Claire Eagle, Community Engagement Manager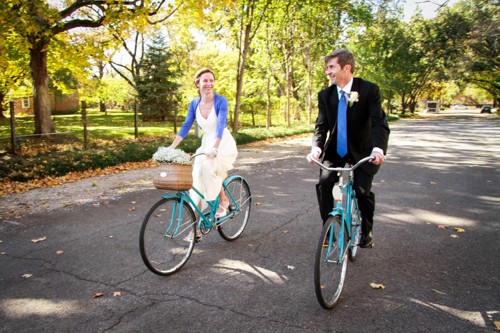 Dr. Mark Krahling has been at USI for nearly 30 years. While his involvement with the Historic New Harmony Advisory Board just began, his appreciation of this community has been there since the beginning. Not only has he enjoyed numerous trips with USI faculty, staff and students, he and his wife, Allison, were married at St. Stephens in 2014.
So why does he love New Harmony? "New Harmony exemplifies what a small town can provide," Mark shared. He cites the Rapp-Owen Granary as a perfect example of this. The renovation that was completed in 1999 is "typical for New Harmony though contrary to much of what happens in America's small towns." HNH can continue this legacy through our discussions of sustainability, which Mark cites as the major topic he would like HNH to tackle. While the town has excelled in continued use and restoration of our historic landscape, he believes further discussions often falter. "I think patience will help us find a path that works."
During his tenure, Mark has spent many workdays in New Harmony as a part of a university workday, most recently as a UNIV 101 Instructor during our New Harmony Freshman Experience last fall. These visits would often include an aspect of New Harmony history, whether it was a visit to one of HNH's historic properties or a presentation that highlighted "a significant Historic New Harmony event." When asked how HNH could further serve as a living, learning laboratory for USI faculty, staff and students, Mark noted how heartwarming it is to see their "discovery of an art loving community with shops, galleries and restaurants so close" to campus. The discovery is what leads to further fascination, and finally to the connection of New Harmony as a living, learning laboratory.
As a part of these spotlights, Advisory Board members are always asked to share a favorite memory of New Harmony. Mark shared seven. They included everything from his wedding and summer cycling trips with his wife to memories of his daughters playing in the Patrick Dougherty woven tree sculptures that were installed in Maclure Square in 2003. It's clear that Mark has a fondness for New Harmony, which has led to a lifelong connection. Now as a member of the Historic New Harmony Advisory Board, he can help inspire other community members and visitors to make that connection as well.
For Linda Warrum, New Harmony is home. She first became a resident of Posey County in 1976, moving to New Harmony in 1999 when she also became a tour guide for Historic New Harmony. After 20 years, Linda retired from Historic New Harmony last year. As a tour guide, she enjoyed working in a multimillion dollar building and being able to meet people from all over the world. "I loved it," she shared, "except for rain and snow."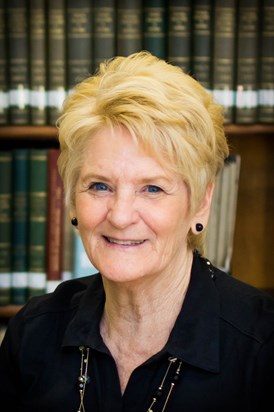 In addition to her tour guide duties, Linda often volunteered at the Working Men's Institute, exploring the archives and finding items that expanded her historical knowledge and made her tours even better. One of those finds was an 1843 English edition of Travels of the Interiors of North America by Prince Maximillian of Weid-Neuwied, a statelet in northeastern Rhineland-Palatinate, Germany. The HNH team refer any questions about Prince Maximillian and our Bodmer collection to Linda. The amount of research she has done on the German prince is extensive. This research includes visiting the Palace of Neuwied, where she had a chance to meet the eighth Prince of Wied and spend a few hours in the palace archives, making her as close to an expert as we have in New Harmony. In her research, she had seen the French and German editions of Travels many times but had been searching for an English version for quite some time. "Here it was right in New Harmony and we didn't know it," Warrum says.
While she is no longer an employee of HNH, Linda stays involved as a member of our Advisory Board, offering her expertise and ideas to ensure that we continue to fulfill our mission. When asked if there was a project or idea that she wanted us to tackle, she answered quickly with "Minerva." The Minerva Society, founded in New Harmony in 1859, was one of the first women's clubs in the United States with a written constitution and by-laws. The society organized itself so that every woman had a chance to gain valuable experience in each office. Members used their weekly meetings to debate current events and ideas. Linda wants us to work to recreate the society and honor those women. "I would like to see debating book reviews, a club doing that again," she says. "Especially since we just went through the women's suffrage year."
Although we miss Linda as a member of our tour guide team, we're thankful she is a part of the Historic New Harmony Advisory Board. Her dedication and knowledge, especially when it comes to Prince Max and Bodmer, are invaluable as we work to fulfill our mission.
---
Reflections on New Harmony  
Katie Waters, Chair of Historic New Harmony Advisory Board
Turning off Indiana 69 and onto Church Street in New Harmony, which I have done hundreds of times since I moved to Indiana in the fall of 1981, I always experience a distinct and soothing sense of peace and tranquility. Each time and in every season, the town's beauty and utopian history charm and entice. Some of my most memorable life experiences have occurred in this magical, mystical and mysterious place.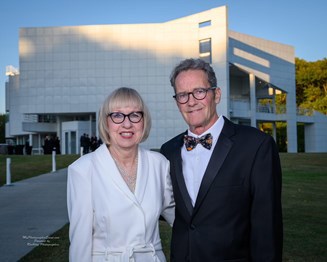 My first Indiana exhibit was at the New Harmony Gallery of Contemporary Art, still a premier place to experience art that challenges and delights. During one sabbatical, I spent a month living in the Community House and painting in situ. Friends and I celebrated the millennium in New Harmony, ringing in the year 2000 with champagne at the top of the Atheneum, one of New Harmony's many architectural treasures. Recently, I participated in its elegant 40th anniversary celebration. I once stood guard when friends climbed a wall to put their feet in Gabriel's footprint for comparison (it was longer and much thinner). I gained much from the many, many notable lecturers, scholars, writers and artists who spoke and worked in New Harmony over the years. I saw seasons of stirring performances at the Murphy Auditorium. I met Jane Owen. I learned to love this small town on the Wabash River and its colorful and vibrant inhabitants.   
As a University of Southern Indiana art professor (emerita), New Harmony's value to the University was immediately clear to me in 1985 when USI began its management of Historic New Harmony – and that is truer today than ever. I have had the privilege of supporting New Harmony in a number of ways during my career, and now, as I soon mark 40 years as a Hoosier, I will begin perhaps my most important role yet, as Chair of the Historic New Harmony Advisory Board. I am humbled by the prospect and determined to do my best to assist the HNH administrators, staff and board members who, like me, are passionate about New Harmony. It is our mission to secure and promote its role as an historical, cultural and intellectual touchstone in our state, nation and beyond. Yesterday, I attended the annual New Harmony Independence Day Celebration and, as always, was moved by the ceremony, its speakers and participants, and by the New Harmony Community Chorus's renditions of not one but two special songs about New Harmony. I can still hear the refrain that ended the program: New Harmony, New Harmony, New Harmony, Indiana. 
Dr. Michael (Mike) Strezewski first visited New Harmony in 1997 as a graduate student at Indiana University. He was struck by how this "little town" had maintained a distinct identity almost 200 years after it was founded. Years later, he would become a professor at the University of Southern Indiana and become very involved in New Harmony. "When I was presented the opportunity to work there, I knew it would be interesting," he said.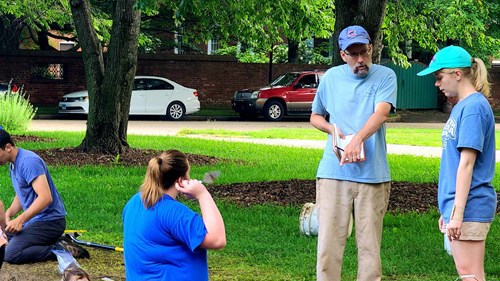 As an archeologist, Mike focuses on New Harmony's extensive past. Since 2008, he has conducted several excavations including one on the grounds of the Working Men's Institute, at the site of the Harmonist kiln and one just outside the north wall of the Harmonist Cemetery. He is currently leading a field school of both USI and University of Evansville students in Church Park at the site of the original 1816 Harmonist Church. With each of these excavations, not only is he teaching the next generation of anthropologists and archeologists, but he's also looking for answers himself. "I am fascinated by religious communities such as these and am always looking for more information on how they worked and what drew people to put down everything and join a Utopian society like the one created by George Rapp."
As Mike demonstrates through his annual field schools, New Harmony is truly a living learning environment for USI students and educators. Furthermore, he wants more students and faculty at USI to become a part of this environment of possibilities. He believes that the historic records of the two attempts at utopia that occurred in New Harmony are a "vastly underutilized source of information." Although the Harmonists spoke German, most of their documents are in English, as the majority of those they did business with spoke English. "There is so much unanalyzed data on the Harmonists that a person could make an entire career out of it… of course you would have to get used to reading nineteenth century handwriting." These records don't just tell us about the past, studying these records can help those that study them further their analytical skills which can help to better understand our current world.
Through his field schools and presentations he's done on New Harmony, he works to further engage students, faculty and even history enthusiasts in our "little town" on the Wabash. As a part of the Historic New Harmony Advisory Board, we are so thankful for Dr. Strezewski's fascination and dedication.
New Harmony residents and avid University of Southern Indiana supporters, David and Vicki Campbell started dating in New Harmony and ultimately made Utopia their home nearly 20 years ago. As you can imagine, this town is special to the Campbells and so is Historic New Harmony. David and Vicki have both served on our advisory board through the years. The couple supports our board in a myriad of ways in its efforts of preservation and continuing the "essence of New Harmony." These efforts are accomplished by what David noted as an inclusive board "encompassing a lot of different ideas and views which are only beneficial."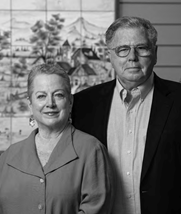 "Only in New Harmony." You have probably seen this phrase in another newsletter article or heard it on a visit to Utopia. It's frequently repeated by our residents. When asked about a special memory, David shared that there were too many because he believes New Harmony itself is special. "New Harmony is wonderful because it's small… with an eclectic population full of all skills and ideas. That's what makes New Harmony special."
With the continuing COVID-19 pandemic, David believes we must take what makes us special and use it to adapt to the changing times. As strong and longtime supporters of the University, David and Vicki know that this needs to includes making sure the value of this historic space is well understood by USI decision-makers as well as continuing to identify rich and innovative opportunities to include USI students, educators and residents. A unique asset to the University, David believes that we can't let space and travel be an obstacle. As we move forward through this pandemic, there will be more opportunities to "employ the assets that are HNH." We can draw both students and visitors with music and the important history and ideas of science that are rooted in New Harmony.
David said it best, "when in New Harmony, you either get it or don't get it and the people on this board get it." We are thankful for those that get it, especially David and Vicki, as we continue to fulfill our mission.
---
Advisory Board Thank You Ed Jones, Chair of Historic New Harmony Advisory Board 
The successes of Historic New Harmony in the 2019-2020 program year have been significant in spite of the pandemic and economic uncertainties we all faced this year. Our pride in what has been accomplished over the past year comes from the enduring support of our many friends, both long-time and newly engaged. Indeed, with the help of all our supporters and Advisory Board members, planning for the 2020-2021 program year continues to develop with some major projects underway.  

Historic New Harmony always has been blessed with outstanding Advisory Board members who generously share their broad range of experiences and talents. The members of the current board exemplify those characteristics. Even though our recent meetings have been held by ZOOM or conference call, members continue to show their support, dedication and creativity needed to help the Historic New Harmony staff, officers and board members make significant progress toward our development goals. Our recent successes with digital delivery of programs and other timely modifications in telling the New Harmony story, the development of collaborations with other historic sites and programs and initiating work on needed restoration projects would not have been possible without the support, time commitment, innovative ideas and rich experiences that the members of the 2019-2021 boards have willingly shared.

I know I speak for the other Advisory Board officers and the staff in expressing our pride in what has been accomplished and thanking our friends and board members for their collaboration which made all of this possible. We each have much to be excited about when looking ahead to the creative plans and program innovations to be implemented in 2021.

May everyone have a safe and enjoyable Holiday Season!  As a gift to us all, let's look forward to meeting face-to-face in Utopia in the not-too-distant future!  
This month, the Historic New Harmony team has been reflecting on the people that make this community unlike any other. For Andrew Wilson, a lifelong resident, it wasn't until he joined the advisory board that he realized our community extends well beyond the town's physical boundaries. Andrew said it best, "There are many people, near and far, that truly care about New Harmony's success." The advisory board is full of those people that continue to share New Harmony's history and culture all over the world.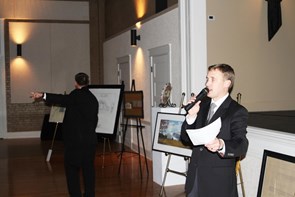 When asked for a special memory he has of New Harmony, Andrew shared one from his childhood. In 1987, the new New Harmony School was dedicated. A momentous occasion, many in the community were in attendance, including Indiana Governor Robert Orr. Building that school was an incredible accomplishment. "The effort required many dedicated volunteers, donors and elected officials to get to the day with incredible perseverance. I remember it feeling very momentous. Prideful," said Andrew. In fact, he believes that we are facing similar challenges today but can accomplish them with that same community spirit.
As we continue to navigate in the age of COVID-19, we are still able to achieve that level of community spirit. Andrew notes that "New Harmony's subjects are broad and diverse" and we are in a unique position to leverage HNH's communication platforms and digital programming like the Virtual Community Conversation series to continue to engage audiences, attract new visitors and maintain our relationship with our wonderful New Harmony residents, "further connecting our community of donors and volunteers more closely with their interests."

The New Harmony community is more than just those that reside within the town borders. However, residents and advisory board members like Andrew Wilson are invaluable to us as we continue to share the history and culture of this great town with the world. We are so thankful for his dedication to Historic New Harmony.
Although Mary Beth Guard visited New Harmony many times as a child, it wasn't until her visit in 2013 that she truly fell in love with this little town's magic. She finally experienced the unique atmosphere of New Harmony, "steeped in rich and interesting history" and "surrounded by beauty." What makes Mary Beth one of our strongest supporters is her desire to play a role in the future of New Harmony. As she puts it simply, "Historic New Harmony helps me do so." 
"Only in New Harmony" is an expression Mary Beth hears (and uses) frequently. She believes  New Harmony is full of experiences that could only happen here. Some are big, some are small, but they are so special, so unique, that "this is the only place they could be manifested." One of those experiences manifested in "Meet in the Street." Inspired by a photo seen online in 2018, Mary Beth and a small group produced the event of the year. Coming together quickly, a town potluck that included closing an entire block of Main Street, gorgeous tablescapes and bouquets, local music, delicious food and 150 attendees was organized. In less than two weeks, a New Harmony tradition began.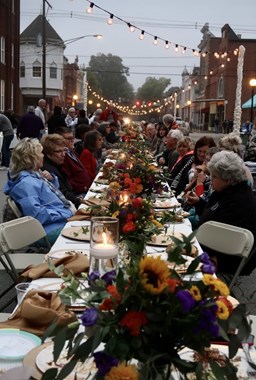 As shown during "Meet in the Street," Mary Beth excels at bringing people together, something she believes is a big part of Historic New Harmony's role as well. Historic New Harmony serves as a living laboratory for ideas, working to bring together the town and the University of Southern Indiana. Mary Beth is not wrong in declaring that "New Harmony is a ripe environment for object lessons, case studies, internships and opportunities to experiment." She sees our biggest opportunity in furthering our "matchmaking" skills and connecting with students and educators in endless fields including marketing, culinary arts, architecture and more. Most importantly, "New Harmony is like a petri dish where ideas can be nurtured." While not the most appealing visual, Mary Beth's way of describing our little town on the Wabash is certainly accurate.  
Finally, it is important to note that Mary Beth and her wonderful husband, Michael, often host fantastic guests from their personal social network to further spread the "New Harmony word and possibly even add new members to the community.   
Mary Beth brings so much experience and ideas to the advisory board and we are very thankful for her support! 
Lisa Brooks became a resident of New Harmony four and a half years ago but was a frequent visitor for 20 years after discovering Utopia on a "Best Places to Visit Before You Die" list. The day she finished Jane Blaffer Owen's book, New Harmony, Indiana: Like  A River, Not A Lake, was the day she purchased their home in New Harmony, proving that Mrs. Owen's vision and legacy continue to be a powerful influence.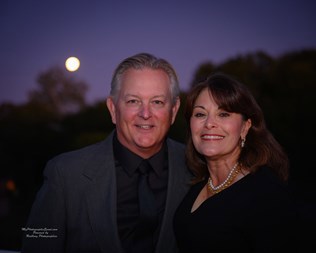 As a professor of hospitality and tourism management at Eastern Illinois University (EIU), Lisa appreciates how certain places can enrich the quality of people's lives. She believes that New Harmony "elevates the human experience." Lisa also has a better understanding of how Historic New Harmony (HNH) can further serve as a "living learning environment," not only for University of Southern Indiana students and educators but for other universities. She recently received a grant to bring hospitality and tourism management students from EIU to New Harmony to develop a project focused on event planning, tourism or weddings, all of which New Harmony relies on to thrive. In addition, with new state-of-the-art equipment in Clowes Theatre, she sees it as "one of the most sophisticated venues" for presentations. Not only can USI students and faculty utilize this space, but we have an improved venue to host community members in "research based educational sessions in order to strengthen the bridge between New Harmony and USI."    
If you have spent any time in New Harmony in June, I'm sure you have seen what Lisa calls the "magical flashing of fireflies." Say's Firefly, named after Thomas Say, the entomologist who discovered them and a longtime New Harmony resident who arrived on the Boatload of Knowledge in 1826, was named Indiana's State Insect in 2018. That year, New Harmony celebrated with a fantastic party that included educational lessons, firefly themed food and drink, children's activities, and best of all, evening golf cart tours to watch the fireflies flash throughout the town. However, much to her horror, Lisa recently saw a headline that didn't bode well for our fireflies: "Indiana's state insect, the firefly, facing extinction." Fireflies are facing escalating threats of pesticide use, growing light pollution and loss of their natural habitats. When asked if there was one major project or topic she would like HNH to tackle, her response was quick. As Lisa said, "it seems beneficial and appropriate for Historic New Harmony to host an annual Say's Firefly event" that could work to protect the firefly by educating visitors and community members.  
We're thankful for Lisa's commitment to both HNH and Say's Firefly and look forward to working with her further through our amazing advisory board.
John H. Grizzell grew up spending holidays in New Harmony, more specifically in the very home our offices occupy, so the fact that he has committed his time to our advisory board is not surprising. A long-time resident of St. Louis, he still makes the two-hour trip to New Harmony often. New Harmony is special to all of us, but for John, it's his commitment to his family and ancestors that brings him back. His great-great-great-grandfather, James Elliott, arrived in New Harmony during the social experiment led by Robert Owen in 1824 and his family has had a presence ever since. In fact, the Schnee-Ribeyre-Elliott Home, now HNH's offices, was given to Historic New Harmony, Inc by John's great aunt, Helen Elliott, while his mother, Jane Hickam Grizzell, a Historic New Harmony Advisory Board Life Director, was instrumental in raising the funds to renovate this beautiful home.
Most recently, John and his sister Betsy attended our Atheneum 40th Anniversary Gala, which John noted as one of his most special memories of New Harmony. On behalf of the Elliott family, John, Betsy, and their sister Susie, graciously made a gift to the USI Foundation for the naming rights of one the Atheneum galleries.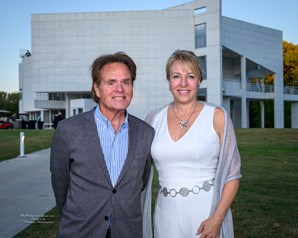 Owner of his own advertising consultancy, Grizzell & Co, John sees our ongoing effort to market New Harmony as our biggest project, especially in the age of COVID-19. As we continue to find our new 'normal,' he believes we are putting in the effort to stay relevant with our virtual programs like the summer Virtual Community Conversation Series. Most importantly, we're getting people involved and listening who might not have been engaged before. As we move forward, we know we can continue to count on John and his family to support Historic New Harmony in all our endeavors. John believes that "Indiana, and even the country, is very fortunate to have New Harmony." Well, I think we are fortunate to have John.