Jacinda Russell's Metaphorical Antipodes: Stories of Ice
By T Lance, Senior Gallery Associate, New Harmony Gallery of Contemporary Art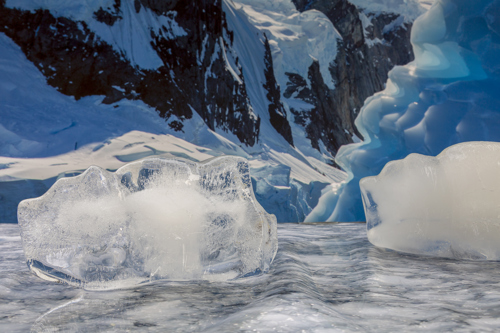 New Harmony Gallery of Contemporary Art, University of Southern Indiana is proud to present Metaphorical Antipodes: Stories of Ice featuring photography and sculpture by Indiana artist Jacinda Russell. Metaphorical Antipodes: Stories of Ice will be on view from June 10 through August 5, 2023. New Harmony Gallery of Contemporary Art's open hours are Tuesday through Saturday, 10:00 a.m. to 5:00 p.m. (CDT).
In Metaphorical Antipodes: Stories of Ice, Jacinda Russell combines three bodies of work that document time, environments, and loss. Through photography and sculpture, each series records a different element of the rapidly changing landscape in the polar regions. Utilizing precarious materials and embracing moments of denied access, Russell's process reflects both the beauty of the planet and the ever-present feeling of powerlessness to protect it.
Read More: https://www.usi.edu/new-harmony-gallery-of-contemporary-art/exhibitions/past-exhibitions/archive/2020s/2023/jacinda-russell
Jacinda Russell is a conceptual artist who seeks the edges, the ends of the line, and the blue in between. She works primarily in the mediums of photography, sculpture, installation, and bookmaking. Her artwork has been exhibited at the Atlanta Contemporary Art Center (Atlanta, GA), Texas Gallery (Houston, TX), Houston Center for Photography (Houston, TX), and the Amundsen-Scott South Pole Station (Antarctica). She is the recipient of the 2019 and 2022 DeHaan Artist of Distinction Award of the Arts Council of Indianapolis and the Photographic Arts Council / Los Angeles Research Fellowship at the Center for Creative Photography. Born in Idaho, she received her BFA from Boise State University in Studio Art and her MFA from the University of Arizona. Currently, she lives in Indianapolis and works as an Associate Professor of Art at Ball State University.
This exhibition is made possible in part by the Efroymson Family Fund, Arts Council of Southwestern Indiana, and the Indiana Arts Commission, which receives support from the State of Indiana and the National Endowment for the Arts.
---
Upcoming Exhibition: Mary Laube, August 12–September 16, 2023
By T Lance, Senior Gallery Associate, New Harmony Gallery of Contemporary Art
"Mary Laube's work represents the instability of identity and culture within the context of transnational narratives. How can art disrupt reductive and colonial perspectives of culture? How can abstraction propose new worlds and futures? Her paintings engage these questions through the representation and abstraction of museum artifacts from her birthplace. Objects such as Korean wrapping cloths, ink stones, Buddhist statues, and folk paintings surface in the work as synthesized forms that appear flattened, off-kilter and often unnamable. She uses abstraction as a device for reshaping seemingly embalmed fragments of history into mutable ideas. Through reimagining historical objects, her paintings become artifacts of displacement, reunion, decolonization, memorial and myth.
Laube (born Seoul, Korea, 1985) is an Assistant Professor at the University of Tennessee, Knoxville. She received her MFA (2012) from The University of Iowa and her BFA (2009) from Illinois State University. Past exhibitions include the Knoxville Museum of Art, Ortega y Gasset Projects (NYC), VCU Qatar (Doha), Monaco (St. Louis), The Spring Break Art Show (NYC) and Coop Gallery (Nashville). Artist residencies include Yaddo, Wassaic Project, the Virginia Center for the Creative Arts, Vermont Studio Center and Stiwdeo Maelor in Corris, Wales. Past publications include Art Maze Mag, Maake Magazine, and New American Paintings. In 2019, Mary received the Contemporary Visual Art Bronze Award from AHL Foundation. She is a co-founder of the Warp Whistle Project, a collaborative duo with composer Paul Schuette. Together, they make work that merges kinetic stage sets with music performance." For more information, please visit https://www.marylaube.com/about-flatiron.
---
Franken-Flowers & Vase-Ensteins, presented by USI Spring 2023 Advanced Ceramics Students and Curated by Ashley Banks and Lisa Ryan-Hutton  
By Ashley Banks, Gallery Assistant, New Harmony Gallery of Contemporary Art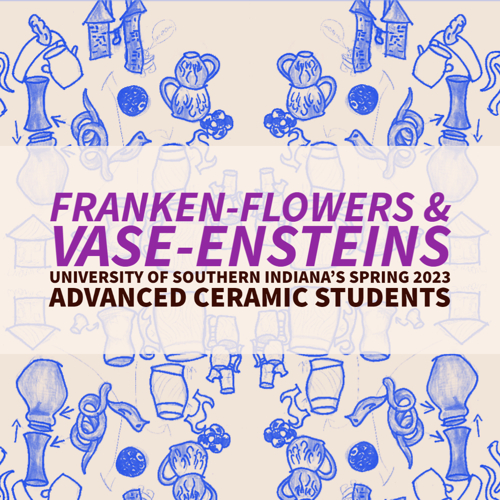 The University of Southern Indiana's New Harmony Gallery of Contemporary Art (NHGCA) is proud to present Franken-Flowers & Vase-Ensteins, a group exhibition showcasing a class project from the 2023 Spring Semester advanced ceramics courses.  
Franken-Flowers & Vase-Ensteins is open now through July 29. Gallery hours are 10:00 a.m. to 5:00 p.m. (CDT) Tuesday through Saturday. 
"USI students in Ceramics 2, 3, 4 and 489 began this project by each creating a variety of vessel shapes, neck shapes, and handles or sculptural accessories. They then collaborated on putting the parts together to create a variety of vase forms," said Al Holen, Associate Professor of Ceramics. "The construction took place under 'Top Chef' style time limits, so decisions and building took place quickly. After the 'Vase-Ensteins' were complete, students studied their creations and took inspiration from them. These inspirations were used in their individual vase creations." 
In Franken-Flowers & Vase-Ensteins, whimsy and experimentation run the gambit. Through the collaboration of students, different aesthetics combine to create unexpected and dynamic ceramic works of art.  
Artists included in the exhibition are Ashley Banks, Delaney Bigler, Emma Eaton, Elizabeth Garland, Al Holen, Katie Holloway, Ryan Huck, Lisa Ryan-Hutton, Summer Skelton, Shyanne Steward, Jaeda Thomason and Jade Young. 
NHGCA is dedicated to enhancing the experiences of students through an artist-run exhibition space in the Back Gallery (BG). BG Projects at NHGCA allows students to exhibit, experiment and/or curate within a working contemporary art gallery setting. Through exhibition and curatorial strategies, students can envision new possibilities for collaborations and their art practice. 
NHGCA promotes discourse about and access to contemporary art in the Southern Indiana region. 
---
Did you miss the Residence VII Artists' Talk?
View it here: https://youtu.be/5QpYMm_bEYg
---
New in the Gallery Shop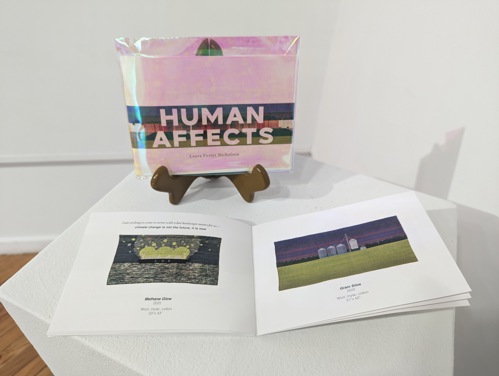 Laura Foster Nicholson
Human Affects
Book
$18/each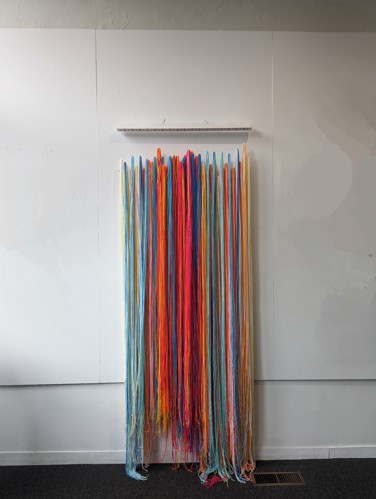 Laicee Blackwell *New Artist
It's a Trap (Passage No. 1)
Yarn
$250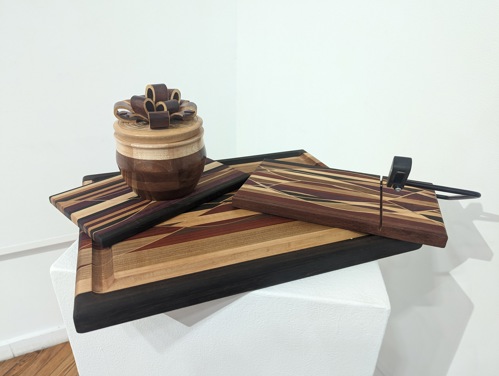 Ron Austill *New Artist
Intarsia cutting boards and ribbon box
Price as marked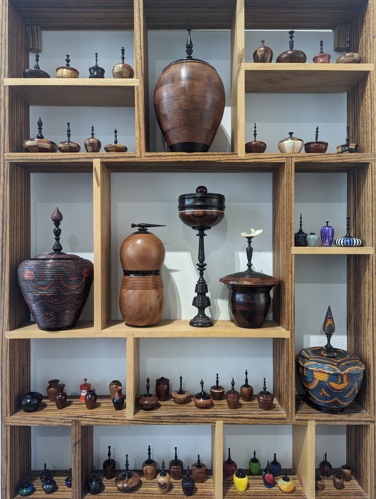 Brian Hart
Wood Turnings
Restock
Priced as marked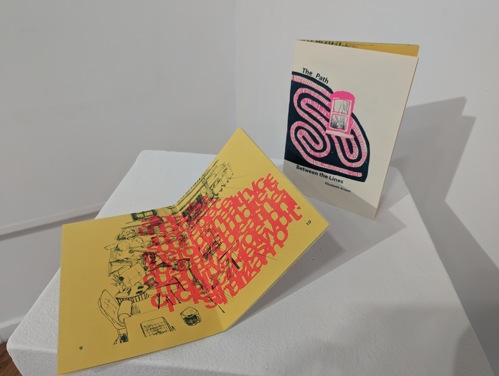 Elizabeth Arzani *New Artist
The Path Between the Lines
Limited edition rizograph zine
$25 each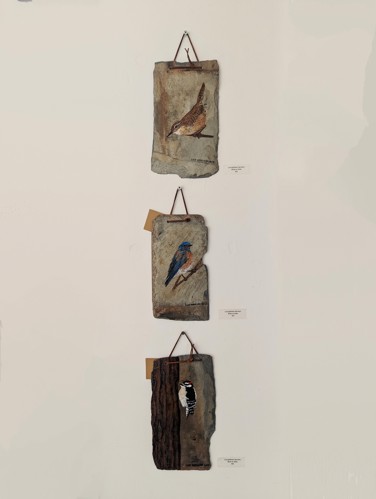 Lisa Spillman Haralson
Bird Slates
Restock
$65 each
---
MARCH 2023

River, Red by Ahmed Ozsever
Tonya Lance, Senior Gallery Associate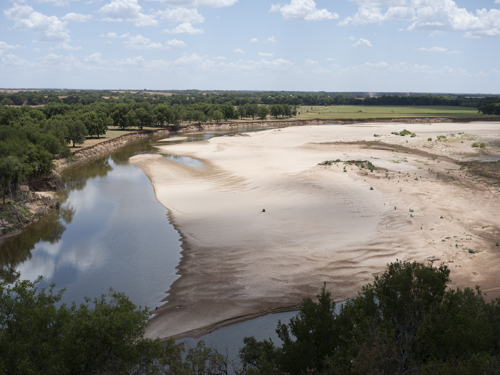 The New Harmony Gallery of Contemporary Art's current exhibition, River, Red, features photography by Indiana artist Ahmed Ozsever. River, Red will be on view from March 4 through April 15, 2023.
Ahmed Ozsever uses photography and data visualization to reflect on ideas of permanence and transformation within the landscape. In River, Red, Ozsever documents moments along the Red River, a river that flows through the western and southern United States that legally served as a line between Texas and Oklahoma. Red River has shifted and changed over the years due to natural sediment deposits in conjunction with human intervention. Ozsever's suite of images and portrayals of data about the Red River's junctures allows one to examine the deviation among invisible borders.
Ahmed Ozsever's River, Red marks ever-present environmental changes reminding us our landscapes are interconnected. An event in one place can influence alterations miles downstream, resulting in arbitrary boundaries moving beneath our feet. As River, Red depicts the transitional life of river basins, it also reveals intrinsic connections within our ecological and societal structures.
---
Residence VII: A Showcase of Artists from the New Harmony Clay Project
The New Harmony Gallery of Contemporary Art will host the group exhibition Residence VII, from April 22 through June 3, 2023. The exhibition features work by Grant Akiyama, Sarah Alsaied, Elizabeth Arzani, Caro Burks, Cameron Ford, and Jackson Shaner.
Residence VII features ceramic works by recent residents of New Harmony Clay Project. An opening reception will be held from 4:00 – 6:00 pm CST on Saturday, April 22, with talks from and about the artists. Gallery hours are 10:00 am – 5:00 pm CST, Tuesday – Saturday.
---
Ichor by Inka Kobylanski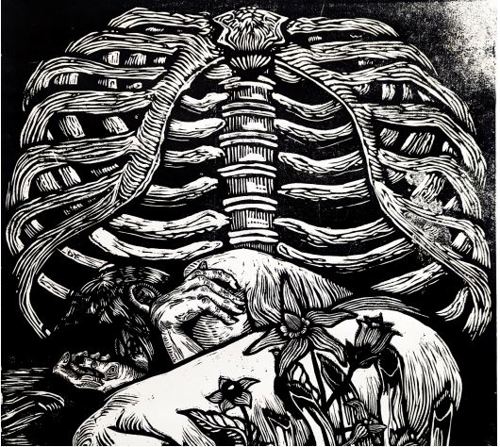 BG Projects at the New Harmony Gallery of Contemporary Art is proud to present Ichor, a solo show highlighting the work of Inka Kobylanski. The exhibition opens Saturday, March 25 with a reception on Saturday, April 1 from 4:00 – 6:00 pm CST. Ichor will be on view from March 25 through April 29, 2023, with gallery hours from 10:00 am – 5:00 pm CST, Tuesday – Saturday.
The word "ichor" originates from Greek mythology as the "ethereal fluid" that is the blood of the Greek gods, sometimes said to retain the qualities of the immortals' food and drink, otherwise known as ambrosia and nectar. Ichor is described as toxic to humans, killing them immediately if they are exposed to it.
Inka Kobylanski is an interdisciplinary artist and current student at the University of Southern Indiana from Newburgh, Indiana. Kobylanski believes that anatomy is the carefully constructed flora of the body, with nerves branching out like roots to every leaf, every stem, and every petal.
---
New Harmony Second Saturdays 2023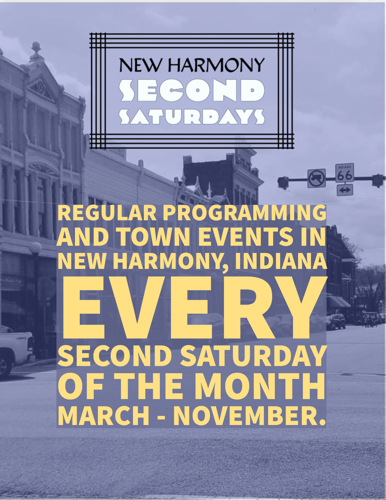 The 2023 Second Saturday Season is upon us! Join us in New Harmony every Second Saturday, March through November, for town-wide events. New Harmony Second Saturdays feature events like USI art student pop-ups, special historic tours, performances, sales events at local businesses, food pop-ups, workshops, art exhibition receptions and more. To have your event added to one of our Second Saturday calendars, contact NewHarmony.Gallery@usi.edu or visit www.usi.edu/nhsecondsaturdays.
FEBRUARY 2023

Tonya Lance, Senior Gallery Associate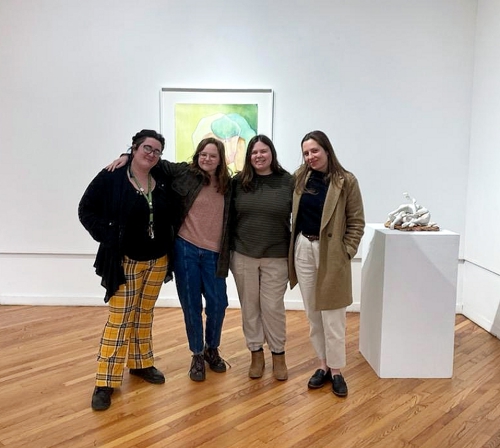 The cold weather made the past few months seem slow, but a lot has happened behind the scenes. The main exhibition space received more upgrades, including replacing the carpet with tile and resurfacing the wood floors. Along with the new lighting, shades and ceiling makeover, the gallery once again feels like a contemporary space. We are grateful to the Efroymson Family Fund for financially supporting these upgrades and to Iris Williamson for all the legwork lobbying for and planning the execution of these upgrades! Iris left the Gallery at the end of January. We wish her the best in her new position at the Maine College of Art and Design. In addition, the Gallery Shop is working on some technology upgrades as we continue to improve our processes and workflow through project management. We are also excited to have our part-time gallery assistant, Ashley Banks, and our Spring James A. Sanders Fellow, Al Sheets, join the NHGCA team!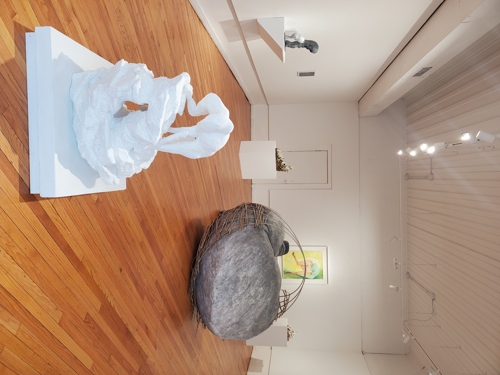 Our current exhibition, Climb In and Back Out Again, is a raw display of vulnerability exploring femininity, motherhood and way-finding. Melanie Cooper Pennington utilizes materials, methods and symbols to examine gendered issues around power, grief and desire. In her works, Pennington melds human and anthropomorphic forms into abstract figures that evoke physical sensations such as intimidation, awkwardness and ecstasy. Pennington blazes a trail for deep communion with oneself and others, embracing the tension between what is familiar and what is unknown.
Having descended from Arizona cowboys, Melanie Cooper Pennington formally references art histories rooted in masculine symbols and practices such as Western American Art, mid-century modernist sculpture and traditional craftsman-like techniques. She confronts these tropes by utilizing "the feminine"—an adjective that historically diminished the work of women artists. As an exploration of the body and its psychological states, Pennington asserts traits that traditionally imply "weakness"—fragility, sexuality, desire—as elemental to human fulfillment.
---
James A. Sanders Spring '23 Fellowship
Al Sheets, Fellow
As the Spring James A. Sanders fellow, I will organize and curate shows in the Back Gallery Projects' space at New Harmony Gallery of Contemporary Art. The current display in the Back Gallery Projects is Hodge Podge, an exhibition highlighting the diversity of work brought together by members of the USI Art Club. I am thrilled to be a part of the process of facilitating this show and looking forward to sharing this collection with the public.
At USI, I am currently studying art (with emphases on both illustration and graphic design) and exploring the world of gallery management, curation and conservation. My work typically uses charcoal, soft pastel, colored pencil and digital software. In the past, my work has explored the topic of human connection through physicality, gender identity and sexuality. Recently, my work explores the passage of time and the expectations we set for ourselves vs. the expectations of others. I anticipate incorporating these ideas as I curate two exhibitions for BG Projects, one later this Spring after Hodge Podge and one at the beginning of the Fall Semester.
Iris Williamson
We did a lot in 2022. While the world has changed since COVID-19 hit and there is still much to do, we have been gradually improving processes, strengthening exhibitions and taking on new programs. We're proud to look back at some of our exhibition highlights, to reflect and be inspired for the next year.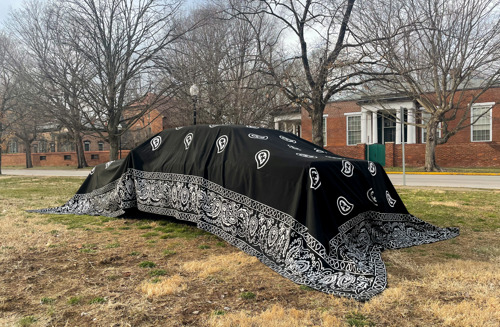 As far as our main exhibition series goes, New Harmony Gallery of Contemporary Art (NHGCA) started 2022 with a solo show from Chicago-based Puerto Rican artist Vanessa Viruet. In PAñUELXS, Viruet utilized materials such as bandanas, hoop earrings, cars, and found objects to investigate gender roles, cultural identity and socioeconomic experiences. As part of the exhibition we hosted a temporary public art piece across the street from the Gallery in MacClure Square—a huge bandana-printed car cover over a vehicle, which spoke to car culture and machismo in Latino culture.
After multiple Covid-related delays, Indianapolis' Big Car Collaborative presented the Social Alchemy Symposium, a multi-day gathering around design, art, architecture, community and "world-building." As part of this program, NHGCA hosted an exhibition and artist talk examining themes around the search for utopia. For us, this was a specific time to address the questions: "What is this search for utopia, and who is it for?"
Later in the spring we presented Residence VI, our annual exhibition showcasing artists from New Harmony Clay Project. Nine residents presented their works, exploring different processes and concepts through the medium of ceramics.
Chicago-based artist Modou Dieng Yacine's exhibition was our first show after some major gallery improvements including new lighting. Dieng Yacine's Utopia Land featured brightly colored paintings built on architectural imagery from New Orleans and his hometown of Saint-Louis, Senegal.
Cass Davis' Revelations featured sculpture, textile, painting, and video works that reflected on the complexities of their own small-town, midwestern roots. Materials such as corn, hay and the roadside billboard—and an installation of a revival tent on the gallery's second floor—were combined with woven textiles depicting archival imagery. While familiar and nostalgic, Davis encourages audiences to look deeper and layered into the histories of a place.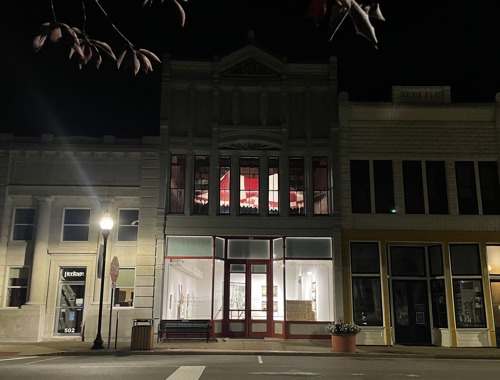 Our most recent exhibition was Filled Up 3, a juried ceramic cup show that we presented in partnership with our friends at New Harmony Clay Project. We were thrilled to bring Malcolm Mobutu Smith to town to be the exhibition's juror, and to present an artist's talk about his amazing work.
In addition to our core exhibitions, we have been gradually building out additional programs. New Harmony Second Saturdays, occurring in New Harmony every second Saturday from March–November, has grown in participation and popularity since its launch last fall. New Harmony Second Saturdays is a great way to draw out-of-town guests through a variety of events, sales and special projects.
We hosted three exhibitions in BG Projects, our student-led exhibition space. We began with a group exhibition curated by Chey Miller, then a solo exhibition by recent USI alum Ally Hinton, and, most recently, an exhibition of ceramic lamps by USI Ceramic II students activated our back gallery space.
The Gallery Shop is a great way for us to celebrate the artists in the region, and in 2022 we've brought in many new artists and artworks. There's always something interesting and unique to discover in our Gallery Shop.
After an active 2022, we are in a wonderful position to present exciting exhibitions and programs in the new year. On Saturday, January 21 we'll open our next exhibition with sculptures and drawings by Melanie Cooper Pennington and a student exhibition with USI's Art Club. We look forward to seeing you at New Harmony Gallery of Contemporary Art in 2023!
Iris Williamson
Revelations, a solo exhibition featuring Chicago-based artist Cass Davis, has closed. During Davis' two visits to New Harmony, they embraced a deep dive into the New Harmony archive, engaged with USI students and faculty through an artist talk on campus, and screened their video works in New Harmony at Working Men's Institute. It was great to see Davis respond to the town's history and architecture through their exhibition and an activation of the second floor of the gallery—an installation of Tabernacle, a hand-made revival tent.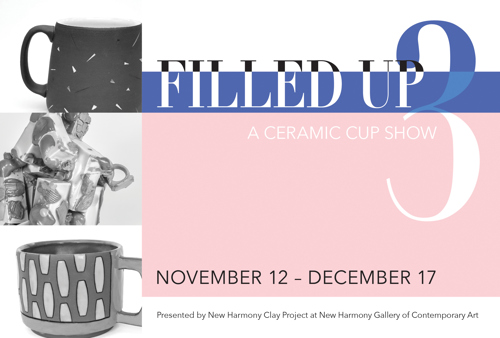 Our current exhibition is Filled Up 3, our annual partnership with our friends at New Harmony Clay Project. Filled Up 3 is a juried exhibition featuring ceramic cups (or "vessels") submitted by artists near and far. The exhibition is juried by Malcolm Motubu Smith, an artist and teacher, currently Associate Professor of Ceramic Art at Indiana University in Bloomington, Indiana. Works in this exhibition are for sale and can be taken home on or after our second reception on Saturday, December 3 from 4-6pm. 
Concurrently, we have a show up in our student gallery, BG Projects. The Lamp Project features an installation of ceramic lamps by USI ceramic students. 
Both shows are up through December 17. Make sure to check them out!
Iris Williamson
The New Harmony Gallery of Contemporary Art recently completed the first stage of long-overdue facilities upgrades in the main gallery space. This includes new LED track lighting through ESL-Spectrum, ceiling painting, facade painting, black-out window shades and new signage. We are thankful to the Efroymson Family Fund for their generous support of the gallery and this important project.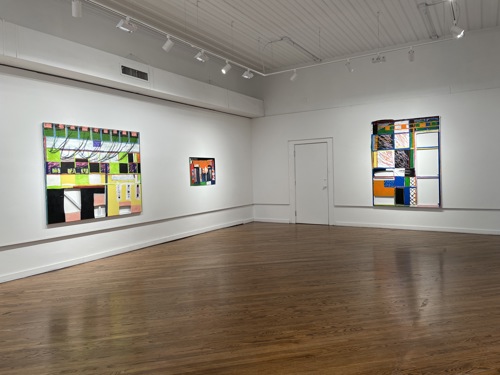 Our current exhibition Utopia Land by Modou Dieng Yacine features large, abstract paintings and mixed media works and really looks amazing in our bright, updated space. The show is up through August 27 and builds upon architectural imagery from New Orleans,  Louisiana, and his hometown of Saint-Louis, Senegal, to imagine an ideal place. 
Next up, Chicago-based artist Cass Davis mines their rural Illinois roots in a solo exhibition Revelations, opening September 10 (September's New Harmony Second Saturday). Through performance, video, installation and sculpture, Cass Davis' work examines their own Midwestern Evangelical upbringing. Davis is interested in understanding relationships between redemption, resurrection, embodied trauma and the failure of the American dream. Concurrently, we will have an exhibition with USI alum, woodworker Ally Hinton in our student gallery, BG Projects. We hope to see you at the New Harmony Gallery of Contemporary Art in the near future! 
Iris Williamson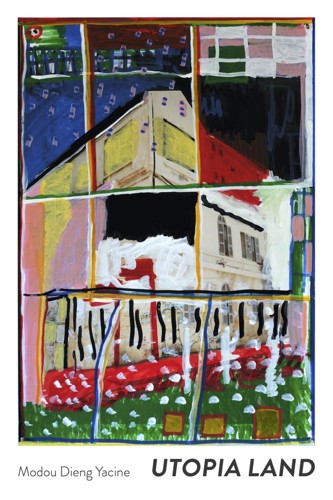 Over the next few weeks, the gallery side of New Harmony Gallery of Contemporary Art (NHGCA) will be closed for some exciting facilities upgrades. Specifically, we will install new LED track lighting and painting the ceiling. While this is only one of several projects on our grand facilities-upgrades docket, it will likely be the most impactful. We anticipate a beautiful Second Saturday opening in a refreshed gallery space from 4 to 6 p.m. on July 9, with "Utopia Land" by internationally respected artist Modou Dieng Yacine. Brightly colored paintings and photographs—incorporating architecture, abstraction and memories of growing up in Senegal—represent Dieng Yacine's imagined utopia. "Utopia Land" will be an excellent exhibition, and we hope you will join us on July's opening during New Harmony Second Saturdays!
In the meantime, our Gallery Shop will be open during regular hours. Senior Gallery Associate Tonya Lance has been putting in a great effort over the last several months to keep the Gallery Shop fresh and exciting. New artists include Nasreen Khan, Diego Moralis-Portillo and Evelyn Sanford Nicholson. We also have new works by shop staples Jen Bretz, Mitzi Davis and Kazhia Kolb. Make sure to swing by; you never know what kind of treasures we will have in the NHGCA Gallery Shop!
Iris Williamson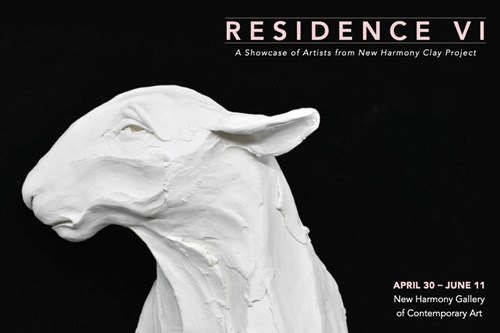 On April 30, New Harmony Gallery of Contemporary Art opened "Residence VI," an exhibition featuring ceramics by recent New Harmony Clay Project (NHCP) artists-in-residence. Works by Caro Burks, Donna Causland, Katie Chandler, Pennie Ebsen, Daeun Lim, Sarah McIntosh, Natalie Nicholson, Eva Polzer and Mona Martinez Seno span the realm of the functional, the sculptural and installation. "Residence VI" is the sixth-annual exhibition showcasing NHCP residents.
New Harmony Clay Project celebrates research and experimentation in clay, bringing artists from around the world to expand their practice at Sarah Campbell Blaffer Ceramic Studio in New Harmony, Indiana. In addition to being a vital resource for visiting artists, NHCP provides classes in the summer for community members who are interested in working with clay. We're thankful for this longstanding partnership with New Harmony Clay Project, and we hope you will make it out to the gallery before June 11 to see "Residence VI!" 
Iris Williamson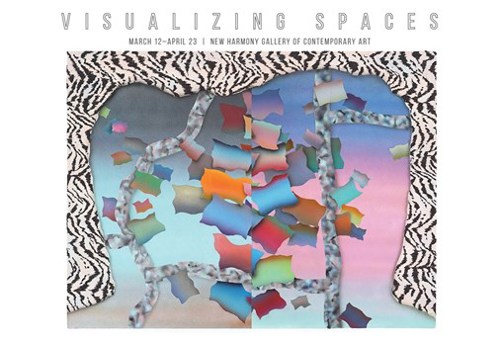 Visualizing Spaces opens March 12 (New Harmony's Second Saturday), featuring work by regional and national artists examining ideas around what utopia is, and for whom. Artists include Robert Burnier, Su A Chae, Nasreen Khan, Diego Morales-Portillo, Brenda Mallory, SaraNoa Mark, Deb Sokolow and Janie Stamm.
The exhibition is being presented in conjunction with Big Car Collaborative's Social Alchemy Symposium, April 10-13, 2022, in New Harmony and virtually.
Social Alchemy Symposium conversations—led by more than 20 notable authors, artists, designers, researchers and philosophers from Indiana and around the world—will look at the role of utopian thinking today and tomorrow while connecting with the past. Speakers include:
Emily St. John Mandel, author of the 2015 utopian/dystopian novel "Station Eleven" among other books and essays. "Station Eleven" has been translated into 33 languages and was adapted into an HBO series premiering in 2021 (virtual talk).
Maurice Broaddus, author of fiction centered on utopian and dystopian ideas through the genres of science fiction, urban fantasy and horror.
Darran Anderson, author of "Imaginary Cities" (2015), an Irish writer focused on the intersections of urbanism, culture, technology and politics (virtual talk).
Cara Courage, executive director of the Museum of Contemporary Art Detroit, scholar and author in the realms of art and placemaking, and formerly of the Tate Modern in London.
Other guests include Indiana writers Susan Neville, Adrian Matejka and Matthew Graham (current poet laureate); Indiana artists and arts leaders from New Harmony, Columbus, Bloomington and Indianapolis; leading architects, planners and designers and utopian/communal studies scholars.
Register for free tickets here.
Iris Williamson
In spite of snow days and COVID outbreaks, Vanessa Viruet's solo exhibition PAÑUELXS is up and on view through March 5, 2022. In addition to the interior gallery space filled with shiny and bold mixed media artworks, a public art piece by Viruet sits directly across from the gallery in Maclure Square. We hope you can venture out to experience Viruet's work during our open hours (Tues–Sat 10 a.m.–5 p.m.), or during our closing reception with the artist in attendance (March 5, 4–6 p.m.).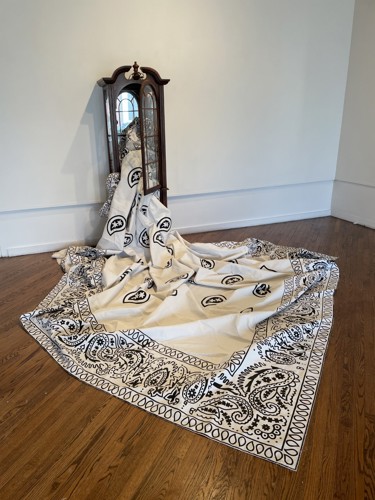 A group exhibition titled Visualizing Spaces is next up at the gallery. It will be presented alongside the upcoming (free) Social Alchemy Symposium, which will be held both virtually and in-person from April 11–13. We look forward to opening Visualizing Spaces on March 12, from 4-6 p.m., in conjunction with New Harmony Second Saturday.
Iris Williamson
Happy Holidays! The last day New Harmony Gallery of Contemporary Art and the Gallery Shop will be open in 2021 is Saturday, December 18. If you plan on doing some holiday shopping at the Gallery Shop or from Filled Up 2: A Ceramic Cup Show, make sure you visit by December 18!
The Gallery Shop opens back up on January 4, but there will be an additional break before we have a new exhibition in the Main Gallery. This is to allow for some facility improvements in the gallery and to align our next opening with when USI students are back in class.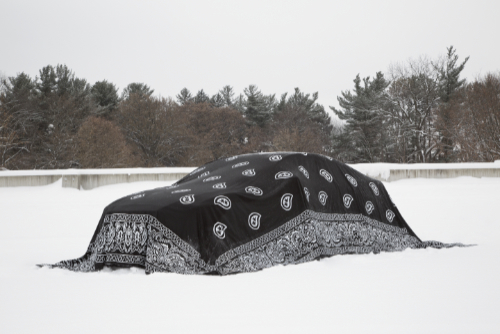 Opening Saturday, January 22 and lasting through Saturday, March 5 is a solo exhibition by Chicago-based artist Vanessa Viruet. Viruet will be presenting large-scale sculptures and textile works utilizing materials like hoop earrings, oversized bandanas and flags. In her upcoming show, Viruet considers the aesthetics of femininity and masculinity through a lens of her Puerto Rican heritage. In addition, Viruet's Black Car Pañuelo will be installed in Maclure Square, directly across from the Gallery. An opening reception is planned for 4 to 6 p.m. Saturday, January 22, and an on-campus artist talk will be held at noon Friday, January 21 at University Center West, Rm 226-227.
Iris Williamson
Next up at the New Harmony Gallery of Contemporary Art is Filled Up 2: A Ceramic Cup Show with the New Harmony Clay Project. This juried exhibition highlights a broad selection of ceramic cups submitted from artists around the country. The exhibition will be on display beginning November 20, and a public reception will be held from 4  -6 p.m. Saturday, December 4 (in conjunction with Christmas in New Harmony). From that point, you can purchase the cups as a holiday gift for a loved one or yourself!

About NHCP: New Harmony Clay Project (NHCP) is an artist residency and educational center located in historic New Harmony. The project fosters an environment that supports the investigation of new ideas and work in the ceramic arts. It was established in 2015 by Lenny Dowhie, an internationally known ceramic sculptor and Professor Emeritus at the University of Southern Indiana. NHCP is supported by the Robert Lee Blaffer Foundation, Efroymson Family Fund, Greater Houston Community Foundation and Lenny and Anne Dowhie Trusts. Its goal is to encourage emerging and professional visual artists/educators in ceramics by giving them quiet space and the time to develop a new body of work. The Clay Project is located within the Sarah Campbell Blaffer Ceramic Studio in New Harmony next to the Roofless Church.
We will be open until 7:00 p.m. on Saturday, December 11 for New Harmony's Second Saturday Gallery Stroll.
Iris Williamson
In October, we welcomed Chicago artist Kellie Romany to New Harmony and the USI campus in celebration of the opening of her solo exhibition at the New Harmony Gallery of Contemporary Art—Systems | Bodies | Parameters. The exhibition, which runs from October 9 through November 13 features 12 lush abstract paintings with surfaces that have to be seen in person.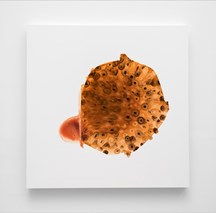 In Systems | Bodies | Parameters, Kellie Romany utilizes the materiality of paint to investigate issues around identity, relationships and racial constructs. Using a color palette of skin tones, Romany's shapes and textures become metaphors for the body. As she intuitively shifts and turns the canvas, pigments and oils expand outwards and blend, bleed, clot and crack. Colors and textures emerge, suggesting the biological complexity of skin.
This is an exhibition not to miss—we are open 10 a.m. to 5 p.m. Tuesdays through Saturdays , and the exhibition runs through November 13.
We'll also have a closing reception for Systems | Bodies | Parameters on Saturday, November 13, which happens to be November's Second Saturday Art Stroll. Make sure to check it out!
Iris Williamson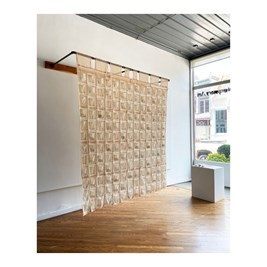 Throughout September, New Harmony Gallery of Contemporary Art continues the group exhibition, Describing Language: Thinking Through Access and Communication. Our back gallery has become an interactive space for research, refection and sharing. USI students and faculty, New Harmony residents and the general public have been contributing personal anecdotes, artworks, texts and other ideas around the topic of communication and access. We invite your resources, conversations and contributions to this multi-faceted topic. Visit on-access.org for more information about the artists in the show!
New Harmony events are picking up again, including the biggest festival of the year, Kunstfest, (Sept 18-19). Keep Arts in Harmony on your radar as well, happening October 16 and17. We also are launching Second Saturday Gallery Strolls in New Harmony, in collaboration with our friends at Hoosier Salon and Mason-Nordgauer Fine Arts Gallery. Every Second Saturday of the month from 4 to 7 p.m. the galleries will be open late and host special events. Don't forget to bring your mask, as they are still required indoors on all USI property. 
Finally, I want to let you know about our next exhibition, a solo show by Chicago artist Kellie Romany, titled Systems | Bodies | Parameters. Romany uses lush oils and pigments to explore the materiality of paint and abstraction. Using a color palette of skin tones, her work also recalls the relationships between bodies, biology and race. The opening of Systems | Bodies | Parameters will be held 4 to 7 p.m. Saturday, October 9 , corresponding with October's Second Saturday. There are many good excuses to visit New Harmony this fall, and we hope you'll join us! 
Iris Williamson
The way someone can communicate to another person can be the point where they can access their needs, wants or desires. So often, miscommunication can deny people resources and opportunities. Our upcoming exhibition, Describing Language: Thinking Through Access and Communication, is a partnership between the New Harmony Gallery of Contemporary Art, University of Southern Indiana and the University of Oregon's Center for Art Research. Describing Language serves as both an exhibition and a laboratory for examining the ways in which language and other methods of communication allow or deny access.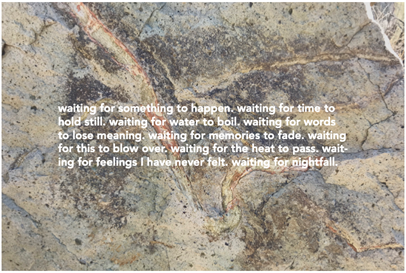 The group exhibition features works by Farhad Bahram, Jodie Cavalier, Jovencio de la Paz, Tannaz Farsi, Christine Laurin Miller, Warren Miller, Alyson Provax, Josie Love Roebuck, Xia Zhang and Yuyang Zhang. Serving as points of entry for community discussion and investigation, Describing Language is malleable and changing, inviting other examples, experiences and learning opportunities around the theme.
The exhibition runs from August 21 through October 2, 2021. While we won't be having an opening reception, we are working with students, faculty and staff from USI, as well as other community members and groups, to collaborate, share stories and create responses to project. Follow our Instagram page @nhgca to keep up with the many pop-up programs and projects around the exhibition.