Historic New Harmony News
Historic New Harmony Awarded over $2 Million through Lilly Endowment Initiative 
By Leslie Townsend, Director of Community Engagement and Historic New Harmony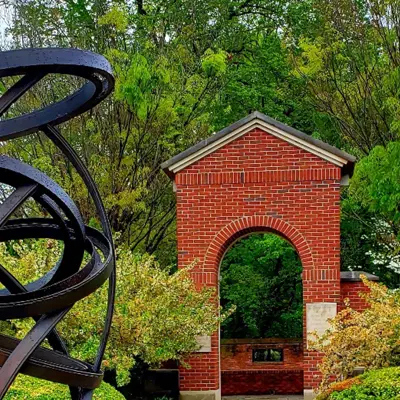 The University of Southern Indiana's Historic New Harmony program has been awarded an implementation grant of more than $2 million from Lilly Endowment Inc. The funding is for support of Historic New Harmony's Religion and Cultural Institutions Initiative. 
Through the Religion and Cultural Institutions Initiative, Lilly Endowment has awarded grants totaling more than $86 million to museums and other cultural institutions across the United States to develop exhibitions and educational programs that fairly and accurately portray the role of religion in the U.S. and around the world. 
Historic New Harmony was awarded $2,065,701 for a project that includes the restoration and renovation of two historic buildings to be used as exhibition and programming space, development of a new permanent exhibit detailing the religious history of New Harmony and creation of community engagement programming, including a multi-day interfaith festival.  The five-year grant also funds the development of a Collections and Exhibition Curator and student fellowship to work with exhibition design and programming.    
"This initiative will expand our capacity to share New Harmony's rich cultural and spiritual heritage, and we are honored to receive Lilly Endowment's support," said Leslie Townsend, Director of Community Engagement and Historic New Harmony. "Funding will allow us to restore the John and Roxse Beal House into a permanent exhibition space and the former Doctor's Office exhibit building into a community learning center which will benefit both visitors and residents of New Harmony." 
​Lilly Endowment Inc. is an Indianapolis-based private foundation created in 1937 by J.K. Lilly, Sr. and his sons Eli and J.K. Jr. through gifts of stock in their pharmaceutical business, Eli Lilly and Company. Although the gifts of stock remain a financial bedrock of the Endowment, it is a separate entity from the company, with a distinct governing board, staff and location. In keeping with the founders' wishes, the Endowment supports the causes of community development, education and religion and maintains a special commitment to its founders' hometown, Indianapolis, and home state, Indiana. A primary aim of its grantmaking in religion is to deepen the religious lives of Christians, principally by supporting efforts that enhance congregational vitality and strengthen the leadership of Christian communities. The Endowment values the broad diversity of Christian traditions and endeavors to support them in a wide variety of contexts. The Endowment also seeks to foster public understanding about religion by encouraging fair, accurate and balanced portrayals of the positive and negative effects of religion on the world and lifting up the contributions that people of all faiths make to our greater civic well-being.
---
Liminal: Indiana in the Anthropocene Film Screening and Exhibit
By Diane Sanders, Assistant Director of Historic New Harmony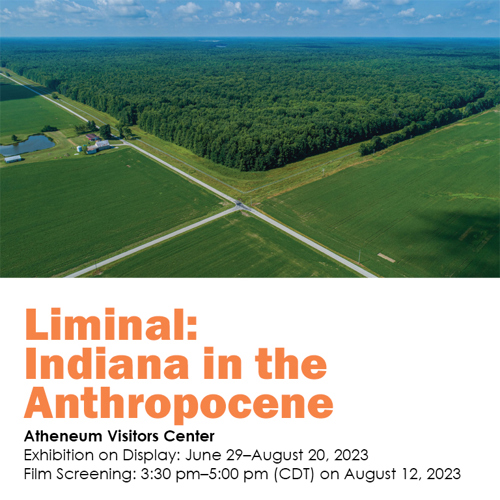 Presented by Indiana Humanities, Liminal is a meditative aerial film that illustrates Indiana as a microcosm of this new planetary epoch. It captures features of this global phenomenon within the boundaries of the state, collapsing the global into the local. This program is part of the Unearthed initiative, Indiana Humanities' multiyear environmental theme, asking Hoosiers to consider their impact on the environment and the environment's impact on us.
Historic New Harmony will be offering a free screening of Liminal at 3:30 p.m. to 5:00 p.m. (CDT) on Saturday, August 12 at the Atheneum. An accompanying exhibition of film stills is on display at the Atheneum from Thursday, June 29 to August 20. For more information, visit: https://www.usi.edu/hnh/programs/liminal-indiana-in-the-anthropocene.
---
USI Communal Studies Association Conference to Explore Communal Theory, Practice and Impact
By Silvia Rode, Chair, Historic New Harmony Advisory Board; Assistant Dean of the College of Liberal Arts; and Director of the Center for Communal Studies
The Communal Studies Association (CSA) Conference will meet Thursday through Saturday, October 5-7, on the USI campus and in New Harmony, Indiana. The theme for the 2023 Conference is "Communal Theory, Practice and Impact," in recognition of the 50th anniversary of the CSA.  
The CSA is an interdisciplinary organization for individuals living in intentional communities, historic site personnel, and academics representing topics including history, anthropology, religious studies, sociology, political science and others. 
"This will be a year of celebration as the group, founded by USI's own Dr. Donald Pitzer when I was an undergrad, returns for its 50th annual Conference," says Dr. Greg Brown, Conference Committee Chair. "I am excited to see this group of scholars and practitioners focused on positive ways of living return to New Harmony. I believe the focus on human cooperative behavior is as important in 2023 as it has ever been." 
The Conference will open Thursday, October 5 with a banquet in Carter Hall, located in University Center West. On Friday and Saturday, October 6-7, participants will have the opportunity to listen in on various panels, including "What is Happening in Your Community? Why Community Development Matters," "Following the Feminist Footsteps: Mapping the Movements of Two Communal Socialists," and many more in various, historic locations around New Harmony. For a full list of panels and locations, visit communalstudies.org. 
"The University is uniquely situated to help address some of the contemporary challenges facing humanity because of its Center for Communal Studies, with its collection of over 500 communities, 15,000 images and 243 oral histories," says Dr. Silvia Rode, Director of the Center for Communal Studies and Assistant Dean of the College of Liberal Arts. "Since 1976, the Center has flourished as the foremost research institution in the United States for historical communal groups, intentional communities and utopia. In addition, USI's communal studies minor allows students to explore the diverse history and social, economic and political structure of current communal experiments in the United States and the world." 
To learn more about, and register for, the Communal Studies Conference, visit communalstudies.org. 
---
Historic New Harmony's 39th Annual Heritage Artisans Days—By the Numbers
By Diane Sanders, Assistant Director of Historic New Harmony
Historic New Harmony hosted its 39th annual Heritage Artisans Days on April 12–14 this year. It was the first in-person Heritage Artisans Days since 2019. Over the course of three days, Historic New Harmony served more than 3,100 participants hailing from more than 50 schools and 60 homeschools across the Tri-state region. Seven schools took advantage of grants to alleviate admission and/or transportation costs. Nine interpreters demonstrated their crafts, including a basket weaver, blacksmith, candle dipper, fur trader, oxen driver, paper marbler and bookbinder, quill artist, rope maker and weaver. In addition, two interpreters portrayed New Harmony scientist Thomas Say and a nineteenth-century ship captain. Students could purchase wares from several of the craftsman and whet their appetites at two food stops for rock candy and kettle corn purchases. 42 volunteers worked 21 posts and provided nearly 200 volunteer hours. Ten donors sponsored the artisans, including Bill Elliott, Dan Fuquay, Joseph Laposa and Margaret Piety, Darla Olberding, the Kent and Laurie Parker Family Foundation, Laurel Vaughn, Wendy Igleheart Walker, Karen Walker, Linda Willis and Scott Wylie. Two sponsors, Indiana Humanities and Heritage Federal Credit Union, provided $3,500 in grant funding. The Indiana Army National Guard provided one medic for first aid services during the event. Feedback from one teacher on the impact of Heritage Artisans Days is below:
"Some of my students never get the chance outside of school to see some of these things. We talk about them in class and teach about New Harmony, but many of my students would never get to go there without Heritage Artisans Days. I have several past and present parents and students that still talk about this as their favorite field trip we take."
We're delighted that Heritage Artisans Days has become a well-regarded tradition, and we're excited to welcome our next generation of participants at the 40th annual Heritage Artisans Days on April 24–26, 2024.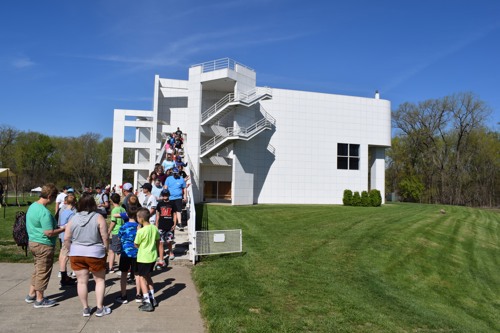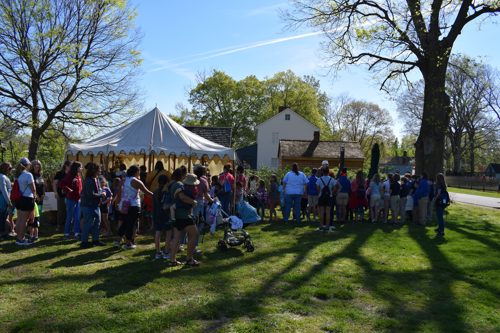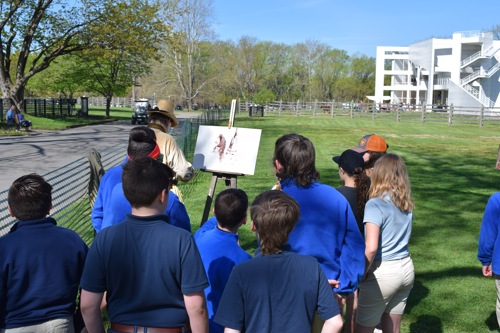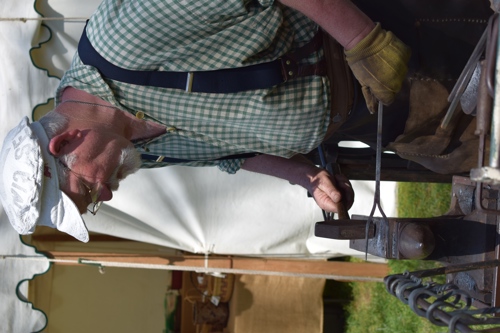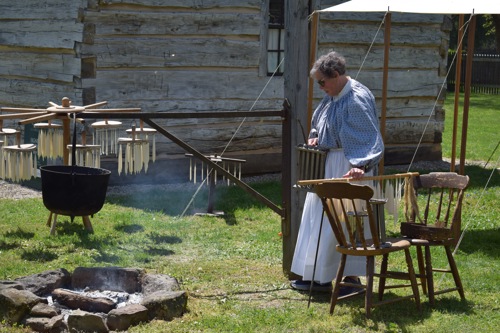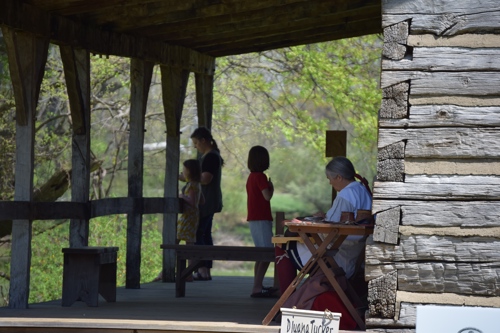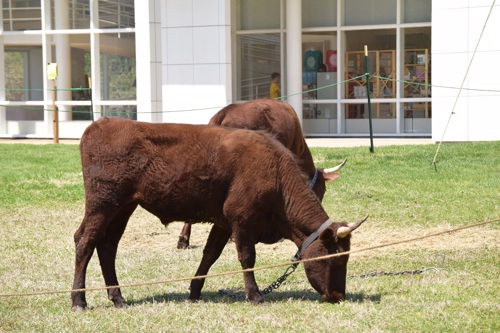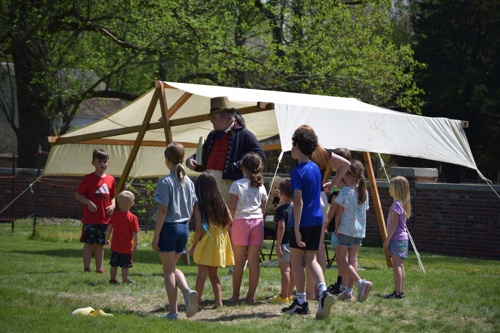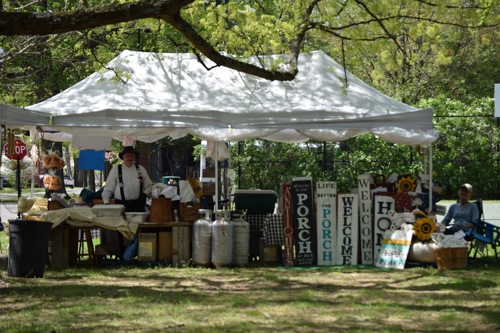 ---
Spring Hat Luncheon
By Diane Sanders, Assistant Director of Historic New Harmony
The Historic New Harmony Advisory Board's Special Events Committee hosted the Spring Hat Luncheon on Saturday, April 22, a week after Heritage Artisans Days. The event was dedicated by Barbara McConnell to the late Hat Luncheon Founders Betty Rice (1930–2021) and Peggy Rapp (1934–2022). Held at the Rapp-Owen Granary, the Luncheon featured a keynote presentation, "The Three Graces by Sandro Botticelli," by Dr. Shannon Pritchard, USI Associate Professor of Art History, as well as a fashion show by the Mews, live music and a silent auction. Prizes for best hat and most vintage hat were awarded to Linda Volz for her artistic celebration of New Harmony's sites in millinery form and to Karen Walker for her vintage floral pillbox hat. Proceeds from ticket and silent auction sales tallied up to $4,600, which will go towards supporting Historic New Harmony's mission. Thank you to everyone who planned, supported, volunteered, and/or attended this event; we greatly appreciate the time, dedication and financial support to make this event possible.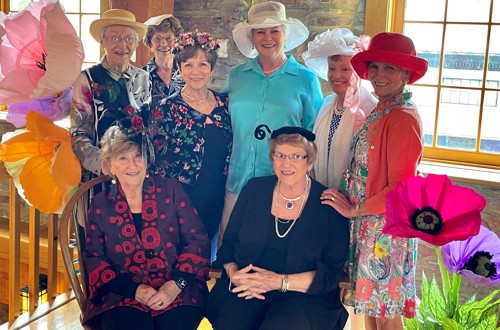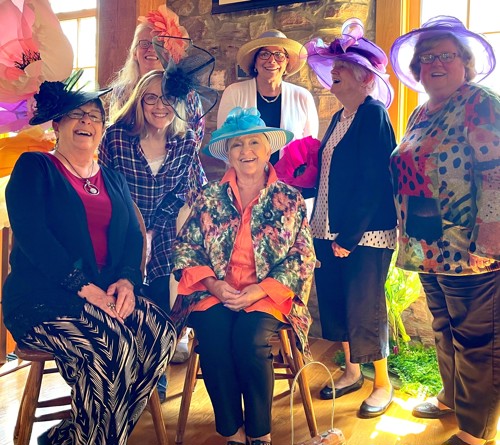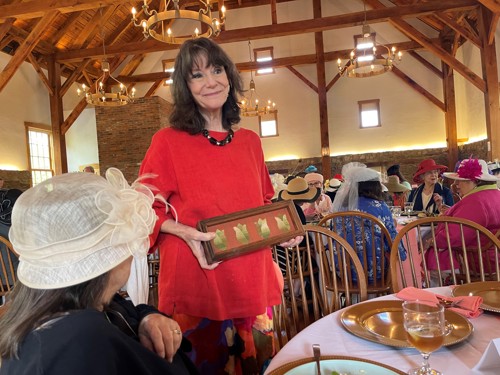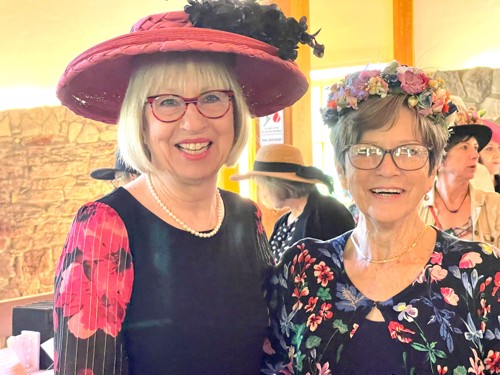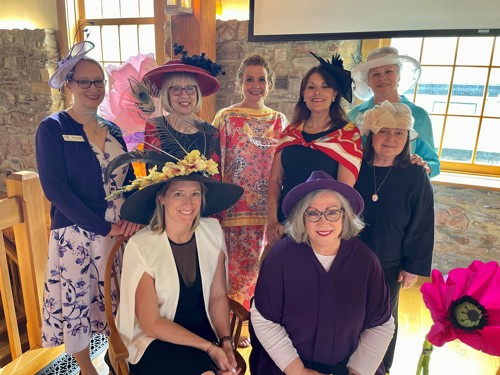 ---
Spring Programming and Upcoming Events
By Diane Sanders, Assistant Director of Historic New Harmony
Second Saturdays continued to be popular and filled the town with participants this spring. Historic New Harmony opened the Lichtenberger Building for visitors to enjoy the Karl Bodmer exhibition in April and hosted a historic preservation tour in May for preservation month. We partnered with the New Harmony State Historic Site in June to offer a program featuring Dr. Michael Strezewski, USI Associate Professor of Anthropology, and one of his students to discuss the Summer 2023 Field School archaeological dig and findings at the Barchet sisters' cabin site (north of the Fauntleroy Home).
Historic New Harmony supported the New Harmony Firefly Festival, opening the Atheneum during the evening of June 16 and 17. Interpretive staff provided several tram tours to one of New Harmony's prime viewing areas each night, describing the historical connection to naturalist Thomas Say from the Owen/Maclure period and facts about the firefly. We were delighted to participate in such a fun, wonder-inducing event, and anticipate making it an annual tradition. 
Looking ahead this summer, we will be offering two free natural dye workshops for senior learners (ages 55 and up) with instructor Peggy Taylor over the course of two weekends during August and September. Participants will create a palette of dyed yarn and fabrics to create a unique textile of their very own. Please see the calendar of events for more information and to register.
On September 12, we will be welcoming more than 1,200 freshman students from USI to town to participate in the second annual UNIV101 Freshman Experience field trip to New Harmony. We're excited this is becoming an annual tradition and look forward to sharing our city's past and importance with the next generation of USI students.
---
Heritage Artisans Days Returns for 39th Season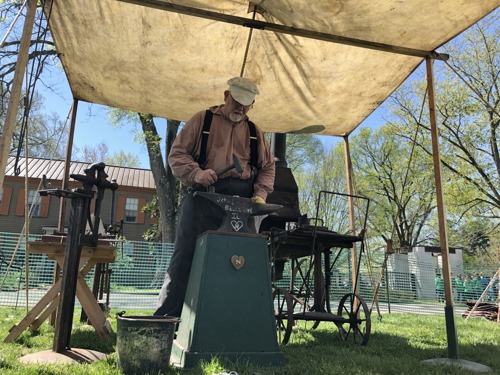 Heritage Artisans Days returns to New Harmony this spring on April 12, 13, and 14. For 39 years, Historic New Harmony has had a tradition of inviting thousands of elementary school children to learn what life was like living in New Harmony in the early 1800s. Visitors will have the opportunity to watch numerous artisans showcasing their craft, including a basket weaver, bookbinder and paper marbler, broom maker, blacksmith, candle dipper, rope maker, quill artist, and weaver. In addition to a Thomas Say actor interpreting the American entomologist's endeavors in New Harmony, other historic interpreters will discuss shipping and trade, fur trapping, and the role of oxen in western expansion.
Event registration for groups is open until April 5. Chaperones are $10, and children 6 and over are $5. School personnel are free. Members of the public are welcome on the day of the event. For more information and to register, please visit usi.edu/heritage.
We still need volunteers to help with the event. If you are interested in volunteering your time, please sign up on our website.
---
MARCH 2023

Fan Window Sees New Light of Day
Diane Sanders, Assistant Director of Historic New Harmony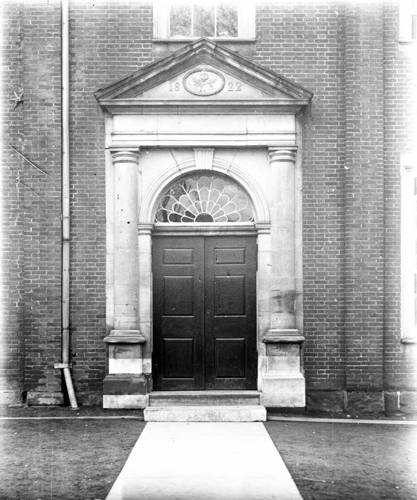 The Harmonist Church fan window is now on display in the Atheneum in Gallery II after being stored for several years. The window was originally part of the Door of Promise, which served as the north entrance to the brick Harmonist Church built in 1822. An exhibition featuring the window's restoration will be installed later this year.
The Door of Promise, designed by Harmonist stone mason and architect Frederick Rapp, featured a carving of a golden rose, the year 1822, and the inscription Micah 4:8 in the lintel above the fan window. The golden rose became a symbol for the society and was used as a trademark on manufactured goods. The door later served as the entrance to two public school buildings. When the second school was dismantled in 1988, the University of Southern Indiana (USI) moved the Door of Promise to storage for safekeeping. A reproduction now stands on the north side of Church Park, constructed in 1996 by USI at the site of the Harmonist Brick Church.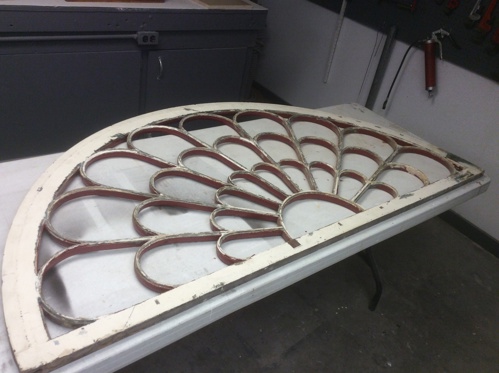 The fan window was discovered by USI maintenance staff John Busch and Todd Tichenor in 2015. The pair came across the fan window in their shop's storage space. The window was in general disrepair and had only two panes intact upon discovery, so it required restoration before it could be put on display.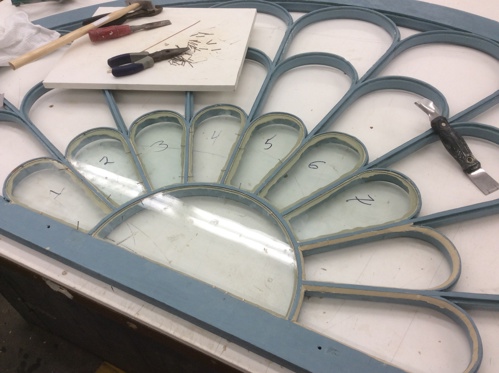 To inform the restoration process, Tichenor conducted research on Harmonist window construction and glazing. The window featured cylinder glass, a type of hand-blown window glass that contains imperfections. To create each of the window's 38 unique panes of glass, Tichenor made a rubbing of each opening. He then transferred the design to cardstock and made further refinements until each pattern fit perfectly. Tichenor would then use the pattern to cut the cylinder glass.
Historic New Harmony commissioned a paint study of the window to replicate the original finish of the window through Indiana Landmarks in 2018, which was conducted by Matthew Mosca of Artifex, Ltd. He reviewed four paint samples total: one each from the frame and muntin of the exterior and interior of the window. The samples showed the same cross section of white paint covering the original Prussian blue color. Mosca noted that the Prussian blue finish was unusual (but not unheard of) as an exterior finish for the time. It is unknown if the rest of the trim or just the fan window were painted the same color.
Should you, too, want to have Harmonist Prussian blue in your home, Mosca noted that Sherwin-Williams SW 7609: Georgian Revival Blue in a gloss level, not more than a modern satin gloss would replicate the original color. For the fan window restoration, however, Tichenor used a linseed oil paint matched to the Prussian blue color to be historically accurate. He completed the restoration of the window in January 2020 and is glad that it is back on display for everyone to enjoy.
---
"Grace" Us with Your Presence at Historic New Harmony's Annual Hat Luncheon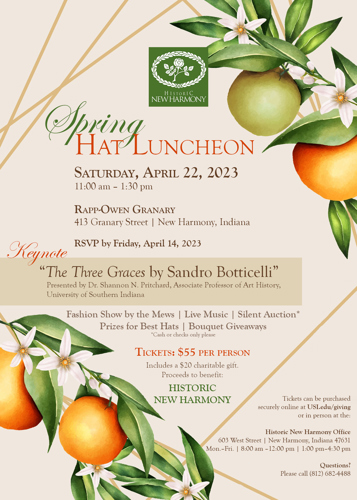 The "Three Graces" from Sandro Botticelli's Primavera will be the focus of the keynote presentation by USI Associate Professor of Art History Dr. Shannon Pritchard at this year's Spring Hat Luncheon. The annual fundraiser will be held on Saturday, April 22, 2023, from 11:00 am to 1:30 pm at the Rapp-Owen Granary in New Harmony. In addition to the keynote, the event will feature a fashion show by the Mews, live music, a silent auction, prizes for best hats, and bouquet giveaways. Tickets are $55 per person, which includes a $20 charitable gift to benefit Historic New Harmony. Tickets can be purchased online at USI.edu/giving or at the Historic New Harmony Office. Checks should be made payable to "USI Foundation" with "HNH Hat Luncheon" in the memo line.
---
---
FEBRUARY 2023

Atheneum Update
Claire Eagle, Community Engagement Manager
The Atheneum reopens on March 1 after a very busy off season. In addition to the Atheneum roof tiles being replaced, the wooden floors were refinished, drywall repairs were completed and paint touch ups are happening as I type this. Before the reopening, we'll also be stocking the Museum Shop with new and returning favorites including redware by Bee Tree Pottery, historic toys like Jacob's ladder and new jewelry designs. All that's missing at the Atheneum is you! The Atheneum will be open 9:30 a.m. to 5 p.m. Tuesday through Sunday. We're excited to welcome you back and hope you'll visit soon.
A Look Ahead
Leslie Townsend, Director of Community Engagement and Historic New Harmony
This time of year provides an opportunity to reflect on the past 12 months, but to also look ahead to what the new year will bring. For Historic New Harmony, 2023 will bring some changes to our team.
Our search for the Experience Coordinator is currently underway. This position is responsible for hiring, training and supervising the staff at the Atheneum Visitors Center, including the tour guides, and scheduling special group tours and field trips. In addition, they are also in charge of our property rentals. If you know anyone who would be interested, please refer them the University of Southern Indiana Employment Opportunities page or you can find the job posting here: https://usi.peopleadmin.com/postings/10401
I am also pleased to announce that Diane Sanders has accepted the Assistant Director position and will be starting in her new role this winter. Diane has an MFA in Museum Exhibition Planning and Design from the University of the Arts in Philadelphia and a BS in Historic Preservation and Human Environmental Studies from Southeast Missouri State. She worked at the U.S. Capitol Visitor Center for the past 10 years where her most recent role was Exhibits Specialist. Prior to that she worked as a Senior Exhibit Designer for the Missouri Historical Society/Missouri History Museum. Diane also completed an internship at the National Building Museum in Washington, DC, while in graduate school.
After the first of the year, Claire Eagle will resume her role as Community Engagement Manager and will continue to work on developing programs and exploring ways to increase USI faculty and student involvement in New Harmony. I can't thank Claire enough for the excellent job she has done as Interim Assistant Director for the past year and a half. Her work ethic, creativity and dedication have been instrumental to us during this time.
In addition to staff changes, the New Year will also see the long-awaited return of one of our most beloved programs. We are happy to announce that Heritage Artisans Days will be in person this year for the first time in three years. It was canceled in 2020 due to the COVID pandemic and we went virtual in 2021 and 2022. This year we are ready to welcome schoolchildren, teachers and parents from all over the tri-state to see what life was like in the early 1800s. Many of our most popular artisans will be returning for live demonstrations and we are also planning some new additions this year. The dates are April 12 – 14 and more information will be available soon.
These are just a few things we are looking ahead to in the New Year. I wish everyone the happiest of holidays and best wishes for a happy, safe and healthy 2023.
---
2022 Historic New Harmony Advisory Board Accomplishments
Katie Waters, Board Chair
The members of Historic New Harmony's Advisory Board are passionate about New Harmony—its history as a utopian community and its contemporary role in preserving that legacy and serving as a forward-thinking site for education and innovation. In 2022, the Advisory Board played an active role in assisting, initiating and implementing projects in support of this very special place. Here are some of the events that the HNH Advisory Board was involved with.
Spring – International Student Dinner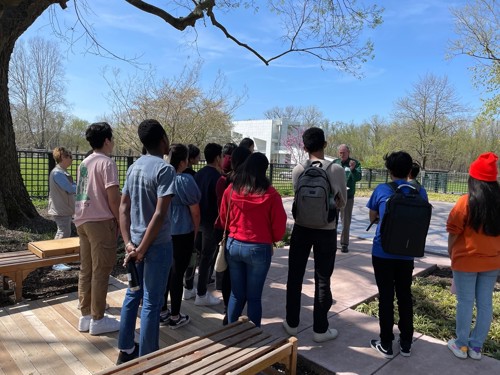 Spring is a lovely season in New Harmony. The Advisory Board created an Easter Experience for 21 international students who remained on the University of Southern Indiana (USI) campus during the break. The students took a tour of sites that reflected New Harmony's spiritual history and enjoyed a classic Easter dinner in Community House No. 2, prepared and served by an ad hoc group of Advisory Board members. After dinner, students discussed Easter and spring traditions in their countries and learned about the United States'. It was a great way to connect with USI students that was enjoyed by all.
Summer - Summer Hat Luncheon
Our June project was a festive fundraiser in the New Harmony Granary—The Summer Hat Luncheon. The sold-out event featured a delicious lunch, music and prizes for the best and most creative hats. Historic New Harmony Board members on the Special Events Committee worked hard to plan, decorate and facilitate the luncheon, and several also participated as table servers. The luncheon celebrated the 200th anniversary of the Door of Promise, the original entry to the Harmonist Church, and featured the Golden Rose, found on its pediment, as the luncheon's motif.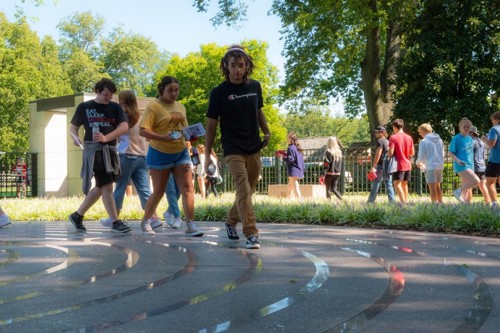 Fall – USI Freshman New Harmony Experience
Fall ushered in the most ambitious project of the year: the USI Freshmen Student New Harmony Experience. On September 13, over 1,000 USI first-years were transported to New Harmony, where they experienced its history and culture and learned about educational and internship opportunities there. They also discovered USI is the only state university in Indiana to have stewardship of such special historic sites. The three 3-hour sessions also allowed students time to independently explore the historic properties, nature trails, shops and restaurants. This was a major undertaking and USI faculty, administration and staff, and Historic New Harmony staff and Advisory Board members all worked tirelessly to make the day a great success.
Winter – New Harmony Holiday House tour
Lastly, December brings holiday celebrations, and Historic New Harmony joined with the New Harmony Business Associates, the Indiana State Museum and the Working Men's Institute in an annual weekend-long series of events that opened the holiday season December 2 - 4. Historic New Harmony Board members served as tour guides for the Double Log Cabin, one of the homes on the 2022 Holiday House tour. Over 200 visitors learned how pioneers celebrated Christmas in the 1800s. 
The members of the Historic New Harmony Advisory Board are to be commended warmly for their active and dedicated service. The Board looks forward to continuing its work to advance the Utopian legacy of New Harmony in 2023.
Best wishes for a peaceful and joyous holiday season!
---
Small World Connections: Stories That Unite Us
Heidi Doss, Historic New Harmony Advisory Board Member and Interpreter
In a time when the world's problems seem bigger than life and frustratingly insurmountable, the small world connections we make with others and the world around us bring hope for solutions and a brighter future. When we take the time to talk, share and listen, it's the encounters we create that bring us together and help us realize it is a small world after all.
On any given day at the Atheneum visitor center in New Harmony, people walk through the doors hoping to find a bathroom, rent a golf cart or get advice on how to make the most of their time in this little town along the Wabash River.  Conversations range from where to get a bite to eat, how to explore the town, why the bridge closed and what exactly is a labyrinth. There is usually a lot of pointing, looking at brochures and maps, and then folks are on their way to a New Harmony adventure. These interactions have the potential to offer more if extra effort is taken.
On occasion , and I believe with increasing frequency, are the conversations that can lead to deeper personal connections. This happens because visitors are drawn to New Harmony and have often gone out of their way to visit. Maybe they are in search of their own utopia, new philosophies, ideas and ways of societal living or just someone to talk to. Whatever the case, they are ready to engage and with a willing participant, conversations begin and connections are made. Let me share a few examples.
The most obvious connections in the Atheneum center around an interest and love for all things New Harmony. My tours are often two hours long so when a visitor chooses to join me, I believe there must be a true appreciation and interest in the history I will share and the philosophical discussions that may take place. One such connection was made about a year ago. These visitors enjoyed the tour and were inspired to go beyond and explore more deeply. By the time they returned to Chicago, they were hooked. This year, I was pleasantly surprised when they returned to seek me out and do it all over again. I believe their connection to New Harmony was strengthened by our friendship and they will return time and again to fill their hearts and minds.
Asking a guest where they are from is not just a way for us to gauge Historic New Harmony's reach into the world but also a gateway to connecting with them on a more personal level.  Recently while escorting a gentleman up to see the introductory film, I asked him where he called home. He replied Minnesota, but then looked at me with a smile and said but my roots are in Indiana. Mine too, I said. Where in Indiana? Rushville, he replied. Do you know where that is? Why yes of course, I do. I grew up there and my dad and sister still live in Rushville. What is your name, I asked? Phillip Willkie was his reply. Oh my gosh, you mean the Wendell Willkie?  With another smile, yes, he said, I am his grandson.  The Wendel Willkie who ran for president in 1940. A week before meeting Phillip, I had been discussing with my parents the fact my mother taught some of Wendell Willkie's grandchildren how to swim. It turns out, Phillip was not one of them, but a connection had already been made. The conversation continued, and the connections grew in number from relatives who live in the Minneapolis area to a mutual connection with Northland College in Wisconsin. By the time we said goodbye, Phillip and I felt like long lost friends.
If I sense or know a visitor has been traveling, asking where and why is another way to connect.  As a former National Park Interpretive ranger, I have an intimate relationship with National Parks. When somebody indicates they have been visiting one, a connection is instantly made and a conversation ensues. Often there is mutual respect for the natural world and sometimes a link with a specific park. This summer a young family traveling across the country visiting various parks and historic sites spent time in New Harmony. In short order, I found out they were park rangers currently working for Yellowstone National Park.  We chatted about mutual friends, our jobs with the Park and of course a shared love for Yellowstone. We also discovered both our families homeschooled and had a strong environmental ethic. They too were worried about the future of our planet and their children. Our shared time made it easier for me to personalize their visit to New Harmony. Before we said goodbye, phone numbers and hugs were exchanged, maybe never to be used or shared again but a forever connection was made.
My life has been made richer after meeting these New Harmony visitors, and others, whose stories are now told here. Chance encounters, yes, or maybe not. Open minds and open hearts lead us to make connections with people and places that have long lasting impacts on our future selves. And realize it is a small world after all.
Christmas in New Harmony
Claire Eagle, Interim Assistant Director

Believe it or not, the holiday season is here. Throughout town, businesses are preparing for one of our biggest weekends of the year: Christmas in New Harmony. This year, Historic New Harmony is delighted to once again have one of our very own historic buildings on the annual Holiday House Tour! On December 4th from 10:00 a.m.- 4:00 p.m. you will be able to visit five homes including the Double Log Cabin. We'll be celebrating a pioneer Christmas complete with warming fires in both fireplaces. Tickets are $20 and can be purchased online at visitnewharmony.com or at the Information Booth in Community House #2 during the event.
Below is the current schedule for Christmas in New Harmony. We hope you'll join us in utopia to for a festive weekend.
Friday, December 2
Traditional Christmas Tree Lighting at the New Harmony Inn, 5:30 p.m. FREE
Gnome Scavenger Hunt, 10 precocious gnomes hidden within plain site for you to find! Applications available at the Old Mill Mart, 1128 E. Church Street. Ends December 17 at 2:00 p.m.
Saturday, December 3
Breakfast with Santa at Holy Angles Community Center, 8:00 a.m.-10:00 a.m. Adults $5, children $3, 4 and under are FREE
Vendors at Ribeyre Gym and Community House #2, 9:00 a.m.-5:00 p.m.
Christmas Parade on Main St. including a Best Float Contest, 10:30 a.m.
Candyland at the Working Men's Institute, 11:00 a.m.-3:00 p.m.
Horse and Carriage Rides. Begin at Community House #2, 11:30 a.m.-6:00 p.m.
Signature Singers Holiday Concert at Murphy Auditorium, 2:00 p.m.
Pet Parade on Tavern St. including Best Costume Contest. Registration begins at 2:30 p.m. with parade at 3:00 p.m.
Lighted Golf Car Parade (line up at Roofless Church), 5:30 p.m.
Pub Crawl, 6:30 p.m.
Sunday, December 4
Vendors at Ribeyre Gym and Community House #2, 10:00 a.m.-4:00 p.m.
Holiday House Tour, sponsored by William Wilson Auction Realty, 10:00 a.m.-4:00 p.m.
Horse and Carriage Rides. Begin at Community House #2, 12:00 p.m.-4:00 p.m.
"The Children's Nutcracker'" presented by The Children's Center for Dance Education and sponsored by the Kent and Laurie Parker Family Foundation at Thrall's Opera House, 3:00 p.m.
---
Three New Harmony Properties Sold
Steve Bridges, Vice President for Finance and Administration
As valued members of our New Harmony community, I wanted to share with you the sale of three New Harmony, Indiana, surplus properties, approved by the University of Southern Indiana Board of Trustees Thursday, November 3. The goal of this sale is to find better ways for the property to be utilized to benefit the community of New Harmony. The three properties and their buyers are below:
Theater Barn - Sold to The Thin Place LLC (Michael & Mary Beth Guard and Docey Lewis)
Keppler House - Sold to the Historic Landmarks Foundation of Indiana, Inc.
Bentel Hop House - Sold to the Historic Landmarks Foundation of Indiana, Inc.
USI looks forward to a continued partnership with the town of New Harmony through our Historic New Harmony and other outreach programs to preserve the utopian legacy and inspire innovation and progressive thought through collaborative programs and collections.
Online Ticket Sales
Paul Goodman, Experience Coordinator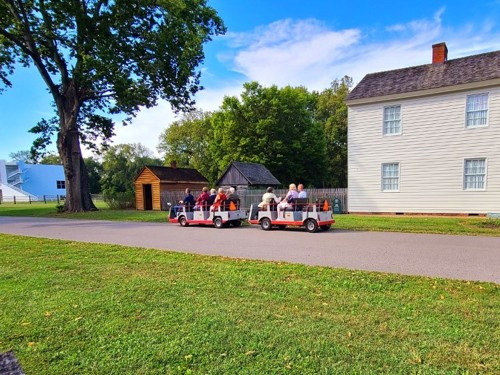 We've listened to our visitors and have set up an online system for the purchase of New Harmony tour tickets. Guests can now buy tickets online ahead of time for our group and daily tours. You can make that purchase directly from our website under Historic Tours. Our daily tours end October 31, 2022, so buy your ticket now and come enjoy beautiful New Harmony in its Fall finest. November and December offer weekend tours only.  Please click on the link below. Hope to see you soon!
A Reflection on Labyrinths
Del Doughty, Dean of the College of Liberal Arts
Back when I lived in Huntington, Indiana, I used to ride my bike past the cornfields and up the hill to Our Lady of Victory convent to walk its labyrinth. It was an 11-circuit, brick-lined path laid into the grass, and at the center was a massive, ancient oak. If you looked into a nook on one of the lower branches, you would find a pair of plain, golden rings. Every time I visited, they were there. You might think that someone would take them after a while, but I think that visitors respected that space as sacred and, beyond that, were probably intrigued by the story lurking behind those rings. Would someone someday return there, walk the labyrinth, find the rings they had left long ago and then re-unite with a loved one? I kind of hoped so.
That labyrinth in Huntington remains a favorite. There are others. I loved the labyrinth at Land's End in San Francisco—I use the past tense here because I was devastated to learn it was vandalized so often during the pandemic that it was dismantled. (I guess not everyone respects a sacred space.) The Land's End labyrinth was made of loosely set stones on a cliff above the Bay, and it afforded an unforgettable view of the Golden Gate Bridge. It was set so close against the cliff's edge that should your attention have wondered on the outer circuits, you might have slipped and fallen to your death. As the poets sometimes remind us, beauty and death are often closely linked.
My worst experience in labyrinth-walking came in Washington, D.C. I was visiting town for a conference, and I read that the American Psychological Association had a labyrinth on the rooftop of its headquarters. You had to call ahead to reserve permission, so I did, but then when I arrived at the APA at the appointed time the next day, I approached the security guards in the lobby and asked if I could proceed to the labyrinth. They denied me permission. I had to make a few phone calls to clear up the matter, and eventually I did, but not before I got frustrated with the APA. I guess I didn't cite my sources correctly! Since then, I've reaffirmed my commitment to MLA style.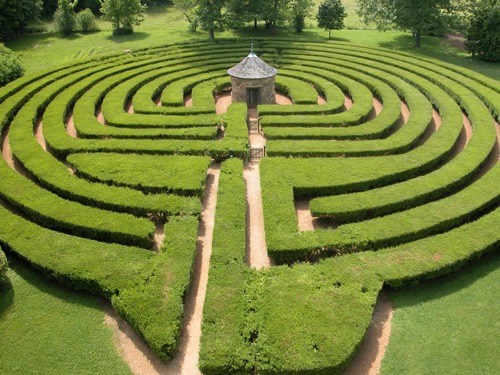 As you can probably tell, I'm pretty keen on labyrinths and have been for some time. I'm fascinated by those at New Harmony, and in particular, the hedge maze. I made a point of getting out there and walking it the first week I was in town. It was a cool, rainy Saturday, and no one was around, so I had it all to myself. I felt, as I sometimes do when walking the circuits, something like a low-level anxiety or agitation of nerves on the way in. I think that my imagination was excited by trying to take in all of New Harmony's history and beauty on my first visit, and it was just too much. Standing at the center, I took a few breaths and looked around. There will be time, there will be time, I recalled from a line by T.S. Eliot. With that simple truth in mind, I started back on the way out. Although I'm as eager as ever to learn about this wonderful place, I intend to take it slow, to savor every part of it.
---
Family Fun Month
Paul Goodman, Experience Coordinator

August is National Family Fun Month! Multiple organizations all over the country are promoting their sites and special features for the entire month including the National Endowment for the Arts and Blue Star Families. Did you know Historic New Harmony is a Blue Star Museum? As a Blue Star Museum, we offer free tours to active military and military families who visit our historic site. Blue Star Museums is an initiative of the National Endowment for the Arts in collaboration with Blue Star Families, the Department of Defense and more than 2,000 museums nationwide. The free admission program is available for those currently serving in the United States Military—Army, Navy, Air Force, Marine Corps, Coast Guard as well as members of the Reserves, National Guard, U.S. Public Health Commissioned Corps, NOAA Commissioned Corps and up to five family members. Qualified members must show a Geneva Convention common access card (CAC), DD Form 1173 ID card (dependent ID) or a DD Form 1173-1 ID card to get a free spot on one of our tours! So, come and join a tour! To all active service members and veterans, thank you for your service to this country. Your bravery, sacrifice and strength do not go unnoticed, and we will always be indebted to you and your family for all that you have given and continue to give to this country.
Second Saturday Programming Continues
Paul Goodman, Experience Coordinator
This year seems to be flying by! We're now halfway through the year (and our New Harmony Second Saturday programing). As our first year participating in Second Saturday, we've worked hard on developing a new and exciting program each month.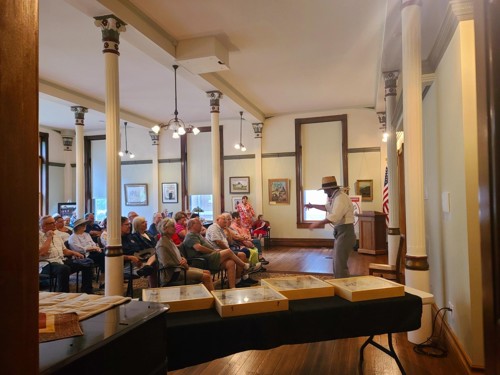 Beginning in March, we hosted a special Women's History tour focusing on the powerful and wonderful women who shaped New Harmony. Then, in April, we opened up the Maximilian-Bodmer Exhibition in the Lichtenberger Building for the afternoon so all could come and see it without going on tour. In May, we hosted a sold-out weaving workshop with local heritage artisan Peggy Taylor, where guests learned how to weave using historic methods just like the Harmonists. Our most recent Second Saturday program was a conversation with The Frontier Scientist, Thomas Say. He talked about his life and his expedition into the frontier to study and analyze nature.
These exciting programs are not over yet! On August 13, we will open up the Maximilian-Bodmer Exhibition once again from 1 to 4 p.m. In September, we will host another workshop with Peggy Taylor, but this time it will be all about natural dyeing, using plants from our recreated Harmonist Dye Garden at the David Lenz House. Be on the lookout in October, as there will be some haunting things happening that Second Saturday. Then for our final second Saturday of the year, we will be doing an open-hearth cooking demonstration in the Double Log Cabin, so come on by and see what's cooking!
Be sure and follow us on Facebook for all Second Saturday programing updates. For all those who joined us for any of the past events, we thank you. We hope to see you again soon!
---
Atheneum Maintenance Update
Paul Goodman, Experience Coordinator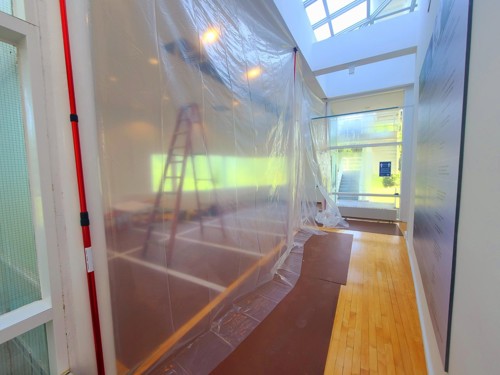 Work on the Atheneum roof started this week! As work continues, the entire roof, second and third floors will be closed off to the public, including the Clowes Theater and the 1824 town model. Crews will be replacing the tile on the top of the roof after repairing the drains. They will also be repairing water damage that has occurred on some inner walls and ceilings. Tours will still begin at the Atheneum, but the introductory film will be viewed in the Atrium, which was generously funded by the Kent and Laurie Parker Family Foundation. The construction will last a few months but once completed, the repairs will go a long way in the continued preservation of this icon of modern architecture.
The Atheneum
Paul Goodman, Experience Coordinator
In March I was contacted by a group of students from Xi'an University of Architecture and Technology in Xi'an, China. Their professor wanted them to have a deeper understanding of famous architects and their buildings. This particular group of students decided to study the Atheneum because, in their words, "it had great culture and was a masterpiece of Richard Meier (we admire him a lot)."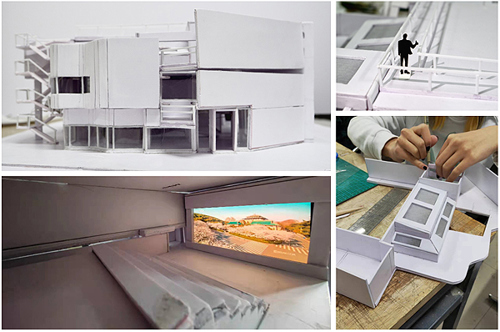 They asked if I would be able to send plans and photos of the Atheneum so they could make a model. I gathered up some of our original plans and sent photos. A few weeks later, I received another email stating they had completed the model. Their teacher praised them on the project. It looked amazing! It was almost an exact replica of the Atheneum. They couldn't create every single detail of the building due to time, but they got most of them. It included all the main elements of the building, and it also had a working cinema and lights inside. It just goes to show how much the Atheneum is revered all over the world.
A Note from HNH's Spring Student Worker
Hanna Clark, Historic New Harmony Student Worker
Despite graduating this semester, I have recently changed my career trajectory. I have studied political science and Spanish; however, I have shifted my focus toward statistics. While I have done a variety of tasks for Historic New Harmony, I have mainly focused on survey work—a vital part of statistics. This position has given me a great start to a career I hope to pursue soon, and I am elated that I had the opportunity to learn so much in such little time at a truly valuable historic site in my home state of Indiana.
One of the most valuable skills I have acquired in this time is survey development. I had taken a class on this as part of my political science degree, but nothing can compare to learning about the process through hands-on experience. Going through the process has taught me in a way that I cannot forget the skills. Not only has working on a survey for Historic New Harmony cemented the skills I have learned in class, but it has also taught me a few tricks I could never learn in class. Since I want to focus on the more humanistic side of statistics, this knowledge is going to be invaluable during my career. 
An imperative part of developing a survey is figuring out what questions are best to measure the information one wants. This entails editing the survey and removing many questions. As you can tell by reading this, I am wordy. I have struggled with editing things to be concise and communicate only the information necessary, but this internship has helped me acquire this skill. Working with others at Historic New Harmony and the Office of Planning, Research and Assessment has helped me focus on what is imperative. I hope this skill can transfer to other areas of my professional and academic life. 
One of the most challenging yet valuable learning processes that I have experienced here is learning how to use Qualtrics, a survey development and distribution software. I had to watch many tutorials and collaborate with Claire to learn how to use the software. Although it took a while to figure out, it is extremely rewarding to have acquired this skill. I love seeing all my hard work pay off by seeing a usable survey. 
I have also acquired and perfected some soft skills that will be valuable in any workplace or any career if I decide once again to change my plans. I think the most invaluable of these is collaboration. Aside from working in a restaurant, I have never had a job in which I had to collaborate with others extensively. In developing the survey, I had to heed the advice of others. Since I am new to this, I received many constructive suggestions from the people at Historic New Harmony and the Office of Planning, Research and Assessment.
This leads to another skill I have practiced while working at Historic New Harmony: communication. I am elated I could practice this skill since it is valuable not only in every workplace, but also in every area of life. I worked from home during this experience, so communication was even more important than it usually is. Exchanging clear and concise emails was part of my usual routine.
Overall, I have learned an incredible amount from this internship. Far too much to list here, but the few named skills will help me in my professional journey. I am so grateful for the opportunity to help Historic New Harmony in its mission to create a new exhibit and/or program. Thank you everyone for having me!
---
More Perfect Places: A Theatrical Celebration of the Past, Present and Future
Tanya Palmer, Associate Professor of Theatre at Indiana University
"More Perfect Places: A Theatrical Celebration of the Past, Present and Future of New Harmony" will offer free performances at Thrall's Opera House June 10-11, 2022.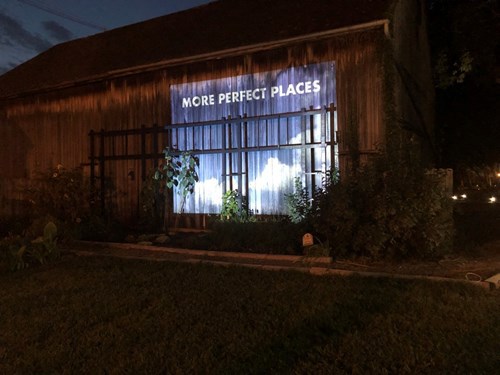 More Perfect Places is a play inspired by New Harmony's utopian history, but it is also an invitation to imagine what the future holds for this unique community. Part social gathering, part formal theater and part outdoor spectacle, More Perfect Places gives voice to well-known historical and contemporary figures such as Robert Owen and Jane Blaffer Owen along with lesser-known figures and writer and historian Charity Dye, pioneering African-American farmer Keziah Rosborough, —through writer and director Seth Bockley's rich imagination, including the animals, plants and geographic features that make this special place a utopia right here in Indiana. Written and developed with the support of The Center for Rural Engagement, Indiana University's Department of Theatre, Drama and Contemporary Dance, the New Harmony Project, Historic New Harmony, the University of Southern Indiana, the Working Men's Institute and the Robert Lee Blaffer Foundation, the creative team behind More Perfect Places is thrilled to bring this celebration of the past, present and future of New Harmony to Thrall's Opera House this summer for two free performances on June 10 and 11. 
More Perfect Places is a collaboration between director and playwright Seth Bockley, video and installation artist Liz Nofziger, theatre scholar Tanya Palmer and arts integration and education specialist Angela Tillges. While many of the stories at the center of More Perfect Places are inspired by history, this event also invites young people from Southern Indiana to articulate both what they would want to preserve about their communities, and what they would like to transform. As the play was being written in 2020 and 2021, Minnesota-based Arts Education expert Angela Tillges built curriculum and conducted workshops with middle schoolers and high schoolers in Mount Vernon and Huntingburg, Indiana, asking them to envision what a utopia in Southern Indiana would look like today. Their ideas and images will make up a part of the experience of More Perfect Places, which will feature a cast of IU Theatre students alongside professional actors from across the Midwest. Paoli, Indiana, based musician and composer Andrew Gerber is creating an original score for the play, and local New Harmony musician Liz Mumford and her band Blue Harmony will join in for a post-show community celebration.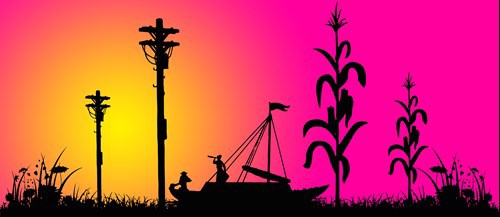 We are still seeking interested youth (ages approximately 10-20) to join us as performers in the show. No prior experience is necessary, you just need to be available during the week of June 6-12. If you are interested, please contact Angela Tillges at angie.tillges@gmail.com. Finally, we need audience members—you and your friends and family are a critical part of the show! Please visit us at www.moreperfectplaces.org to learn more about the performance and to reserve free tickets for the play and post-show video installation and celebration. We look forward to seeing you at Thrall's Opera House at 7 p.m. on June 10 or 11.
Museum Shop Update
Paul Goodman, Experience Coordinator
Welcome back to another season with Historic New Harmony! As we start this new season, there are some new items in the museum shop that are definitely worth checking out.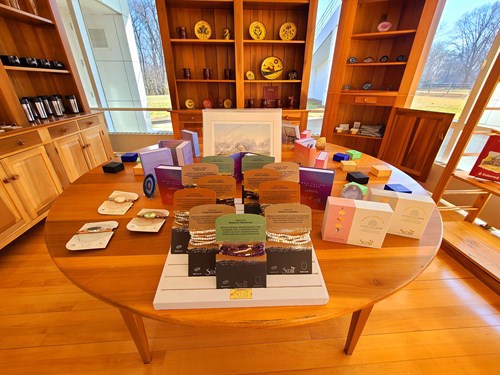 We have some amazing new jewelry from Scout Curated Wears. They specialize in designing modern, multi-use jewelry with a bohemian flare and many of their pieces convert from wrap bracelets to necklaces. All their items are beautifully displayed and packaged to brighten your day or make the perfect gift. As a company founded and led by women, they highly value promoting women and families. They believe all women have the right to reach their full potential. When women have the tools to succeed, everyone benefits. That's why they pledge to give 10% of net profits to organizations that help support and promote women.
We also have restocked pieces from Bee Tree Pottery. These artisan pieces showcase not only sgraffito and sponged techniques but also slip trail designs. For the younger generation, we have many new animal friend puppets joining us this year as well. Finally, you can find the April edition of Early American Life magazine. New Harmony has an eight-page feature and you can find it on our shelves while supplies last. We hope to see you all in the Atheneum this year either for a program, the museum shop or a tour!
HNH Welcomes New Student Worker
Claire Eagle, Interim Assistant Director
In late January, HNH welcomed a new student worker. Hanna Clark is a senior at USI double majoring in political science and world languages and cultures with a focus in Spanish. She will be working on the creation and administering of a survey to better understand the pre-conceived ideas of both the Harmonist religion and modern religion that are held by USI students, New Harmony residents and our annual visitors as a part of the Religion and Cultural Institutions Initiative II planning grant from Lilly Endowment Inc.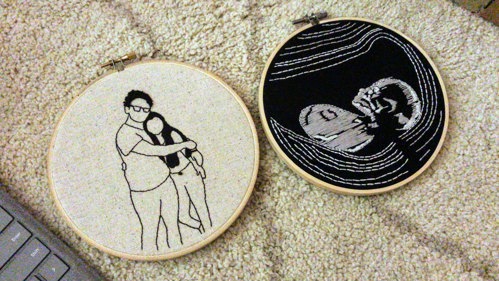 In addition to her position with HNH, Hanna is in her third semester working at the Miller Language Lab on campus. There, she helps low to intermediate level Spanish students with their homework. Hanna loves traveling in her free time, learning about the religion and history of different cultures and, when she has a quiet moment, she also likes to embroider. Especially family pictures.
Hanna hopes her work on this survey will help HNH continue to be one of the cultural facilities that makes Indiana great.
---
Devout & Disciplined: Harmonists in New Harmony, 1814-1824
Susan Colaricci Sauls, Director, University Art Collections
"And the multitude of them that believed were of one heart and of one soul: neither said any of them that ought of the things which he possessed was his own; but they had all things in common"  
King James Bible, Acts 4:32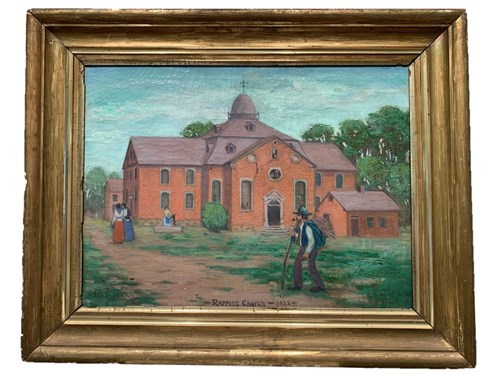 Devout & Disciplined: Harmonists in New Harmony, 1814-1824, shares the continuing story of religious separatists seeking refuge in America from the strict formation of the German Lutheran Church. After establishing a community in Harmonie, Pennsylvania, the Harmony Society moved to Southern Indiana in search of more land to accommodate a growing community, navigable waters to expand commerce and a climate friendly place to do the work of a vinedresser in a vineyard. Johann George Rapp, the vinedresser from Iptingen, Germany, led the Society both spiritually and administratively. The Harmonists professed a devout faith anticipating the Millennial Reign of Christ at his second coming would be soon; held the fervent conviction that salvation was a gift from God; and firmly believed the bible was the ultimate authority. They lived a devout and disciplined life building their community as they waited for the imminent return of Christ.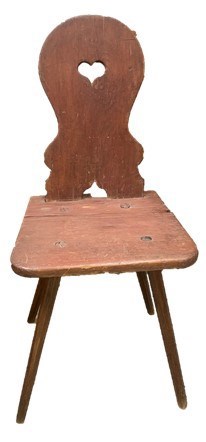 This exhibition presents an overview of the Harmony Society's history, building the town, their experience of communal living, how they sustained commerce, and ultimately their exodus to Economy, Pennsylvania. 
We hope you will accept our invitation to visit and explore the richly historic town of New Harmony. Featured here are artifacts from the collections of Historic New Harmony, The Working Men's Institute, and the University of Southern Indiana's Archives & Special Collections.
Presented in the exhibition are two pieces of furniture, a "peasant" plank chair and a formal decorated chair from a set of six, from collector Patty Clendennen and her late husband, Bob of Beaver Falls, Pennsylvania, 40 miles northwest of Pittsburgh, Pennsylvania. The Clendennens are considered experts in Harmonist furniture, pieces from their private collection now belong to Historic New Harmony and are on display in the David Lenz House.  
The purchase of the artifacts was made possible by a generous gift from The Lawrence S. and Christa C. Thurman Fund with the USI Foundation earmarked for economist issues, including acquisitions. Lawrence Thurman, a native Hoosier, formerly led the Old Economy Village in Pennsylvania and "had a love for all things Harmonist" according to his wife, Christa.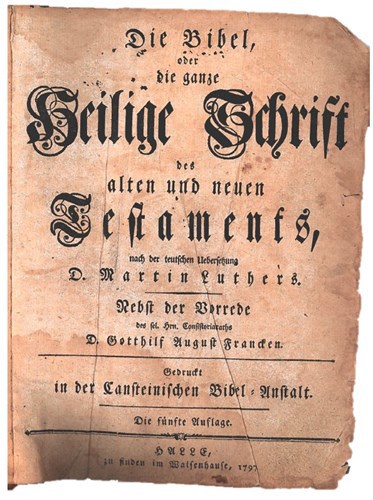 Also included are unexpected items like Father Rapp's poem Wabash Song in both the original German and English; Gertrude Rapp's well-worn bible; and a replication of the advertisement for the sale of the town of New Harmony dated 1824. 
A special thank you to the historic interpreters of Historic New Harmony for your contributions to the Interpreter's Interpretation notations found throughout this exhibition. We are most grateful.  
Devout & Disciplined: Harmonists in New Harmony, 1814-1824 will be presented in the McCutchan Exhibition Space located in the Wright Administration Building on the campus of the University of Southern Indiana from February 15 through July 15, 2022, between 9 a.m. and 4 p.m., Monday through Friday, except for Memorial Day and 4th of July. 
A Look Ahead
Leslie Townsend, Director of Community Engagement and Historic New Harmony
As you can see from Claire's report on our activities and programs in 2021, the Historic New Harmony team was busy and is looking ahead to 2022 which shows no sign of stopping! At the top of our "To Do" list is embarking on a new strategic plan. This will inform our direction, priorities and engagement for the next five years. 
We plan to begin work in the winter of 2022 with the goal of implementing it July 1, the start of our new fiscal year. Steven Stump, Assistant Director of USI's Center for Applied Research, will facilitate the plan and we will seek input from members of our HNH Advisory Board; University faculty, staff and students; and the New Harmony community. It's no secret that Historic New Harmony is unique. We are many things: a historic site, museum, event organizer, repository of amazing collections, property manager, community resource and the list goes on. We are also an outreach program of a university, and that holds special challenges and opportunities. New Harmony is and has always been a learning laboratory, and we will use USI's strategic plan, adopted in 2021, as a blueprint to look forward to ways we can make a difference both at the University and in the community.
Historic New Harmony is fortunate to have an active, dedicated and passionate Advisory Board under the direction of Chair Katie Waters. This past fall, we held a brainstorming session and as a result, the Board has activated three new workgroups. The Connections group will explore ways to have a greater association with the University and facilitate and assist in projects with USI students, faculty and staff. The Cultivation group will look at ways to expand our reach with supporters. And finally, the Special Events group will work to plan exciting donor and fundraising activities. These groups and projects will be essential as we plan for the future and will complement and be a part of the new strategic plan.
This coming year also presents us with a major new opportunity which will keep the HNH team very busy! I can't wait to share details, and more information will be coming, but this could impact us for the next few years and have a lasting effect. Stay tuned! 
These are just some of the new things in the works. Of course, the HNH team will continue the work that is our foundation–welcoming the public and sharing our Utopian history through tours, field trips, special events and programs. As we look to 2022, I want to thank you–our supporters, friends, board members, community and dedicated staff. 
Here's to a very happy New Year!   
Museum Shop Update
Paul Goodman, Experience Coordinator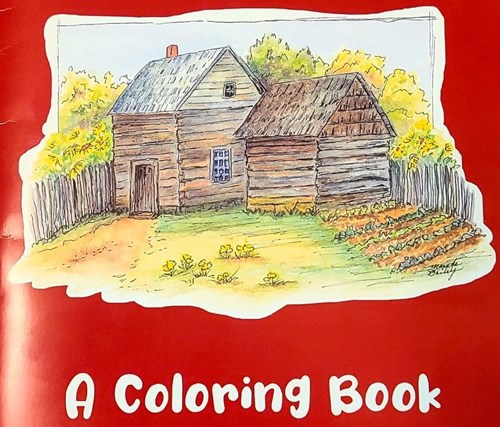 Hot off the presses! This new coloring book was written and illustrated by the talented Marsha Bailey and produced by the Kiwanis Club of New Harmony. Marsha Bailey has been drawing for as long as she can remember, whether it was in Indiana, Michigan or Maryland. Watercolor was her main medium for many years, until 16 years ago when she fell in love with colored pencil. She has branched out into portraits since starting with colored pencil, and it has been rewarding to be able to capture that certain expression of the subject. While she lived in Maryland, she helped start the Matawoman Creek Art Center and was a juried member of the North End Gallery, where she won several awards. She was fortunate to have her Christmas ornaments selected to be on the Blue Room Christmas Tree at the White House three years, and she attended the opening receptions. Being a member of the Hoosier Salon and OVAL has given her opportunities to display her creations. Whenever possible, she has taken art classes with award-winning artists from all over the country. She says, that although winning awards is nice, the most rewarding is when someone truly loves a painting enough to purchase it.
Each of the pages in her book has a drawing of an important aspect of New Harmony along with a short historical fact. This book, along with many other items, such as the finger puppets, candles, pencils, Jacob's Ladders and cup-and-ball, would make perfect Christmas stocking stuffers!
---
Christmas in New Harmony
Paul Goodman, Experience Coordinator
Every December New Harmony celebrates Christmas in a big way!  The first weekend of December hosts Christmas in New Harmony, a spirit filled weekend sure to get you ready for the holiday. The town will be decorated in the Christmas spirit along with a tree lighting, a performance of the Nutcracker, Artisan Vendors throughout the town and even visits from a certain someone to see if you have been naughty or nice!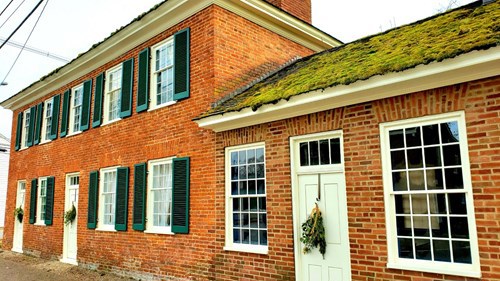 On Sunday, December 4, the people of New Harmony will open their decorated homes to the public in the second annual Christmas Home tour. This year, Historic New Harmony has the privilege to have one of our very own buildings on that tour. The 1830 Owen House (located on the corner of Tavern & Brewery) will be decorated in the style of the early 19th Century. Tickets for the tour will be available for $20 at the information booth located in Community House #2 during Christmas in New Harmony.
Below is a schedule of the other events for the weekend. We hope to see you here to celebrate the magical time of Christmas!
Friday, December 3
Tree Lighting at 5:30 p.m. at New Harmony Inn
Nutcracker at 7:30 p.m. at Thrall's Opera House
Saturday, December 4   
Vendors from 11:00 a.m. – 5:00 p.m. at Ribeyre Gym and Community House #2
Parade at 10:30 a.m. on Main St. including a Best Float Contest
Visit Santa from 11:00 a.m. – 2:30 p.m. at the Working Men's Institute
Pet Parade at 2:30 p.m. on Tavern St.
Pet Pictures from 3:00 – 4:00 p.m. with Santa
Christmas Golf Cart Parade at 5:30 p.m.
Christmas Jazz Ensemble at 7:30 p.m. at Thrall's Opera House

Tickets can be purchased at the information booth in Community House #2 during Christmas in New Harmony. $10 for adults and $5 for children under 12
Sunday, December 5      
Vendors from 11:00 a.m. – 4:00 p.m. at Ribeyre Gym and Community House #2
Christmas House Tour from 10:00 a.m.—4:00 p.m.
Museum Shop Update
Paul Goodman, Experience Coordinator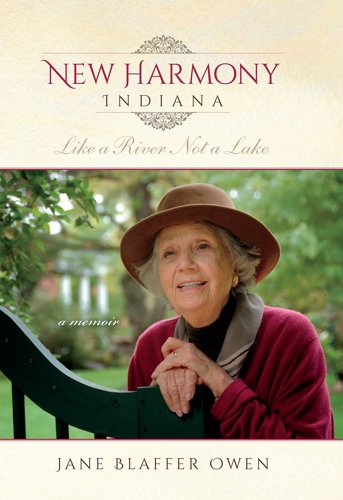 New Harmony, Indiana: Like a River, Not a Lake has flowed its way back onto our shelves after a short hiatus. Written by Jane Blaffer Owen and edited by one of our own talented tour guides Nancy Mangum McCaslin, it also includes Forewords from John Philip Newell and J. Pittman McGehee and Afterwords from Anne Dale Owen and Jane Dale Owen. For nearly seven decades, Jane Blaffer Owen was the driving force behind the restoration and revitalization of the town of New Harmony, Indiana. In this memoir, Jane describes the transformational effect the town had on her life. An oil heiress from Houston, she met and married Kenneth Dale Owen, great-great-grandson of Robert Owen, founder of the second attempt at Utopia in New Harmony. When she visited the town with her new husband in 1941, it was love at first sight, and the story of her life and the life of the town became intertwined. Her engaging account of her journey to preserve and promote this small town on the Wabash provides glimpses into New Harmony's past and all of its citizens–scientists, educators and naturalists–whose influence spread far beyond the town limits. As well as fascinating stories of the artists, architects and theologians who became part of her life in New Harmony, she says, "My roots could sink deeply and spread."
This marvelous book can be purchased at the museum shop in the Atheneum from 9:30 a.m. to 5 p.m. Tuesday through Sunday. Come on by and get yourself a copy today!