SUMMER 2023
Diane Sanders, Assistant Director of Historic New Harmony
New Harmony's spring showers have turned golden as the city's beloved goldenrain trees are in bloom. Between that and the rising temperatures, there's no doubt the summer tourist season has arrived! What a joy it has been watching our brand-new tram buzzing around town filled with visitors eager to learn about New Harmony's utopian past. I hope you will soon be one of them before the season's end!
With the start of summer comes the end of our fiscal year, and I am delighted to share we have had many positive developments on this front over the past few months. Lilly Endowment Inc. awarded Historic New Harmony more than $2 million in a five-year implementation grant through its Religion and Cultural Institutions Initiative. The Wabash River Heritage Corridor Commission also provided a $1,000 grant from the Amenity Fund Sponsorship to improve landscaping and provide native plantings around the wayside signs at the Atheneum. I'm honored to have the support of these organizations, and I can't wait to unveil the improvements made possible by these funds. Stay tuned for updates!
The composition of our Advisory Board transitions at this time of year with outgoing members' terms ending on June 30 and new members' terms beginning the following day on July 1. I would like to thank our outgoing Board members for their service and generosity to Historic New Harmony: Rod Clark, Melodee Dubois (Vice Chair, Development), Ed Jones, Lisa Muller, Tara Overton, Michelangelo Sabatino, Katie Waters (Chair), Barbara Williams, Brian Williams and Scott Wylie. I would also like to extend a warm welcome to our 11 new Board members: Kent Brasseale, Greg Brown, Marsh Davis, Del Doughty, Judy Griffin, John Grizzell, Ron Henderson, Bill Muller, Barbara Northern, Trudy Stock and Linda Willis. Finally, I'd like to congratulate Ed Jones for becoming a life member, Silvia Rode on becoming Chair, Jamie Wicks on becoming Vice Chair Development, and Lisa Brooks on continuing as Vice Chair Special Events. I'm excited to work with the new Advisory Board to strategize for the future and plan another year's worth of tours, educational programming and events!
With these developments and many more that you will read about in this edition of In Harmony, it's easy to be optimistic about Historic New Harmony's future. This summer, we will be resuming the strategic planning process that began last year and was later put on hold. With new circumstances, new opportunities, and our new tram, the possibilities truly are endless! I'm looking forward to implementing the strategies and processes needed to make our dream a reality. I hope you will lend us your support as we begin this exciting journey ahead.
MARCH 2023

Diane Sanders, Assistant Director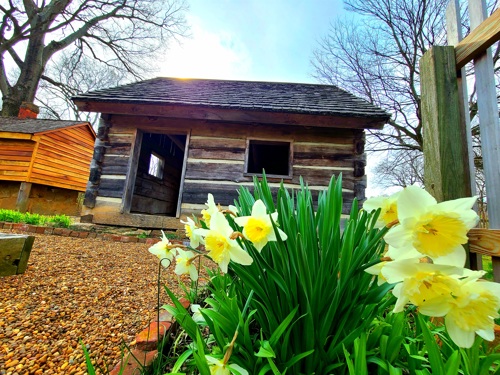 Spring is in the air—the daffodils are blooming, the days are getting longer and the temperatures are rising (and falling again)! For Historic New Harmony, March is an exciting month as we welcome visitors back to the Atheneum and resume guided tours of the historic sites. In addition, Second Saturdays returned after a hiatus over the winter months. What a delight it was to see New Harmony bustling with life, animated by its residents and tourists enjoying the shops, restaurants and special programs.
With its themes of renewal and new life, spring is my favorite season. These themes feel particularly poignant to our organization this year. On March 1, the University of Southern Indiana (USI) and the Indiana State Museum and Historic Sites (ISMHS) jointly announced the dissolution of the Unified Program. As a result, USI's Historic New Harmony and ISMHS's New Harmony State Historic Site will offer separate visitor experiences. This will ensure each program is in better alignment with its respective mission and will streamline operations. It will also provide more opportunities for visitors to interact with the town's historic sites and generate more activity.
At Historic New Harmony, we plan to conduct a metaphorical "spring cleaning" and will be examining our operations and procedures to improve the visitor experience and better fulfill our mission. Already, I am excited by several proposals I've heard from community members and staff, and I am encouraged by the enthusiasm New Harmony's residents have for their history. I hope you will share your thoughts and ideas with me so, that together, we can breathe new life into Historic New Harmony and maximize the town's potential as both a tourist destination and a place to call home.
---
Now Hiring!
Historic New Harmony (HNH) and the New Harmony Gallery of Contemporary Art (NHGCA) are now hiring!
Historic New Harmony Museum Aide
Do you love history and want to share New Harmony's unique story with visitors? Apply now to become a part-time Museum Aide to lead visitors through Historic New Harmony's buildings and sites to interpret their history and significance.
Historic New Harmony Sales Assistant
Become a part of New Harmony's longstanding economic tradition and apply now to become a part-time Sales Assistant at the Atheneum. You will be responsible for greeting visitors, providing information about New Harmony's offerings, and completing museum shop sales.
Curator of New Harmony Gallery of Contemporary Art
If you have a creative flair and want to showcase regional, national and international art through exhibitions, workshops, and a consignment shop, then the Curator of New Harmony Gallery of Contemporary Art might be the job for you!
For more information about these and other employment opportunities at the University of Southern Indiana, please visit https://usi.peopleadmin.com/.
---
FEBRUARY 2023

Diane Sanders, Assistant Director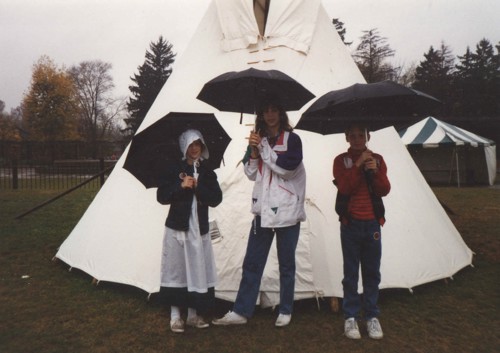 In my family, childhood vacations often felt more like school field trips than relaxing breaks. My mom, a  former elementary teacher, loved to fill our family's leisure time with educational visits to museums, historic sites, parks and other roadside attractions. We often travelled to Indiana, since it was close to our home in St. Louis, Missouri. My early interest in history was fueled by these trips, especially those to Conner Prairie in Fishers, Indiana. There, I donned homemade period clothing to immerse myself in the past—much to my sister's and brother's chagrin! 
Our summer trips somehow never brought us to New Harmony, so my first experience of the town wasn't until high school. My American history teacher assigned a paper that could be on any historical topic, but it had to be based on primary sources. I had an interest in utopian communities, so my mom and I planned a day trip to New Harmony to prepare for my assignment. 
Many of the details of that trip have faded from my memory, but I do remember my first view of the Atheneum: the crisp, white architecture silhouetted against the bright blue and cloudless sky. The modern architecture underscored the uniqueness of this place: one that valued its history but also looked towards the future. Once inside, the models of the town and Harmonist Brick Church captivated my attention; I still have my photographs of them tucked away. On tour, I remember being fascinated by the Community Houses and trying freshly churned butter. Our visit to New Harmony was rounded out by tours of the Labyrinth and the Roofless Church, window shopping along Main and Church Streets, and lunch at the Red Geranium. It was truly a perfect day in utopia. 
Even though I tease my mom about our "field trips," they spurred a lifelong love for museums and historic sites, which I've since made the focus of my career. I studied Historic Preservation and Housing and Interior Design at Southeast Missouri State University and then received a graduate degree in Museum Exhibition Planning and Design from the University of the Arts in Philadelphia. My first job in the field was as an exhibit designer at the Missouri History Museum back home in St. Louis. That experience prepared me for a job at the U.S. Capitol Visitor Center. There, my work supported a total redesign of the exhibit space, culminating in a grand reopening last August. At that point, it was time to look for a new adventure, so it was serendipitous to find the job advertisement for the Assistant Director of Historic New Harmony around the same time!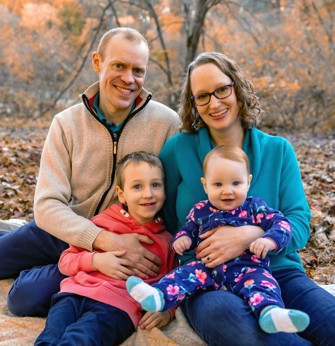 Now my mom has something new to tease me about, as I always thought I would live in a big city. But after living in large cities and spending far too much time in traffic, I'm looking forward to raising my family here. Already, you may have seen me with my husband, James, and my two kids, Eric (5 years) and Claire (10 months), enjoying the amenities the town has to offer. We have played at Murphy's Park, explored the Harmonist Labyrinth and hiked the trail by the Wabash River. We are thrilled to be here and look forward to being part of this town's rich history and innovative future. 
Claire Eagle, Interim Assistant Director

Every December, the Historic New Harmony (HNH) team takes some time to think about everything we accomplished throughout the year—all the programs, grant applications, maintenance work and community partnerships. This year, with a bit more focus  on behind the scenes work, there weren't as many public-facing programs for us, but that doesn't mean we didn't document everything we accomplished this year and took even more photos of the beautiful landscape of New Harmony. So, instead of writing a long article, I thought I'd share a gallery of some of the hundreds of photos we took. Please enjoy the gallery below.
We look forward to another exciting year at HNH and wish you a safe, healthy and happy holiday and New Year.
Claire Eagle, Interim Assistant Director
For those of you that have been reading this newsletter from the beginning, you might remember an article I wrote for the very first edition in June 2020 about our very own history mystery. While working on some social media posts, I came across a picture identified as the Cooper Shop (now Black Lodge Coffee Roasters) in the Don Blair Collection in the University of Southern Indiana's Archives and Special Collections, with this caption: "Cooper shop employees and wares in New Harmony, Indiana." After consulting our interpreter's manual, there seemed to be some discrepancies between the identifying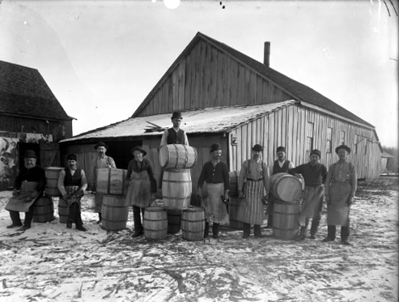 information on the picture and what we had documented. With the Historic New Harmony office still closed due to COVID-19 and the Working Men's Institute (WMI) not operating fully, I used whatever resources I was able to find virtually, but never solved the mystery. So, I enlisted the help of our wonderful supporters to help. I posted on Facebook, wrote the newsletter article and reached out to quite a few people around town. Everyone was so helpful, but we still couldn't figure out the full history of the Cooper Shop.
Sometimes all it takes for a mystery to unravel is one piece of information…
A few weeks ago, two researchers at the WMI spoke to a lifelong New Harmony resident who remembered a family that lived in the Cooper Shop when it was used as a residence. With that family name, Linda Warrum and Marlene Huffaker were able to begin to piece together where the Cooper Shop had been moved to in 1893. That was just the beginning. Through more conversations with New Harmony residents, some intense searching in the archives and some good old map reading, we now have a much more detailed timeline of the building and the property it sits on. You can read what they've been able to compile below.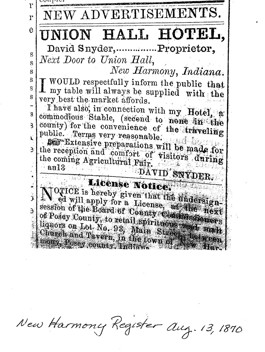 1814-1824 – The Harmonist Cooper Shop (listed as 3 buildings) was located on the corner of Brewery and Church Streets.
1870 – The buildings became the Union Hall Hotel and Stables. This was located right next to Union Hall which is now known as Thrall's Opera House.
1881 – The Union Hall Hotel became Randolph Hotel.
1893 – John Wilhelm buys the Randolph House Hotel property. The Cooper Shop was dismantled and moved to Fredrick Street in Lichtenberger's Enlargement (later known as Johnstown).
1894 – John Wilhelm built a new house on the site. It later became known as Wilhelm/Butler House and was owned by Don Butler.
1955 – The Wilhelm/Butler House burns.
1960's – Zephyr Gas Station located at the corner of Brewery and Church Streets.
1975 – Now known as the Walther House, the Cooper Shop is returned to its original site from 618 Frederick Street by Historic New Harmony, Inc.
Not every question about the Cooper Shop and its locations have been answered and maybe a few more have now been asked, but there's something so satisfying about seeing a timeline come together out of almost nothing. I can't thank Linda and Marlene (and their amazing research skills) enough for leading the charge that unraveled this mystery.
Claire Eagle, Interim Assistant Director
Last fall at a Historic New Harmony Advisory Board meeting, Provost Khayum shared his vision that all USI students would have an experience in New Harmony before they graduated. Spurred by his enthusiasm, members of the Advisory Board, the HNH team and USI faculty and staff came together to figure out how to fulfill that vision. What came out of that was the UNIV101 New Harmony Experience.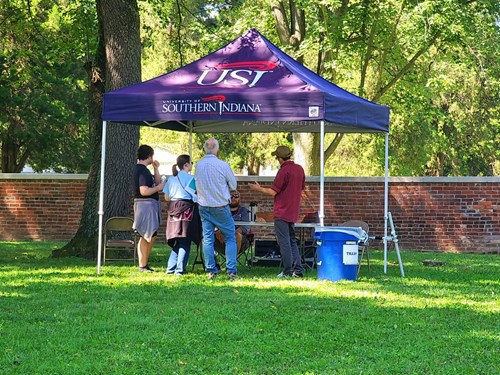 On Tuesday, September 13, nearly the entire Class of 2026 visited New Harmony. Students began their visit with three required presentations. One on the two attempts at utopia, another on the art, architecture and design of New Harmony and, finally, one on the scientific importance of this community. Students then had a chance to explore additional stops where they could walk the Cathedral Labyrinth, enjoy the current exhibition at the New Harmony Gallery of Contemporary Art and even talk to professors, including Dr. Mike Strezewski and Dr. Kevin Valadares who have led projects in New Harmony.
We're not quite done yet! We still have debrief meetings to attend and a survey to distribute, but from our standpoint this program was a great success. It was wonderful to see so many students engaged in New Harmony. We are so thankful for all the USI faculty and staff, volunteers and, especially, Provost Khayum for making this possible.
If you'd like to see more photos from the day, please visit the album from USI Photography and Multimedia. 
Claire Eagle, Interim Assistant Director
As summer winds down, I can't help but look forward to my favorite season in New Harmony: fall. I'm ready for cooler temperatures, colorful leaves and Kunstfest. But before I get too ahead of myself, I thought I'd share what's been happening in utopia this summer.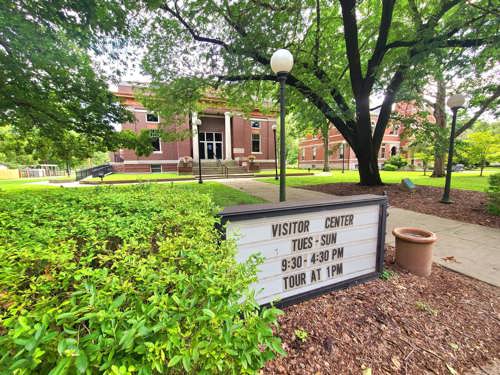 As you may have seen, the Visitor Center has temporarily moved to Murphy Auditorium. While we shared last month that operations would continue while the roof repairs were made, we ran into a bit of a hiccup. The intense heat the last month had been causing some issues with our A/C unit in the Atheneum. Unfortunately, a couple of weeks ago the unit completely stopped working. At first, temps briefly cooled down and the rainy weather allowed us to continue to operate in the Atheneum. However, as temps rose again it became unsafe for our staff and visitors to continue. So, we pivoted! All Visitor Center operations will continue as normal, just in a new temporary location. You can find Murphy Auditorium at 419 Tavern Street.
While the moss-covered roof certainly added a bit of flair to the 1830 Owen House, work began this summer to replace the cedar shingles. Commissioned by Robert Dale and David Dale Owen, the house was built by carpenters John Bondaley and J.B. Johnson, and architects Swift and Barter. No Owens ever lived at this address, instead, the house was used as a rental property. Between 1830 and 1838, it was rented by more than 10 families. The new roof will ensure the integrity of the building, protecting the artifacts inside and allowing our daily historic tours to continue to visit the space.

On September 13, Historic New Harmony will welcome the entire USI freshman class to New Harmony. Students will be assigned one of three experience visits, attending educational presentations in New Harmony before having some time to explore the town. At the end of their visit, students will travel back to campus where they will enjoy a meal. This pilot project is a great way to ensure all USI students have an experience in New Harmony, strengthening the connection between Historic New Harmony and the University. We're looking for volunteers for the day, so if you're interested reach out!


With the start of the new fiscal year, we had also hoped to have our next strategic plan in place. Unfortunately, the final plan has been delayed due to the Lilly Religion and Cultural Institution Initiative grant. Goals, objectives and strategies have been identified and we plan to reconvene the full committee to review and finalize in September. The four goals are:

Provide engaging and impactful programming
Seek and steward funding for efficient and sustainable operations
Expand our reach and visibility to better tell the story of New Harmony
Facilitate a strengthened relationship between the University of Southern Indiana and the Town of New Harmony
It's safe to say it's been an interesting summer in utopia. And while I'm trying not to wish it completely away, I'm looking forward to more programming, finishing up our strategic plan, completing more maintenance projects and, most importantly, cooler temperatures this fall.
Claire Eagle, Interim Assistant Director
July is bittersweet for the Historic New Harmony Advisory Board. It means welcoming new excited supporters, but also saying goodbye to some fantastic members. Led by Chair Katie Waters, the Advisory Board has been extremely active the past year. From a very successful annual campaign, under the direction of Vice Chair Development Melodee Dubois, to hosting USI international students in New Harmony for Easter, members fulfilled the mission of the organization by supporting Historic New Harmony's preservation and educational endeavors.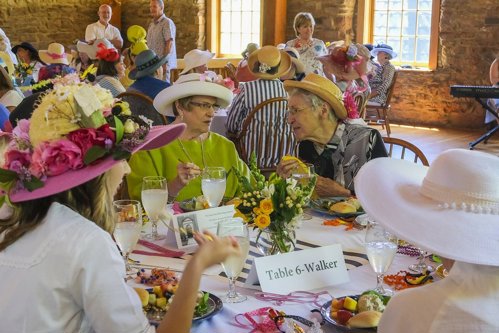 In June, we capped off the 2021-2022 Advisory Board year with the return of the Summer Hat Luncheon. Led by Vice Chair Special Events Lora Arneberg, it was a great success. We thank all those Advisory Board members and sponsors who made the event possible, including The Mews-Annette Buckland, Capers Emporium, The Kent and Laurie Parker Foundation and the New Harmony Soap Company.
As we think about the successes of the last year, we wish to thank the following for their service to the Historic New Harmony Advisory Board:
David Campbell
Bill Elliott
John Grizzell
Jeff Halwes
Charmaine McDowell
Mike Strezewski
Linda Warrum
Now we look with excitement to what might come in the next year. We welcome the following to the Historic New Harmony Advisory Board:
Vicki Campbell
Heidi Doss
Mark Krahling
Josef Laposa
Richard McCoy
John Rapp
Stella Ress
Aaron Trump
Kevin Valadares
Claire Eagle, Interim Assistant Director
Excitement is building in the HNH Office regarding our Lilly Religion and Cultural Institution Initiative planning grant. The survey is completed, results are being studied, site visits are being made and the possibilities seem endless.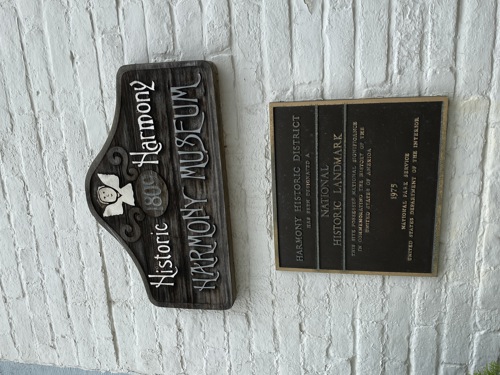 In the last few weeks, Leslie and I have completed two of our four site visits. The first was to Old Economy Village in Ambridge, Pennsylvania and Historic Harmony in Harmony, Pennsylvania. While these sites have not received this grant from Lilly previously, we thought that as the other two communities built by the Harmonists, they warranted a visit as we look at how we can better interpret religion in our exhibitions and programming. Especially because Old Economy Village holds the majority of Harmonists artifacts and all of their written records. A first visit for both of us, we were amazed by the differences in each site. From the architecture and collections to how each site is managed differently; Old Economy Village is administered by the Pennsylvania Historical and Museum Commission while Historic Harmony is privately managed. We greatly enjoyed visiting with our colleagues at these sites and returned with a deeper understanding of the Harmony Society.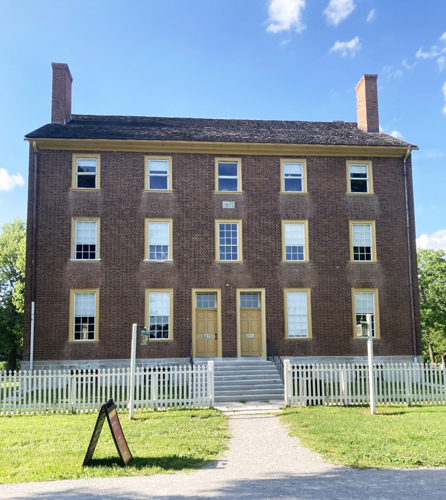 Our second visit was to Shaker Village of Pleasant Hill in Harrodsburg, Kentucky. Shaker Village previously received funds from the Lilly Endowment Inc. that worked to restore some of their religiously significant properties and complete an exhibition focusing on the religious beliefs of their Society. Additionally, this site is the most like Historic New Harmony that has received funds under this initiative. The beauty of Shaker Village was awe-inspiring, much like New Harmony is to new visitors. We spent a day with President and CEO Maynard Crossland and Vice President of Public Programming and Marketing Billy Rankin, while they showed us the site and shared their experience with the initiative. They were so helpful and eager to help us in any way they could, and we are so thankful for their hospitality.
While we've only completed two of our four site visits, our proposal is beginning to come together. We hope our last two site visits, the Smithsonian Folklife Festival in Washington D.C. and the Snite Museum of Art on Notre Dame's campus in South Bend, Indiana, really help us put the finishing touches on our proposal. Traveling as much as we are certainly is different than what we do on a typical basis, but these visits are truly maximizing my appreciation of Historic New Harmony and sparking ideas of how we can make it better in the future.
Claire Eagle, Interim Assistant Director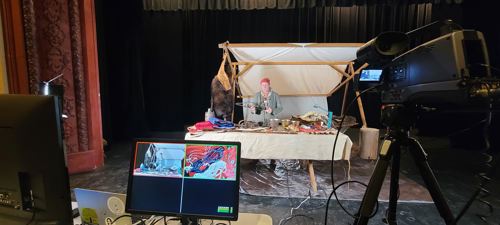 The HNH team has been incredibly busy, and we just didn't get an April newsletter released. It felt weird not sitting down to write my monthly article, but it's a new month and we're ready to get back on track!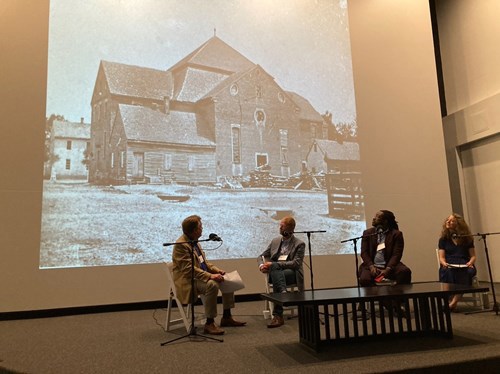 Last month, the HNH team was focused on two very important events. The first was the Social Alchemy Symposium in partnership with Big Car Collaborative. With more than 1,300 views, both in person and virtual, this symposium connected history with ongoing efforts to explore the role of utopian thinking today. It was wonderful seeing everyone who joined us here in Utopia and we're so thankful to Indiana Humanities, the Efroymson Family Fund and New America for making it possible. The second was our 38th Annual Heritage Artisans Days. We continued with our virtual program this year but hope to get back to in-person next year. It's always a treat to get to visit with our artisans, some of whom have been participating in this program for decades, and we love getting to share this history with students all over the Tri-state.
As we enter the summer season, it feels like New Harmony is coming alive again. The Atheneum is getting busier, daily tours are filling up and we're scheduling more and more group tours. Why don't you join us? Come take a tour, enjoy a New Harmony Second Saturday or rent a golf cart for a leisurely ride around town. I encourage you to keep an eye on our newsletter, social media and website for upcoming programs and events.
I'll end this update with a big request for all of you. The past few months we've been hard at work developing a survey as a part of our Lilly Religion and Cultural Institution grant. We're asking for input from you, USI students, New Harmony residents and our visitors as we work on an application for the implementation portion, which would offer up to $2.5 million for a multi-year project focused on fostering public understanding of religion. 
Claire Eagle, Interim Assistant Director
While names like George Rapp and Robert Owen dominate our historical record, the women of New Harmony played just as an important role. From Gertrude Rapp and Frances Wright to Mary Emily Fauntleroy and Jane Blaffer Owen, this town wouldn't be what it is today without them and others. As we celebrate Women's History Month, I wanted to share with  you a few of those women who I greatly admire.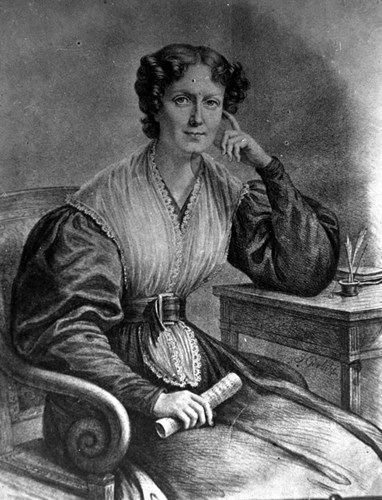 Known for her devotion to righting social injustice and helping the poor, Frances "Fanny" Wright first noticed the condition of the city's beggars in London, England, when living with her grandfather after her parents had passed. Fanny and her sister Camilla arrived in the United States in 1818, where they spent a year in New York. Upon her return to England, Fanny wrote Views of Society and Manners in America. The book was composed of a series of letters to an English friend and dealt with a number of issues including Congress, slavery and women's fashions. While the majority of the book praised the U.S. for its advancements, Fanny criticized the system of slavery and the practice of excluding women from higher education. She arrived in New Harmony in 1825 after learning about Robert Owen's community at a lecture in Washington D.C. Impressed by both the Harmonist and Owen communities and envisioned a similar one for freed slaves, she began such a community, named Nashoba, with approximately 31 slaves, eight of which Wright had bought herself. While Nashoba was not successful, she continued to fight for the abolition of slavery.
I learned of Fanny Wright long before I arrived in New Harmony. When I made the connection that the woman I learned about in my Women's History course in college was the same one of New Harmony, I realized just how important this town really was.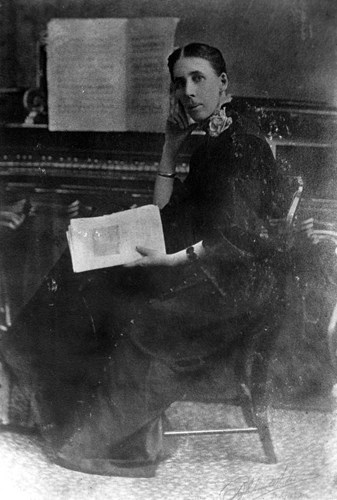 Constance Owen Fauntleroy founded the Minerva Society in 1859. The society was one of the first women's clubs in the United States with a written constitution and by-laws. Every woman had a chance to gain valuable experience with the six-week rotation of the offices of president, vice-president, secretary and treasurer. Members of this society used their weekly meetings to debate current events and ideas and were required to furnish compositions to be presented before the fellow members followed by critiques of their piece. At one meeting, the society debated which was the greater evil, war or slavery, a pressing topic as the Civil War began.
Jane Blaffer Owen is remembered for her determination to preserve and promote this small town along the Wabash River. Her philanthropic work helped to revitalize New Harmony and make it the cultural town it is today, but her true influence is immeasurable.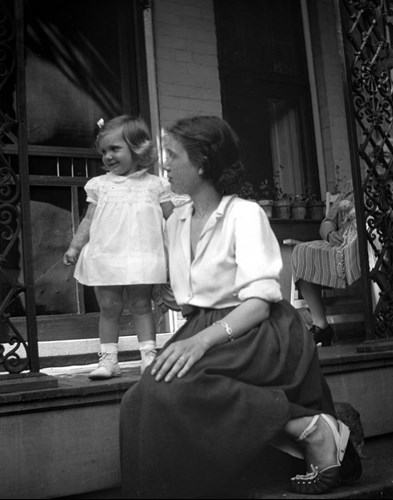 In 1941, Jane Blaffer married Kenneth Dale Owen, a descendant of Robert Owen. Soon after they married, Kenneth brought his new wife to New Harmony. She fell in love with this community and began her work. She helped to bring some of the greatest minds, architects and artists of the time to New Harmony including Phillip Johnson, Paul Tillich and Richard Meier. I encourage you to watch "Who Was Jane Blaffer Owen?" a Virtual Community Conversation held in the summer of 2020 to hear from the people who knew and worked with her.
Finally, I wanted to bring attention to an incredible grant opportunity. In November 2020, New Harmony lost another amazing woman. Ms. Arlene "Lena" Feiner dedicated her life and career to the advancement of women's rights. She was a poet, librarian, feminist and New Harmony resident who shall be remembered for her compassion and advocacy of women. In dedication of Lena, the Working Men's Institute (WMI) established an annual research grant made possible by the generosity of the Efroymson Family Fund. Each year, $2,500 will be granted to one recipient who shall conduct research at the WMI and plan and deliver a presentation. The subject of the research should honor her pursuits by highlighting women's issues, efforts and accomplishments. This first step in this year's application process is due April 16. Visit the Working Men's Institute's website for more information.
I hope you'll take this opportunity to think about the women in your life that you admire and perhaps read more about the women who shaped New Harmony.
Claire Eagle, Interim Assistant Director
We're often asked if things are slow when the tour season ends and winter arrives. The truth is, not at all! The first few weeks of the year are all about preparation for the next tour season and the year ahead. Things have seemed especially busy this time around, as we have so many exciting things happening at HNH.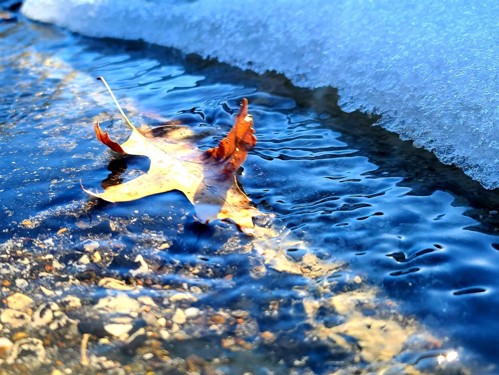 Late last year, we received an exciting grant opportunity from Lilly Endowment Inc. As a part of Lilly's Religion and Cultural Institutions Initiative, HNH received a planning grant totaling just under $100,000. The funds will provide support for the application of an implementation grant which would offer up to $2.5 million for a multi-year project focused on fostering public understanding of religion. Check out this recent press release for more information.
We're excited to begin our 2022 season! The Atheneum will reopen on March 1 with daily 1 p.m. tours beginning March 15. Our hours will be 9:30 a.m. to 5 p.m., Tuesdays through Sundays. You'll notice that we are going to continue to close on Mondays at this time. Throughout the season we might adjust to ensure we stay properly staffed. COVID-19 protocols will also still be in place. Masks will be required inside the Atheneum and on tours and there will be hand sanitizer stations throughout our spaces.
Starting with our tour season, patrons of the Alexandrian Public Library and the Poseyville Carnegie Public Library will be able to check out a family tour pass with their library card. A family tour ticket includes all members residing in the same household and can be checked out for seven days. We're excited about the community partnership and hope families in Posey County take advantage of this great opportunity!
Heritage Artisans Days will be virtual again this year. With the uncertainty regarding COIVD-19 cases and the ability for schools to take field trips, we wanted to offer this annual educational opportunity in the safest way possible. We're extremely thankful for the USI IT Department for their help with the technical side of things, as well as the team from AXIOM Marketing for their donation of lights.
Mark your calendars! After a postponement last fall, New Lanark World Heritage Site will host New Lanark 2022: A Living Legacy, From Robert Owen to World Heritage and Beyond from March 1-3, 2022. This conference celebrates not only the 250th anniversary of Robert Owen's birth, but the 20th anniversary of the UNESCO World Heritage Site inscription. The speakers involved come from across the globe, including right here in New Harmony! On March 1 at 11:30 a.m. CT, I will be virtually participating in "Utopia/Dystopia: The Utopian Dream Then and Now," a roundtable discussion on changing ideas of utopia and dystopia as well as the work done to preserve historical utopian communities. A very fitting topic when it comes to New Harmony. You can find more information and register for the conference at newlanark.org/conference-2021.
Finally, I'm excited to share that we are over 65% to our annual campaign goal. Gifts are an important part of our budget, and we are so thankful for all of our supporters. Your support of HNH allows us to fulfill our mission, preserving our utopian legacy and inspiring innovation and progressive thought through our programs and collections. If you would like to make a gift, you can visit USI.edu/onlinegiving, call 812-464-1918, or mail to: USI Foundation, 8600 University Blvd. Evansville, IN 47712.
Winter does not slow us down, if anything, the work we do in these months energizes us for the season ahead! I hope you'll join us this season. Please don't hesitate to reach out to me with questions, concerns or just to chat. As you can tell, I'm always eager to talk about the amazing things happening in Utopia!
Claire Eagle, Interim Assistant Director
When this year started, there were still a lot of unknowns as to what we'd be able to accomplish, but after weathering the storm of 2020, the Historic New Harmony team felt prepared to take on whatever came our way. We were ambitious as we began planning our 2021 season, and I'm happy to report that very little of what we planned did not come to fruition.
We began the year with the launch of our Robert Owen 250th Celebration. As the leader of the second attempt at Utopia in New Harmony, his 250th birthday was the perfect opportunity to celebrate not only his accomplishments, but the accomplishments of his children, community members he and his partner William Maclure brought to New Harmony and the future utopians he influenced. This year-long celebration included a virtual conversation series, children's activities, a creative writing contest, a scavenger hunt, a birthday party with Robert Owen himself in attendance and so much more!
After having to cancel Heritage Artisans Days in 2020, we didn't want to go another year without one of our favorite programs. We moved virtual, inviting students from all over Indiana and Illinois to join our live broadcasts from Murphy Auditorium. With 5,022 views over five days, our Virtual Heritage Artisans Days went better than we could have imagined. While many teachers were eager to return to in person, they appreciated our team's efforts to continue such a staple program.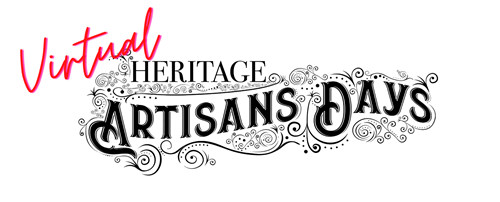 In October, we opened Water/Ways, a Smithsonian Museum on Main Street traveling exhibit, at the Atheneum. Made possible in Indiana by Indiana Humanities, we were one of only six sites in the state to be chosen to host. With new partnerships, including The Nature Conservancy, the United States Geological Survey Ohio-Kentucky-Indiana (OKI) Water Science Center and the Posey County Soil and Water Conservation District, we were able to explore New Harmony's connection to the Wabash River through our companion exhibit and programming. My favorite part was the screening of the documentary Along the Wabash. Not only was the film beautiful, but we were also treated to a discussion with the film's producer, writer and director, Susanne Schwibs. It was truly a one-of-a-kind experience.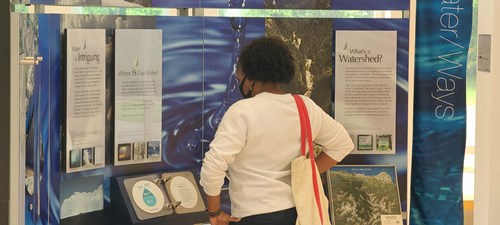 Behind the scenes, we completed all sorts of projects as well! We migrated to a new cloud-based collections management software, completed several maintenance projects and completed a rotation of artifacts that allowed us to put recently acquired Harmonist furniture on exhibit at the David Lenz House.
By all accounts, 2021 was a success! Everything I shared above is only a fraction of what the Historic New Harmony team accomplished this year. In addition, the number of visitors and tours nearly tripled compared to 2020 and we are already ahead of 2019 numbers with a few weeks left. Our wonderful Atheneum staff welcomed these visitors to New Harmony while sharing our unique Utopian history. Next year is shaping up to be just as busy, just with a little more emphasis on behind-the-scenes. For more on what we have coming up in 2022, check out Leslie's article.
We wish you a safe, healthy and happy holiday and New Year.   
Claire Eagle, Interim Assistant Director
When I sat down to write my update this month, I was at a bit of a loss. Not because I had nothing to report—quite the opposite in fact. The HNH staff has been so busy in the last month wrapping up our daily tour season and our Robert Owen 250th celebration, hosting Water/Ways and even looking ahead to next year (you'll hear more details about what we have planned in next month's newsletter). I just couldn't decide what to share and then it hit me.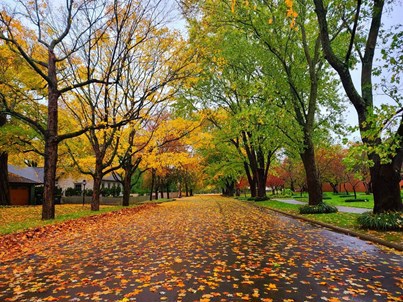 As is tradition for many in November, I began reflecting on what Historic New Harmony is most thankful for. First and foremost, we are thankful for you, our amazing supporters that continue to attend our programming (both virtual and in person), engage with us on social media, contribute to our annual giving campaign and most importantly, ask us questions which keep us learning more about this wonderful site.
Just a few weeks ago, we received an email from an architecture student in Germany. In one of his classes, he was given the task to analyze New Harmony from an architect's point of view. More specifically, he was looking for floor plans of a typical Harmonist home. Now as much as I'm sure we would all like to, our staff hasn't had time to just sit a while and do some good old-fashioned reading and research lately. This inquiry gave us the perfect opportunity to take a break, go searching for a book and provide the answers for that student in Germany.
In addition to all of you, I am so thankful for all the HNH staff including our Atheneum staff, fantastic maintenance team and Leslie, Paul, Christine and Dan. Though Dan left in June, our success this year would not have been possible without him. Without our whole team, we never would've successfully hosted the Robert Owen 250th Celebration, Virtual Heritage Artisans Days and a Smithsonian exhibition all in 10 months!
I wish you all a Happy Thanksgiving from utopia!
Claire Eagle, Interim Assistant Director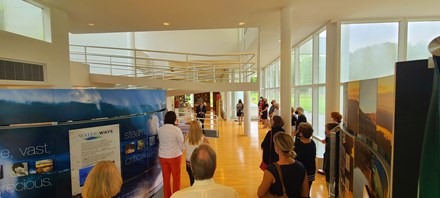 While the tour season seems to be winding down, everything else seems to be getting busier! This past month (really the last year), a lot of our focus has been on Water/Ways, a Smithsonian Museum on Main Street traveling exhibit made possible in Indiana by Indiana Humanities. This exhibition, which dives into water—an essential component of life on our planet, environmentally, culturally and historically, is only traveling to six locations in Indiana. New Harmony's connection to the Wabash River is an important one, and this has given us a great chance to explore those connections while cultivating new partnerships.
These partnerships include organizations  you're not likely to connect with a history museum. Working with The Nature Conservancy and the United States Geological Survey Ohio-Kentucky-Indiana (OKI) Water Science Center, we developed two permanent waysides detailing the history of the Wabash and the importance of conservation of the river for both people and wildlife. These waysides are now installed on the Atheneum grounds. Landscaping will be completed in the spring to spruce up the space, making it a destination to attract visitors. In addition to those waysides, an interactive kiosk has been installed in the Atheneum that gives live data readings from the supergage attached to the Harmony Way Bridge. This is something  we've had requests for over the years, especially when the Atheneum grounds are flooded.
Two weeks ago, we hosted a ribbon cutting and opening reception for Water/Ways. We are so grateful to have been joined by Representatives Wendy McNamara and Cindy Ledbetter, Ashley Davis from the office of Senator Todd Young, Virginia Alsop and Gary Watson from the New Harmony Town Council, USI Provost Mohammed Khayum, members of our Historic New Harmony Advisory Board and even many of you! It was the first time in over two years we were able to celebrate a new exhibit with so many of our supporters. It was very exciting for our staff.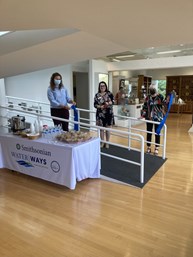 After months of staying primarily virtual, we are taking this opportunity to host a few in person programs.
At 6:30 p.m. Wednesday, October 20, the Atheneum will host "Mussels: A Shell of Indiana's Rivers" by Cassie Hauswald with The Nature Conservancy. She'll explore the past, present and future of Indiana's water, and how it can be told through our 75-plus species of freshwater mussels, which places Indiana in the top ten of U.S. states for mussel diversity. The Nature Conservancy, especially Mike Dunn and Melissa Moran, has been an amazing resource throughout this process. We're excited we get to host another member of the organization.
At 9:30 a.m. Wednesday, October 23, the 7th annual Wonderful Wabash Canoe Event, will take a new route, which will start at the boat launch under the I-64 Bridge on the Illinois side, stop at a sand bar partway for a break and educational presentations and end at the Atheneum in New Harmony where participants can explore the Water/Ways. This program is a partnership with the Posey County Soil and Water Conservation District with support from the Wabash River Heritage Corridor Commission. For more information and to register, please visit our programming page.
Finally, at 6:30 p.m. Tuesday, November 9, the Atheneum will host a screening of the documentary Along the Wabash. Produced for Indiana's Bicentennial celebration in 2016, this film tells the story of Indiana's state river, following its course from the headwaters in Ohio to its end in New Harmony. Immediately following the showing, there will be short presentation and question and answer session by the documentary's producer, writer and director, Susanne Schwibs. Ms. Schwibs is a Senior Lecturer at Indiana University in Bloomington and teaches documentary, experimental and 16mm filmmaking.
Please note that face coverings are still required in the Atheneum.
Water/Ways will be at the Atheneum until November 14. I hope you'll take some time to visit or attend one of our programs.
Claire Eagle, Interim Assistant Director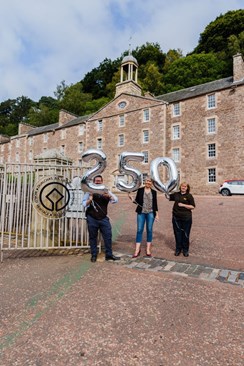 If you've liked us on Facebook, you might have noticed that each month this year there's been a bit of a theme to most of our posts. As a part of our Robert Owen 250th Celebration, we've picked one topic each month to focus on in regard to Owen's immense legacy. This month we're looking at his global impact.
The obvious impact of course is Robert Owen's major communities across two continents and two countries, New Lanark, Scotland, and New Harmony, Indiana, United States. But did you know that Owen also attempted to establish a similar community in a third country? After departing from the U. S., he devoted efforts to promoting a similar community in Mexico. In October 1828, he had an audience with General Santa Anna in Mexico City and was promised a strip of land 150 miles wide, with the stipulation, demanded by Owen, that the Mexican Congress grant complete religious freedom to all within the territory. Congress refused and Owen's Mexico venture was abandoned quickly.
More communities were later established by those that believed in Robert Owen's ideas. Starting in 1825, 23 communal societies based on Owen's principles were formed across the United States and in the United Kingdom. These communities included Fanny Wright's Nashoba near Memphis, Tennessee, and the Manea Colony in Cambridgeshire, England.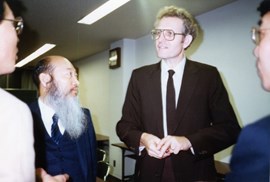 Robert Owen's global impact went even further when his ideas became popular in Japan in the late 1800s. His social reform efforts began to influence Japanese business leaders who wanted to improve labor conditions in their factories. In 1958, the Robert Owen Association of Japan was founded to promote the study of cooperative movements. USI's Dr. Donald Pitzer, Professor Emeritus of History and Director of the Center for Communal Studies, was invited to present at the association's 25th anniversary celebration in Tokyo.
As we have celebrated the 250th anniversary of Robert Owen's birth, we have continued his global legacy, working with both New Lanark World Heritage Site in Scotland and The Robert Owen Museum in Newtown, Wales, as well as including international scholars in our Virtual Community Conversation series.
Next month, New Lanark World Heritage Site is hosting New Lanark 2021: A Living Legacy, From Robert Owen to World Heritage and Beyond, a conference which celebrates not only the 250th anniversary of Robert Owen's birth, but the 20th anniversary of the UNESCO World Heritage Site inscription. The speakers involved come from across the globe, including right here in New Harmony. On October 12 at 11:30 a.m. CT I will be virtually participating in Utopia/Dystopia: The Utopian Dream Then and Now, a roundtable discussion on changing ideas of utopia and dystopia as well as the work done to preserve historical utopian communities. A very fitting topic when it comes to New Harmony. I hope to see you there.
Until then, take a look at our Facebook and see if you can identify our other monthly topics! It'll be interesting to see who can put the puzzle together from just a few Facebook posts.
Claire Eagle, Interim Assistant Director
As I began to write my first update as the Interim Assistant Director, I couldn't decide what to include. We've been so busy this summer and with even more programming coming this fall with the continuation of the Robert Owen 250th Celebration, hosting Water/Ways beginning October 2, and all of the behind-the-scenes projects we've been completing, there is so much to share. Yet, I thought it might be best to start with a quick introduction for those of you that I have not yet had the privilege to get to know.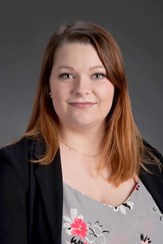 My first visit to New Harmony was in March of 2017, still a graduate student at Eastern Illinois University, I was fascinated by the history and beauty of the town. I explored in the rain with a few of my classmates, including our own personal tour guide Meagan Patterson, a previous intern of the New Harmony State Historic Site. I had absolutely no idea that six months later I would return to New Harmony as the Experience Coordinator. I was quickly welcomed to the community, and I want to thank all of you for welcoming me again as I began this position last month.
I have now held three different positions at Historic New Harmony, starting with Experience Coordinator, then Community Engagement Manager and now Interim Assistant Director. In each position, I have learned more about this site, the museum field and even myself, and I look forward to learning more as I continue in this role.
That's it for now, but there will be much more in the coming months. Please don't hesitate to reach out to me with questions, concerns or just to chat. I'm always eager to talk about the amazing things happening in Utopia!
Daniel C Mason, Assistant Director Historic New Harmony
As we launch into a new season and prepare for many activities that we missed out on last summer, it's so exciting to see businesses, venues, events and opportunities opening back up. With that said, my update this month is really a parting "thank you" …  a sincere and heartfelt "thank you" for nearly two challenging but fantastic years as the local leader of this wonderful program, Historic New Harmony. As of June 30th, I have stepped away from the University and Historic New Harmony to pursue new opportunities. My family and I are not moving from New Harmony, so we won't be far and will absolutely remain staunch supporters of this most important and valuable mission and team.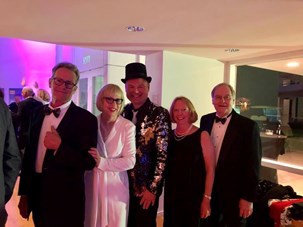 As Historic New Harmony moves forward, I am happy to announce that Claire Eagle has accepted the position of Interim Assistant Director of Historic New Harmony effective July 1, 2021. Claire began her career with Historic New Harmony and the University of Southern Indiana in October 2017 as the Experience Coordinator where she oversaw the tour program, Atheneum staff and property rentals. In May 2019, she became the Community Engagement Manager. In this role she developed special programs and community engagement events, served as the liaison with other Harmonist and Owen sites, and facilitated USI faculty and student involvement in New Harmony. She earned her bachelor's degree in history from the University of North Alabama and her master's degree in history with a historical administration emphasis from Eastern Illinois University. Claire's work ethic, dedication and knowledge of all facets of Historic New Harmony will serve her well and I hope you will join me in welcoming her to her new role.
The local and international New Harmony "fans," University team, board members and contacts around the world are hands down the best. Please do continue with your passionate support of them all. 
Daniel C Mason, Assistant Director Historic New Harmony
To put it bluntly, New Harmony is back; visitors, students, educators and shoppers are returning. Events are happening and being planned, and if you didn't get a chance to take it all in in person, the town was bursting with color this spring, especially the vintage peonies at Fragrant Farms! Kudos to New Harmony resident and Historic New Harmony Board Member, Mary Beth Guard and team for all their hard work and wonderful events in this magical space.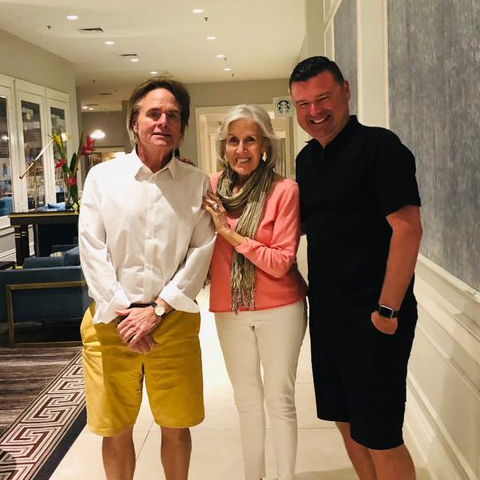 Yes, the pandemic affected our beloved cultural center, as it did globally, but it's astounding how this little town navigated. We took our "Utopian bubble" seriously and shared it as a respite for those around us. Everyday activities stopped for a while, and concern (and grief and sorrow in some cases, sadly) took hold. But as a community we pulled through….  And the exhibitions, garden parties and traditions are quickly bringing us (and the world) back together. To celebrate, this month I've decided to provide a snapshot of the wonderful happenings right now that I think you'll enjoy, want to come experience and be proud of too.
Robert Owen's 250th Birthday Party – On May 15, 127 attendees and volunteers converged at the recently christened "Robert Owen Square" on Church Street to celebrate the 250th birthday of Robert Owen. The afternoon was filled with activities, treats and special announcements from the Historic New Harmony team and representatives from the Owen family. We're the only Owen site that had Robert Owen's decedents present that we know of, and we're thankful. Abigail was wonderful as she officially cut the ribbon for the square dedication, and Annie's stories about her time here and her mother were fascinating.


The Maximillian-Bodmer Exhibition is open again – We are excited to announce that the Maximillian-Bodmer Exhibition housed at Historic New Harmony's Lichtenberger Building reopened Friday, May 28.  The original prints have been taken down for a much-needed rest, and detailed reproductions have been hung to conserve this national treasure. Visitors can access this exhibition on our 1 p.m. guided tours Tuesday through Sunday.


Marie Duclos Fretageot's "Ladies Desk" joins the Historic New Harmony permanent collection – Thanks to the late Jim Sanders, we have been gifted another "national treasure." An American drop front desk from the early 1800s that belonged to Marie Duclos Fretageot will now join other Owen period treasures at the 1830 Owen House. It's understood that the piece traveled to New Harmony on the "boatload of knowledge" and will play a central role as we celebrate that event in 2026. The desk has an unbroken provenance as it was passed down through her family here in New Harmony and was ultimately purchased by Mr. Sanders. 


The students have returned – Have you seen the fantastic archaeological digs happening in town? Led by USI Associate Professor of Anthropology, World Languages and Cultures and HNH Advisory Board member, Michael Strezewski, there have been two digs lately by the USI's Archaeological Field School. One project was to prepare for the replanting of the Harmonist Orchard, across from the Atheneum. The other dig aims to find any remains of the 1816 Harmonist Church, later known as the Mechanics Atheneum. More to come as they progress… but stop in and welcome the wonderful students! 


Bicentennial of the Door of Promise – In 2022, Historic New Harmony will celebrate the bicentennial of the Harmonist Door of Promise with an exhibition and programming. We are currently pulling together the plans and research. If you have any pictures or stories about the Door of Promise that you would like to share—especially  as it was saved from the New Harmony School demolition—please email Claire Eagle at ceagle@usi.edu.


Authentic Harmonist Furniture returning to New Harmony after 200 years –  Exciting announcements are coming regarding the purchase of a significant collection of Harmonist furniture. Press release to follow soon! 




A new Historic New Harmony Advisory Board launches in July –  We are so thankful for those who will continue their service on the board and those who have completed their terms. Thank you all as we have and will continue to work as a team to educate students, support educators, share the amazing New Harmony story and experience and live into the mission of the University of Southern Indiana and Historic New Harmony. Please help us say "thank you" to Dr. Ed Jones as he completes his service as board Chair and welcome educator, celebrated artist and longtime New Harmony supporter, Katie Waters, as the new Chair of the Historic New Harmony Advisory Board.    
I will end my update there for now and say "thank you" to all of you for your continued and passionate support. Please don't hesitate to reach out if we can ever help or make your visit to Utopia even richer! 
Daniel C Mason, Assistant Director Historic New Harmony
It goes without saying that volumes can be and are written about the life and philosophies of Robert Owen. The interpretations of his work and beliefs vary just as greatly. So, this month, and in honor of his birthday celebration, I'm focusing my monthly update on just one question frequently asked, providing my personal (albeit high-level) interpretation. 
Visitors often ask about the "failure" of the utopian socialism and cooperative movement attempts here in New Harmony, Indiana. However, I'm not sure that this is the right question to ask. Instead, to truly understand the intentions of these periods—especially the Owen Period—it's better to focus on the sum of the efforts and the reverberation.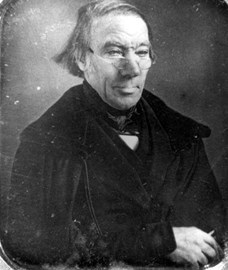 During his time in New Harmony, were Robert Owen's efforts to promote education and foster social equality a success?
One first must understand that Robert Owen firmly believed that people were not responsible for their  character and  that their physical environment dictated their personality, which could be influenced and improved early in life. His perspective was formed by the rapidly changing social landscape in the United Kingdom, age-old traditions of the time and the Industrial Revolution. Owen saw "enlightened education" as the solution and social equalizer, as demonstrated when he opened Great Britain's first "infant school" in 1816. 
He had a philosophy/solution that he believed in and the resources and backing to make it happen—at least at a micro level. So, in 1825, he purchased 30,000 acres on the Wabash. Some 800 people, many of whom were intellectuals and inspired by Owen, joined the experiment and moved to New Harmony. 
It's important to note that many resources attribute the rebranding of "Harmony" to "New Harmony" to Robert Owen, but that's not the case. As Dr. Donald Pitzer, USI's Emeritus Professor of History, says in the book New Harmony Then and Now,  the Harmonist architects began laying out the plan for the new town, they naturally began calling it "neu Harmonie" and the name stuck. 
A fascinating era kicked off when more tremendous minds of the time made their way to town via the Philanthropist (the keelboat also referred to as the "Boatload of Knowledge") and gave life to many highly innovative firsts. A few of the great minds included William Maclure, Marie Louise Duclos Fretageot, Thomas Say, Charles-Alexandre Lesueur, Joseph Neef, and Frances Wright. Concepts and areas such as geology, natural sciences, equality, new approaches to education and the arts all flourished and managed to influence  the residents and the rest of the world (and continue to do so). 
Some argue that the New Harmony experiment was destined to fail. The community depended heavily on the "philanthropist" and the working class didn't gain any power . Residents didn't own private property, but Owen did. At first, things worked well when Owen was around. But, when he wasn't, cracks began to form around the roles of government and religion. Additionally, Robert Owen and William Maclure, although partners in the experiment, had fundamental disagreements about the purpose of education. 
In the end,  there were too many thinkers and not enough doers and the experiment and the industry that the Harmonists created collapsed. After finally accepting the demise of the experiment, Robert Owen left New Harmony in 1828. 
But then came the reverberations of Owen and Maclure's experiment, the "cultural afterglow" (1830s to 1860s),a period equally as interesting and important as the "Community of Equality" experiment had been. As the New York Times put it in their extensive article about New Harmony in 1978,many of them [Owen's sons and many followers] stayed on, making their way individually but still informing the atmosphere with a liberal and experimental tang that remains in the town even today." 
So, whether you subscribe to any or all of Robert Owen's  philosophies, he had an idea to make life better and launched an experiment. In the end, the experiment folded. But during his time in "utopia", he (and Maclure) successfully created a living laboratory for new ideas to develop, an environment that continues even today in many ways.
Finally, the answer to the initial question above is: yes, Owen's New Harmony experiment was ultimately a success, with help from Maclure and others. And I'm writing to you about him and his amazing work and experiment from New Harmony 193 years later. 
"I was forced, through seeing the error of their foundation, to abandon all
belief in every religion which had been taught to man. But my religious
feelings were immediately replaced by the spirit of universal
charity—not for a sect, or a party, or for a country or a colour—but for
the human race, and with a real and ardent desire to do good."
Robert Owen (c. 1857)  
This month, on Saturday May 15th, we celebrate Robert Owen's birthday, life and local/global impact. I hope you will join us.
Daniel C Mason, Assistant Director Historic New Harmony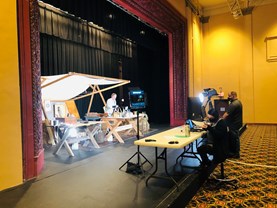 As I began to craft my update for April 2021, it occurred to me that it was like writing a letter each month to a good friend, letting them know all the goings-on and upcoming events and such. That analogy isn't too far from the truth. Many of you I see and hear from frequently as we navigate making the mission of Historic New Harmony real or just enjoying life in New Harmony. Rather than ending my update with a "thank you," this month, let me begin with that. It does feel like we are all waking up from the weight of the pandemic and there is no better place to be than right here in Utopia with such special history, people and supporters. With that, I hope this update finds you and yours well.
Right now, as we look to kick off so many wonderful efforts, it's clear that one of our greatest blessings is "partnership." No matter the scope, no matter the topic, Historic New Harmony has exceptional partners in making great things happen... the right way.
Here are a few examples of some of our bigger projects:
Heritage Artisan Days – April 12-16, 2021

 

 –

 Usually, this rich educational opportunity and celebration of New Harmony's history through artisan demonstrations is live and with massive friendly oxen, no less. But this year, to keep all safe, we've moved it to a virtual platform. Broadcasting live from Murphy Auditorium to between 1,000-2,000 school children, this is a first for us and we're excited. But it wouldn't have come together without our talented USI IT department and the team from AXIOM Marketing (especially Randy and Nina Lientz for their donations and expertise)! The teachers and kiddos won't want to miss it. Wish us luck! Want to know more? 

Historic New Harmony's Annual Heritage Artisans Days 


The John and Roxse Beal House (Church Street across from Thrall's Opera House) – Thanks to Mike Mohr from USI's Facility Operations and Planning and Candice Croix from Indiana Landmarks, we are off and running with the restoration of this wonderful (circa 1829) building. The Beal House isn't "technically" Harmonist, but it is constructed of Harmonist materials… a barn to be exact. But that doesn't change the focus on proper preservation/restoration. And yes, a snag has already been identified. Additional foundation work is required. But, because of our outstanding partners, an innovative solution has already been identified and a plan is currently being drawn up. A possible additional grant was also identified to help. That's teamwork! So, fingers crossed. The goal is to have it open to the public before the end of the year as an exhibition space. But the team is taking the time to get it right, so more to come. 


The Karl Bodmer Collection located in Main Street's Lichtenberger Building is a national treasure for sure. I mentioned this last month in my update, but we are so lucky to have this collection and supporting objects. Can you tell, I'm a fan? You might have noticed that the exhibition is temporarily closed. Because of the collection's age (circa 1835) and being on public display for the past few years, it's time that the original prints take a break for conservation. It's amazing the negative impact that gravity can have on ancient paper even if protected and well matted/framed. Working with the astounding talents of the Indiana State Museum and Historic Sites Collections Team – specifically Susannah Koerber and Traci Cromwell

 

– we are preparing to inspect all prints and rotate them with their respective (still beautiful) replicas. The original prints will then be referred to a conservator if needed, documented, photographed and then stored flat until next year. Our Risk Management partners at USI are also taking this opportunity to get new appraisals and paperwork on the collection to make sure it's well protected.
I could detail many more examples of great work and partnerships happening right now, but I will leave it there for this month. I'm very proud of the level of focus, creativity and professionalism of our Historic New Harmony team... great partners too! So, as I started this update, I will again say "thank you" for your support of (and partnership with) Historic New Harmony and USI. Without you, we couldn't make all these great events and efforts happen.
Finally, please plan on joining us in Utopia this season and don't hesitate to reach out if we can make your time here even more magical!
Daniel C Mason, Assistant Director Historic New Harmony
After a few weeks of (generally welcomed) snowstorms and low temperatures, it truly feels like spring has officially arrived in New Harmony—the start of another magical season on the Wabash. Residents and visitors are again safely returning to public spaces and taking in the wonderful air, sun and sights of Utopia. 
Please gather your friends and family soon and join us at the Atheneum Welcome Center, which is now open Tuesday through Sunday. Guided tours begin on March 16 at 1 p.m. Central. Protective face coverings and physical distancing are required. Remember that the guided tours are free for New Harmony residents and USI faculty and students. Also, take advantage of our new self-guided tour booklets (make sure to check out the "Architecture: Communal Buildings and Sites" booklet that was just released)!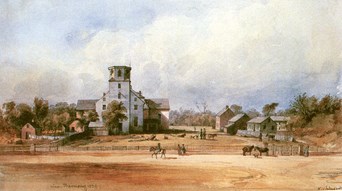 Over the winter, the Historic New Harmony team worked on everything from programming and maintenance projects, to new publications and refining our collections. All exciting efforts and we will be communicating much more about each in the coming weeks/months.  
Regarding the Historic New Harmony collection, we have many exciting announcements.  
As you visit the Atheneum Welcome Center, you'll notice that the curved display cases have been removed. The cases served their purpose over the years, but because they were more of a design "afterthought" at the time, not easily viewed by those with disabilities, and in need of overall reconditioning/maintenance, the call was made to remove them. By doing this, you'll see that the space has opened tremendously, putting focus on the modern windows looking out over the Wabash... the real exhibition in this space. To display items or artifacts in this gallery moving forward, custom pedestals have been crafted and a rotation calendar of items or works that add to the New Harmony story will be created and announced. 


We have been approved to move to a new web version of our collection's management software. I mention this because not only will this new platform make tracking artifacts, their information and condition much easier, but also because the solution will allow us to provide an online public view of the collection for education and research. A release date has not been established just yet.  


You will soon see detailed press releases regarding the acquisition of some astounding new collection items. Because of a generous gift, we can now welcome 17 new authentic Harmonist works – corner cabinets, a bed, chairs, etc. Many of these artifacts were made right here in New Harmony and are making their way back home after 200 years. Again, a press release will be communicated soon with all the background and

 

wonderful details. Additionally, Historic New Harmony has been gifted several items from the collection of former Historic New Harmony Director, Jim Sanders. There will be a press release about this generous gift once finalized.  


As we launch efforts to refine our Historic New Harmony collection, as mentioned in previous updates, we will be looking at all items in the collection. Those that do not fit the New Harmony story or mission or have already been deaccessioned, we will look to send to auction. The proceeds will help us thoughtfully expand and maintain our collection.

 

Most of the flagged items have been in storage for many decades. We'll be communicating much more soon.  


Finally, you will see that the Maximilian-Bodmer

 Exhibition located in the Lichtenberger Building on New Harmony's Main Street is closed temporarily. It's time for the rotation and conservation of this national treasure. Each amazing print will be inspected, rephotographed and condition reports created. We are working with representatives from the Indiana State Museum and Historic Sites to make sure we're following conservat

ion/museum best practices. Personally, I've already rolled up my sleeves to help with this effort and have a renewed appreciation for the talent, composition, story

 and subjects. If you haven't visited this astounding exhibition in a while, please plan on it this summer. We are working to have it reopened very soon. 

 
I do hope it goes without saying that your support is very much appreciated and critical. An appeal letter from Historic New Harmony Advisory Board Member Melodee DuBois was sent this month. Your support allows us to live into our mission of promoting education, progressive thought, and our rich history and, in the process, hopefully improve the quality of life in the area. As you plan your time in New Harmony this season, please don't hesitate to reach out to my team or me. We're excited to help make sure your time in Utopia is relaxing, fun and educational.

Daniel C Mason, Assistant Director Historic New Harmony

As we kick off a new year and new season, one of the key projects that the team and I are working on is caring for and refreshing the Historic New Harmony collection of about 2,200 artifacts. Working with the University of Southern Indiana, the Indiana State Museum and Historic Sites and with our Collections Review Committee (CRC), we are about to move to a new technology platform to manage the items, re-inventory, re-photograph, address items that have been deaccessioned from the collection or need to be added and just physically dust things off. A lot of work for sure, but what an honor to preserve and present these national treasures.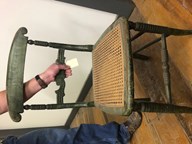 But…what makes a good "artifact?" How does something get included in the Historic New Harmony collection? First, artifacts are just "things," but they make "ideas" real. So, when we're considering the make-up of the Historic New Harmony collection, we ask ourselves a few questions (beyond are they authentic): 
What is the relationship between the artifact and our stories?  
How does the artifact

 

represent

 the local identities, cultures

 and memories?  

How can this artifact help us further connect with our students and visitors through interaction?  
How can this artifact foster learning, prompt new ideas or inspire?  
As mentioned above, the artifact must help us make the history and ideas of Utopia real. We will be asking these questions about 2,200 times over the next year as we go piece by piece.   
Additionally, the estate of the late Dr. James A. Sanders, one of the first Directors of Historic New Harmony, has made a generous gift of $10,000 for collections and collections preservation. We are very thankful for the continued support. The gift will help make much of this work happen (and happen right).   
As we lock in our plans to present the history and magic of New Harmony again safely during the 2021 season (the Atheneum Welcome Center is currently scheduled to open on Tuesday, March 2nd), the 250th anniversary of Robert Owen's birth and our refreshed collection will be front and center. Please plan on joining us again. But I would ask that as you and your guests visit our inspiring sites, please take a second and check out the artifacts housed in them.  Ask questions about them. Ponder the ideas that they represent, their journey and why they were selected. It will make your time here even richer; I promise!     
Thank you as always for your continued support, be safe and see you all very soon in Utopia.  
Daniel C Mason, Assistant Director Historic New Harmony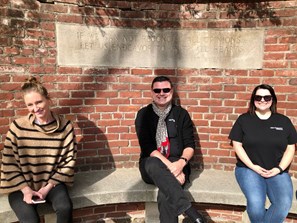 Like many in the field of historic sites and museums, we are working hard to understand the 2021 landscape as much as we can, even if it's just the first and second quarter. What are the early trends and data saying relative to overall travel, events, programming and historic sites… the $64K question for sure.  
While 2020 was filled with remote getaways and road trips, Americans are dreaming of island escapes and big city trips for 2021, according to Expedia.com's 2021 Travel Trends Report. When it comes to booking next year's vacations, Expedia also noted that health and safety protocols as well as flexibility will be key. But we are betting that regional travel and road trips will remain the dominant trend for at least the first half of the year and are planning on such.  
Like 2020, Historic New Harmony must again be ready to "pivot"–adjust our approach, resources and offerings almost real-time so we can most effectively live into the Historic New Harmony mission and serve as a differentiator for the University of Southern Indiana.    
It's important to note that even after a three-month delay in opening the Atheneum, sites and tours, by the end of the 2020 season, Historic New Harmony only saw only a 16% decrease in visitors. Yes, we wanted to see numbers grow, but we'll take it. New Harmony became a regional respite for many from lockdowns and our focus on safety and protocol kept them coming back. Additional staffing had to be added to Saturdays at the Atheneum to keep up with welcoming and guiding guests.  
I will again say proudly, we have an incredibly talented team on the USI campus and right here in New Harmony who have proven their ability to creatively pivot, be safe and still have fun and celebrate the history and lessons of Utopia. I know we can do it again, and even better.  
The University has identified four core values for USI: Quality Education, Focus on Learning, Sense of Community and Engagement. This is where our 2021/2022 Historic New Harmony planning begins and maps back to. As the year progresses you will hear more about:  
Addressing deferred maintenance at Historic New Harmony sites–replacing roofs, canopy, reactivating sites that have been dormant, etc. (some efforts are already underway)
Internationally celebrating the 250th

 Anniversary of Robert Owen

's

 birth and his time and influence in New Harmony and the world 

(see the picture included this month of Abigail Owen-Pontez, Claire Eagle and myself ...

 we're excited and honored to have a direct descendant of Robert Owen on our planning committee

)
Presenting quality in-person and virtual programming   
Continuing to partner with the town of New Harmony and all the wonderful entities to help maintain and improve quality of life  
Further encourage USI faculty and students to take full advantage of Historic New Harmony as a living/learning laboratory
Continuing efforts to "reintroduce" and further connect New Harmony regionally and internationally
Making our collections digitally available to the public to further research and education 
Let me close by saying "happy holidays" and "thank you"–sincerely –for all your support of Historic New Harmony in 2020. We're excited to launch into 2021…. I hope you will again be a part of this amazing community, history and mission!
Daniel C Mason, Assistant Director Historic New Harmony

Our wonderful visionary, Jane Blaffer Owen, quoted local businessman and philanthropist Kent Parker, in her book saying, "You do not pick New Harmony, New Harmony picks you."

When welcoming people to Historic New Harmony for a visit or project (especially after this busy fall), the visitors often have the same initial impression. When you turn off I-64 onto I-69 and get closer to New Harmony, you exhale, your blood pressure goes down and you relax. Is it the soil? Is it a 'thin space'? Honestly, who knows, but it's real and it seems that you get it, or you don't.

I recently did an interview for a radio station based in Indianapolis about the University and Historic New Harmony. One of the questions that resonated with me was "what is that one secret about New Harmony that you can share with us?" Rather than talking about the soil, a dish at a local restaurant, a site or event, the response that came immediately to mind was "the people," a community of amazing personalities, talent and experiences who call New Harmony home either part or full time.

This was a fairly new realization for me, actually. I always knew that I loved the people here, but while navigating the beginning of the pandemic (and personal health issues), it became abundantly clear what was missing and what holds it all together.

I have faith that it will all return, but we haven't been able to hold public facing programming, events, receptions or celebrations. Neighbors haven't been able to hold gracious and fun dinners or cocktail parties. A meal out now includes distance between us.

It's become crystal clear that the true secret—the magic of our area—is the ability to interact, connect, discuss and ponder with individuals that New Harmony "has selected" —artists, small business owners, educators, students, farmers, factory workers, captains of industry, homemakers, volunteers, innovators, etc.

I think what Mrs. Owen and Kent Parker were saying is that New Harmony, like it or not, has curated us. We've all been attracted and inspired by the possibilities here, the forward-thinking perspectives and the rich foundation that it's all built on.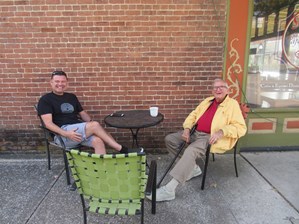 You do have to be open to being a part of the community and conversation to realize the New Harmony "secret," I believe. When I get a chance to catch up with people like Lena Feiner, Andrew Wilson, Lynn Clark, Mary Ann Michna, Mick and Barb McConnell, Alex Gale at Black Lodge, etc.… I always walk away recharged personally and professionally, with a brain full of ideas and new ways to make our town and University even better. I'm including a picture this month of Dr. George Rapp and myself doing just that over coffee recently… a perfect example of lifelong and sincere passion for this town, the people and the arts.

As we look forward to the holidays and wrapping up a challenging year, know that there is something magnetic about the space that we all get to enjoy every day, but the real secret, the real magic is you… our New Harmony
family and community.
Daniel C Mason, Assistant Director Historic New Harmony
I'm feeling a bit philosophical as I write this month's Historic New Harmony update. We have an important event coming up that may seem small (even questionable to some), but I believe it means a lot.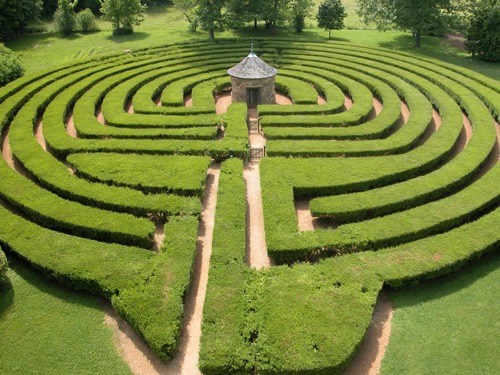 At Historic New Harmony, the day-to-day and future planning efforts often revolve around many different concepts as we work to fulfill our mission and serve as a differentiator for the University of Southern Indiana. Concepts such as historic preservation, cultural exchange and development and community engagement are just a few.   
One area that really stands out to me as we look to the fall is "design heritage." Put simply, functionality is the basis of design. Heritage is the value that is both preserved and refined through sustainable efforts.   
Throughout the years, the proud traditions, stories and philosophies of New Harmony have influenced the town's architects, designers, planners and visionaries. Just look around. You see this in the Atheneum's wave-like glass, the thoughtful layout of the town, the minimalist prefabricated design of the Harmonist home and key symbols of our town, such as the Raintree and Golden Rose.  
But for me, our "design heritage" begins with the labyrinth… the quintessential icon of our town.   
Although the current Harmonist Labyrinth is not the original planting or in the original space, this design helped define the New Harmony experience At its planting, it embodied the Harmonist ideas and philosophies and intentional or not, established the design "path" for the town. From that point, design in New Harmony took on new aspirations—meaningful, beautiful, ever-changing.   
Later this season, the Indiana State Museum and Historic Sites will trim back the Harmonist Labyrinth (you will hear more about this soon). This happens about every 20 years and is critical to the health and preservation of the Amur River Privet hedge. It will be a bit shocking at first, and residents and visitors will question it for a season or two.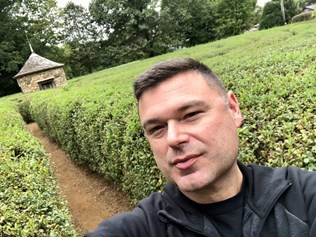 For me, as a student of art and history and evangelist for "Utopia," this vicennial event embodies all the concepts mentioned above. The trimming back is actually "historic preservation" as we care for and look to the labyrinth as the ultimate icon of our town, history, experience and design.   
So, as you enjoy this beautiful fall, please make time to grab your selfies with the labyrinth, post them to social media with the #visitnewharmony, and ponder the impact and message of this ancient design and help us celebrate its renewal. 
As always, thank you for your amazing support of Historic New Harmony! If we can ever help or make your visit to Utopia even better, please don't hesitate to reach out. 
Daniel C Mason, Assistant Director Historic New Harmony
I'm a firm believer that the greatest contribution that Mrs. Owen made to our amazing town was her power of connection. She brought relationships, talent, visionaries, architects, artists and people looking to make a difference to the human experience in our corner of southwestern Indiana and the world. I bring this up because her name, vision and impact are on the lips of the educators and visitors that my team and I at Historic New Harmony have the pleasure of working with each day. The reverberation of her time here can still be felt and is still inspiring.  
For example, and I won't give the entire story away, but earlier in August a very special work of art was delivered to our offices from a master of modern Pop art. The artist was moved by the events of today and by a conversation he had years ago with Mrs. Owen. I was amazed— not just at the work of art but at how powerful that conversation and connection must have been. So powerful that a leader in his field had to stop, put his ideas to paper and let New Harmony know that he was thinking of our little town and Mrs. Owen.  
That is the foundational role I see Historic New Harmony playing now and moving forward. Reintroducing, if you will, our mission, history and possibilities to the area, region and world. We are a "cultural town" and not very interested in a chain on every corner; rather, we want to relish the past AND look forward to new ideas and interpretations of things. To do that–and to survive periods like the pandemic–we must connect and stay connected. Not necessarily to grow, but to remain a strong and educated voice in the conversation.  
We just wrapped up the "Virtual Community Conversations – Summer 2020" series. It was a great success thanks to all of you, and the world listened in too. We welcomed participants from Scotland, Wales and Germany, just to name a few. These are people who we'll hopefully welcome on their next vacation or include them on an interesting new project. (You can see all Virtual Community Conversations at usi.edu/hnhvirtual).  As we pivot to navigate COVID-19, this is just one way we are  taking inspiration from Mrs. Owen and continuing to build and connect our Historic New Harmony community...  As a teaser, you will soon see more regional and national reports and articles about New Harmony, we love bragging about our amazing University and town!  
But, with all of that said, it really comes down to each of us in the end. Please continue to help us get the word out: tell your friends, invite your family for a safe visit and include them on virtual programming opportunities about Utopia and the wonderful possibilities here. And, if we can help in any way with a special tour or additional information, please don't hesitate to reach out to my team and me.  
Finally, a personal request to please remember Historic New Harmony in your charitable giving. Gifts are a big part of our annual budget. So, to continue our hard work, your financial support is key. For more information, see usi.edu/onlinegiving.  
Thank you for your continued support of Historic New Harmony!
Daniel C Mason, Assistant Director Historic New Harmony
We take great pride in the "living classroom" that Historic New Harmony cares for and presents daily to students, educators, residents and visitors from around the world. New Harmony and its thousand-year history are meant to be experienced first-hand so one can smell the air, sense the magic of the space and be delighted at each turn.  
However, we have learned first-hand that the COVID-19 crisis is rapidly transforming the cultural landscape and the way audiences experience museums and historic sites.   
For example, while this outbreak may be temporary, we must keep in mind that the accelerated move towards digital engagement sparked by the COVID-19 quarantine will not be ephemeral—we should expect a new normal. Digital experiences, content and channels will become even more vital for the survival of museums and historic sites.  
With that said, in chaos we often find innovation. So, in order to continue living our mission, Historic New Harmony is working to quickly "pivot" and innovate to best (and safely) serve up our history, sites and programming. I'd like to share two success stories.   
Visitors are returning to town and the Atheneum. Even with safety precautions in place, we are still seeing an encouraging flow of tourists through our spaces and on our tours. I would say that guests expect the safety precautions and are appreciative. In many ways, wearing a mask and using hand sanitizer when entering has become the new expected museum "etiquette". Kudos to the Atheneum team for helping us graciously make this move. Join us daily at 1 p.m. for one of our wonderful guided tours, if you haven't already.  
Secondly, our Virtual Community Conversations have been so well received and attended that we're working now on our winter programming. More information to come there. But to date, we've had 50 to 60 attendees on all the Zoom conversations, and the mix of guests included local fans as well as those from around the world. All the virtual conversations are recorded and available at www.usi.edu/hnhvirtual. You can also see and register for upcoming events. Join the conversation!  
What about planning for the fall and 2021? I believe we must remind ourselves that the Renaissance was created from the bubonic plague. Maybe it's a dramatic analogy, but my team and I are being very optimistic as we move forward. We are proposing a plan to tackle a list of deferred maintenance, continue upgrades and repairs to the iconic Atheneum, execute a collection cleanup, further develop our digital events and programming and, of course, stay very connected to the University of Southern Indiana's strategy and plans. So, much more to come here too.  
As always, thank you for your wonderful and continued support of Historic New Harmony. Don't hesitate to reach out if we can help plan your next visit to Utopia!
Daniel C Mason, Assistant Director Historic New Harmony
There are many wonderful things currently happening in Historic New Harmony; but I must begin with a word about one of our Historic New Harmony founders and "architects". For those of you who knew Jim Sanders, you know the passion, drive and lasting impact he brought to any situation, project or board.  If you did not know him, among his many roles during his 82 years, Jim was the first Director of Historic New Harmony where he crafted the foundation for true historic preservation and a living educational environment. I met Mr. Sanders many times at USI Foundation lunches and events here in New Harmony and when I heard the news of his death on Thursday, June 25, the words that came immediately to mind were "what a wonderful life well lived." He truly didn't waste a minute making great things happen and inspiring others. Historic New Harmony thanks you sincerely for your hard work, vision and kind smile, Jim.
I'm glad to report that Historic New Harmony sites have opened their doors safely to visitors in July. The USI and Historic New Harmony team have been working hard to prepare our public spaces in response to COVID-19, and we are ready. Key dates:
USI / Historic New Harmony employees returned to their offices on Monday, July 6th
The Atheneum Welcome Center and New Harmony Gallery of Contemporary Art reopened on Wednesday, July 8.
Guided tours began on Saturday, July 11.
Please note that for everyone's safety, masks are required, surfaces will be regularly sanitized, and social distancing will be practiced. Our goal is to live the mission of Historic New Harmony, but safety is our top priority. Please visit the COVID-19 website for the latest announcements and information related to the University's response to COVID-19.
The entire town is buzzing about the garden at the Lenz House. True to the Harmonist approach and plantings, it is beautiful and worth a trip just to see it. Congratulations to the Colonial Dames of Indiana, Kent Schuette and all the volunteers who made it happen this year.
The other wonderful news in town is the Harmonie Way Bridge is on its way to reopening! The views from this historic bridge are spectacular (especially of the Atheneum… once a few trees are trimmed) and reconnecting with Illinois will bring great benefits to both states. Although we fully support the reopening, this is not a Historic New Harmony project, so more to come as we hear it. Thanks to all those serving on the boards and project teams.
Our Virtual Community Conversations are off to a fantastic start and have been very well attended by our outstanding Historic New Harmony supporters locally and from around the globe. The questions, participation and presenters have been wonderful. All our conversations are being recorded and posted to the USI YouTube Channel.  Please check them out and enjoy. Our next opportunity will be on Thursday, July 30 at 1 p.m. Central and will an exciting conversation with architects and educators on the history, driving philosophy and impact of the New Harmony Atheneum. You can register here. 
Finally, it truly feels like the 2020 season is officially beginning here in New Harmony. Hotels, shops and restaurants are open while being thoughtful to visitor safety. I hope you all will plan a visit soon. Note that the New Harmony Business Associates have launched their new website (see www.visitnewharmony.com) with tons of great information for planning your visit. But of course, if we can help to make your visit better, please let my team and me know.
Thank you for your continued and generous support of Historic New Harmony!
Daniel C Mason, Assistant Director Historic New Harmony
As we launch our new monthly e-newsletter, let me first extend heartfelt greetings to all of our Historic New Harmony volunteers, fans and supporters. Without question, this year has been one of great change and challenges globally and I hope you are navigating the storm well. 
On a brighter note, I cannot say that we've had a more "lush" season here in New Harmony…. Cooler temperatures and regular rain have resulted in lasting color, full foliage and – with centuries of history in the background - stunning photo opportunities.
In response to COVID-19, the University of Southern Indiana and Historic New Harmony's priority is the safety of its employees and the public. The most recent updates, decisions and important dates are available at USI.edu/covid-19/. 
As we look to reopen our sites again to welcome visitors, we will continue to update you with information. We are working hard to safely and thoughtfully continue Historic New Harmony's mission.  
So, what's happening now at Historic New Harmony? 
The 40thanniversary of The Atheneum was a wonderful success and resulted in a whirlwind of restoration and upgrade projects. These upgrades include refinished wood floors on the first level, and upgraded audio visual equipment with the latest technology. A sincere "thank you" to everyone who attended, donated and volunteered!
Our team has done a spectacular job at creating fascinating new content, contests and learning opportunities. The goal is to educate, inspire and support our Historic New Harmony community. Keep up with announcements and latest New Harmony information on our social media pages.
For the 2020 tour season, we are introducing several new self-guided walking tours focused on history, architecture, and children. The tours will allow visitors to enjoy New Harmony at their own pace and still benefit from a rich educational experience. Tour books will be for sale at the Atheneum gift shop. We are optimistic guided tours can be offered later in the season.
Stay connected to Historic New Harmony by joining in on our Virtual Community Conversations series being offered throughout the summer months. The topics included in the series will be educational, fun, inspirational and occasionally challenging. 
We are fully staffed! We couldn't make all the great Historic New Harmony programming and day to day operations happen without a first-class team:

Leslie Townsend, Director of Community Engagement and Historic New Harmony (ltownsen@usi.edu)
Dan Mason, Assistant Director of Historic New Harmony (dcmason@usi.edu)
Claire Eagle, Community Engagement Manager (ceagle@usi.edu)
Paul Goodman, New Harmony Experience Coordinator (pigoodman@usi.edu)
Christine Crews, Administrative Associate (ccrews@usi.edu)
Although many things changed quickly in 2020, our Historic New Harmony mission has not.  We remain focused on being a catalyst for innovation and progressive thought through our programs and collections.  We could not do this without our outstanding supporters, Thank you! 
I hope to see you all in Utopia this summer and fall… and please don't hesitate to reach out if we can be of any assistance or make your visit even better.