---
Hands On Research Experiences
---
Our USI Biology faculty are active scientists and researchers working on unique and interesting questions in their fields. Undergraduate students have the opportunity to work right next to faculty and gain hands-on experience while addressing fascinating research questions in the laboratory and in the field.
Our faculty have broad research interests. Students can gain experience on all scales of Biology. Work on samples as small as a single cell or study whole populations in their native habitats.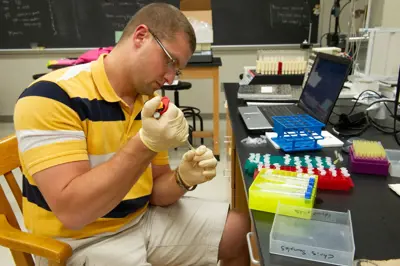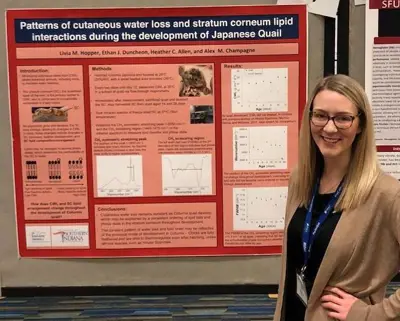 USI Biology students have the opportunity to work on peer-reviewed publications and present at regional, national, and international scientific conferences.
We have funding opportunities at USI and in Pott College that help fund undergraduate research projects.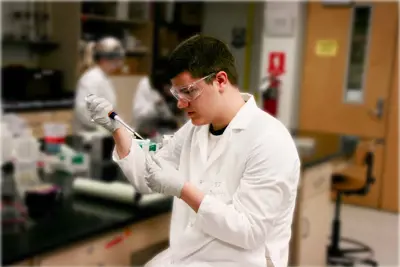 ---
Faculty Research Interests
---
Dr. Richard Bennett (Ph.D. University of Cincinnati)
Relationship between Chemical Weapons & Cancer
Dr. Alex Champagne (Ph.D. Ohio State University)
Evolutionary Physiology  and Lipid Biochemistry
Dr. Kimberly Delaney (Ph.D. Washington University in St. Louis)
RNA Binding Proteins and DNA Genome Organization
Dr. Cindy DeLoney-Marino (Ph.D. University of California - Riverside)
Symbiosis between Bioluminescent Bacterium & Bobtail Squid
Dr. Edith Hardcastle (Ph.D. University of Arkansas - Pine Bluff)
Conservation of Rare Plants & Plant Communities
Dr. Kyle Mara (Ph.D. University of South Florida)
Functional Morphology of Feeding & Locomotion
Dr. Henri Maurice (Ph.D. Rutgers University)
Plant Growth & Development and Prospecting for Biomedicines
Dr. Eric McCloud (Ph.D. University of Illinois - Urbana)
Insect Behavior & Functional Morphology, Chemical Ecology, and Conservation Biology of Forests
Dr. Rebecca Sparks-Thissen (Ph.D. Princeton University)
Viral Replication
Dr. Rex Strange (Ph.D. University of Alabama - Tuscaloosa)
Molecular & Evolutionary Genetics of Fishes; Histology and Embryology
Dr. Brent Summers (Ph.D. University of Louisville)
Marine and Freshwater invertebrate ecology, Marine Protected Area Conservation Biology
Check out our recent Biology department publications:
Faculty indicated in BOLD.
Undergraduate Researchers indicated RED.
Bruns HA, Wisenden BD, Vanniasinkam T, Tayler RT, Elliot SL, Sparks-Thissen RL, Justement LB, Pandey S.
Inside the undergraduate immunology classroom: current practices that provide a framework for curriculum consensus: Curricular emphasis in undergraduate immunology.
Journal of Microbiology and Biology Education. 2022. 22:22.1.8.
Kaplan A, Cromley J, Perez T, Dai T, Mara K, Balsai M.
The Role of Context in Educational RCT Findings: A Call to Redefine "Evidence-Based Practice."
Educational Researcher. 2020. 49:285-288.
Hawkins WC, Branon LM, Bailey RK, Schafer CJ, Delaney KJ.
Role of the MCT-1 T1470A Polymorphism (Rs1049434) in the Uptake of Lactate in Resistance Trained Females.
KAHPERD Journal. 2020. 57(2): 56-64.
Perez T, Dai T, Kaplan A, Cromley JG, Brooks WD, White AC, Mara K, Balsai MJ.
Interrelations among expectancies, task values, and perceived costs in undergraduate biology achievement.
Learning and Individual Differences. 2019. 72:26-38.
Champagne AM, Pigg VA, Allen HC, and JB Williams.
Presence and persistence of a highly ordered lipid phase state in the avian stratum corneum. Journal of Experimental Biology. 2018. 221: jeb176438.
Bandoli, J.
Spottail Darter (Etheostoma squamiceps) Spawning Ecology in Southwestern Indiana: a Long-Term Study. Proceedings of the Indiana Academy of Science. 2018. 126(2): 158-165.
Evans MA, Spieth PT, RL Sparks-Thissen. The Escherichia coli Inner Membrane Protein YhimM is Necessary for Efficient Attachment of Bacteriophage T4. Fine Focus. 2018. 4(1). 103-115.
Strange RM and KJ Delaney.
First Report of a Mitochondrial Pseudogene in Agnathan Vertebrates (Cyclostomata: Petromyzontidae). Journal of Molecular Evolution. 2018. 86(3-4): 187-189.
---
Student Research Highlights
---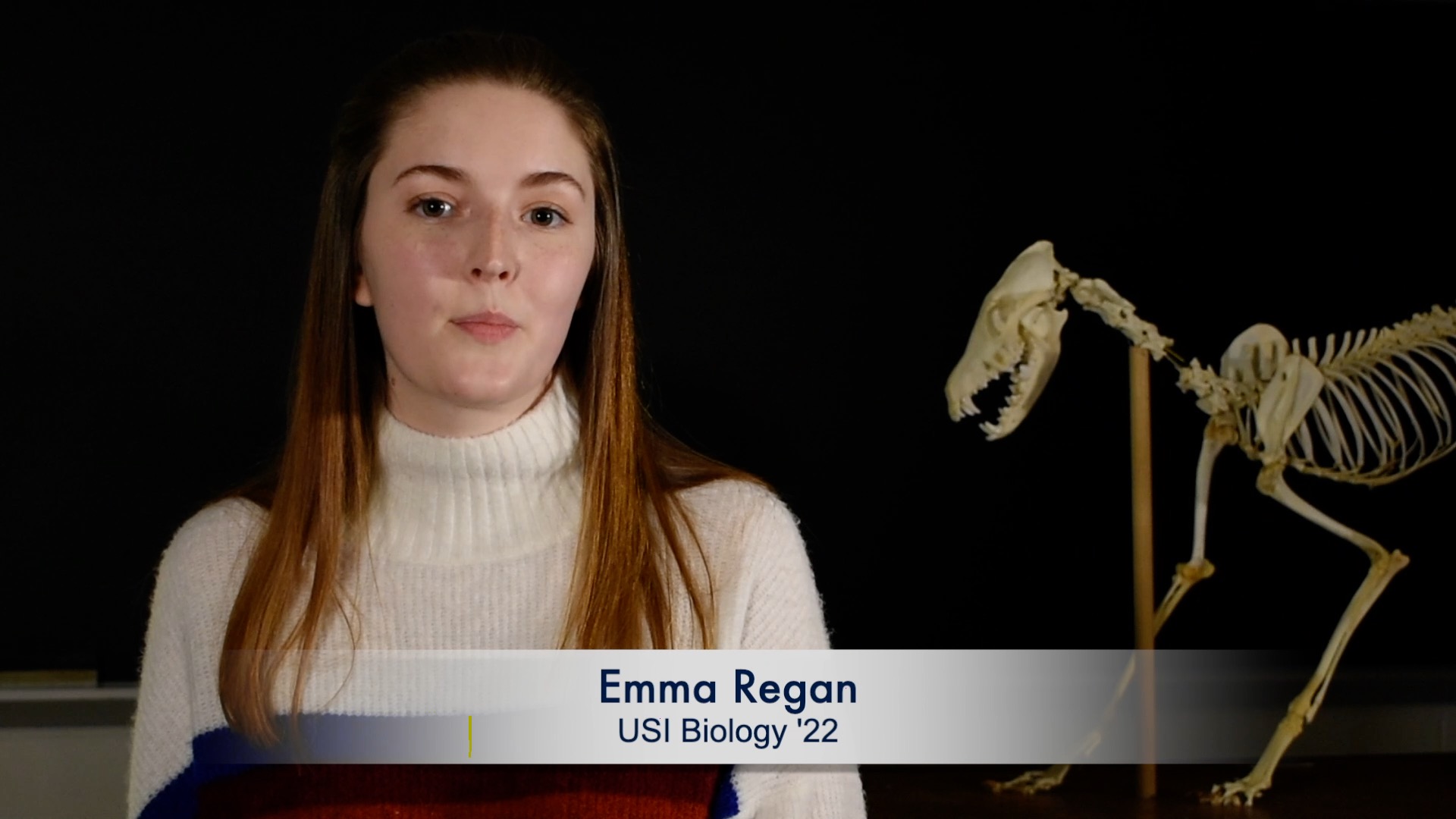 Emma Regan
Hear Emma Regan share her experiences as an undergraduate researcher with Dr. Eric McCloud in the Biology Department at the University of Southern Indiana. Emma was able to gain experience in the field, in the classroom, and in the research lab - all of which gave her opportunities to develop into the scientist she wants to be! USI Biology offers unique, hands-on experiences that help define your college experience and help you reach your goals.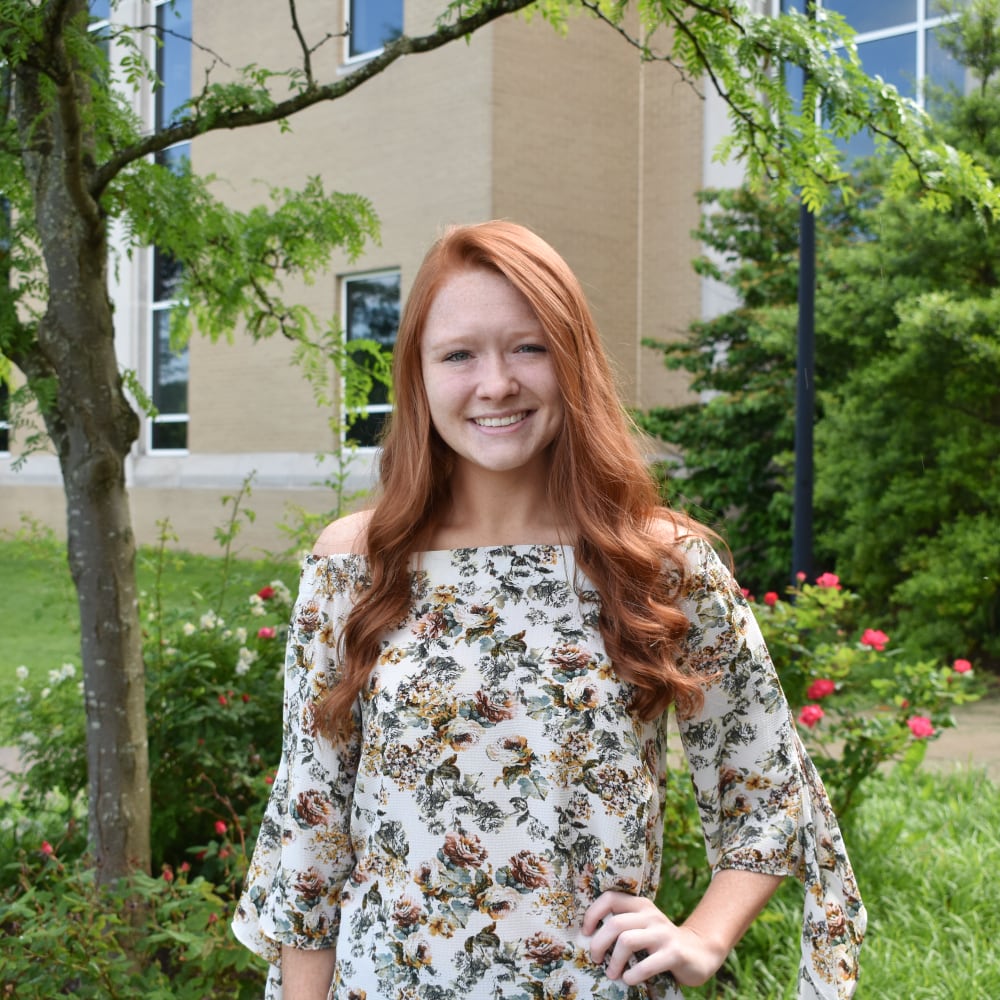 Meghan McCrary, 2019 Goldwater Scholar
USI Biology major, Meghan McCrary, Class of 2021, is one of only 11 students in the state of Indiana to receive the 2019 Barry Goldwater Scholarship for Excellence in Mathematics, Science and Engineering. This prestigious scholarship is awarded to students who have exhibited excellence in research and plan to pursue further education and a career in research science.
---
Research Funding Opportunities
---