USI Students have unique opportunities to get out of the classroom and study Biology in its natural location. Our field resources offer a wide variety of locations for students to explore and learn.
Click on one of our field resources to see more of what you can experience at USI:
USI Nature Preserve
Belize Marine TERC
USI Bird Boxes
Twin Swamps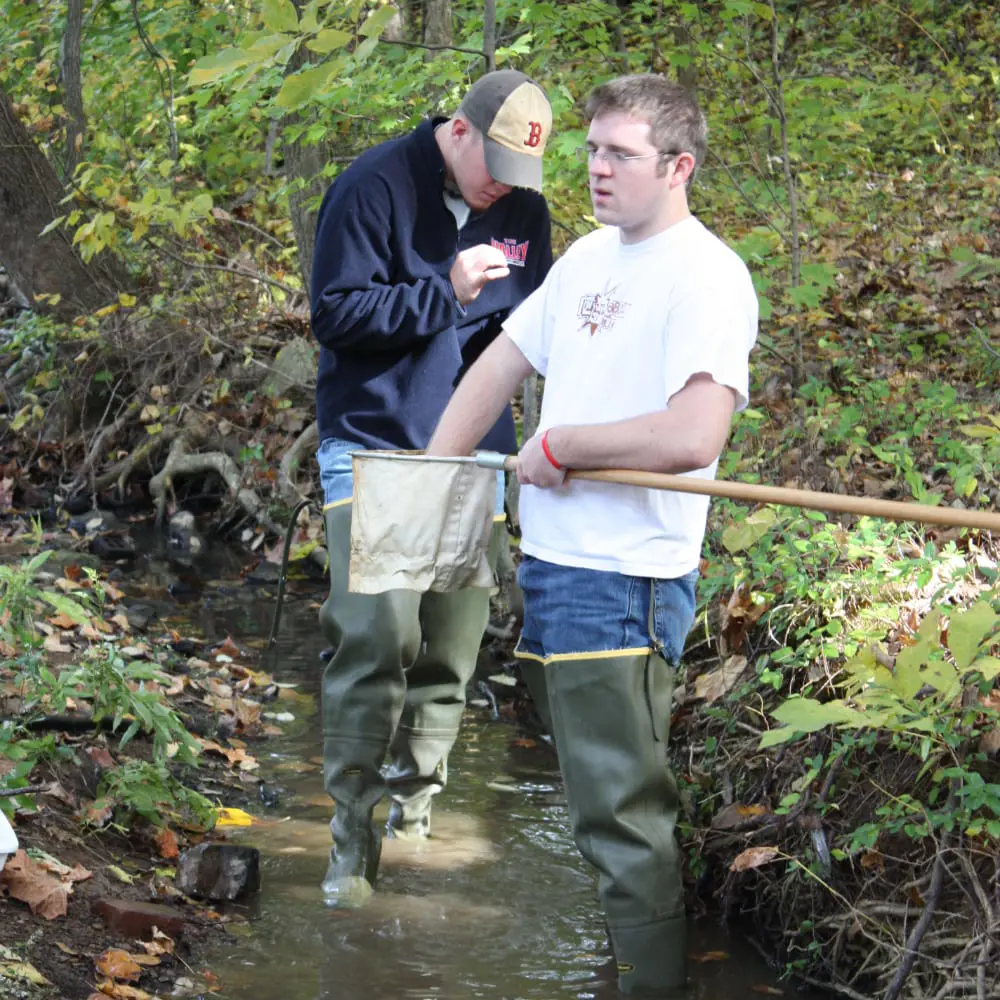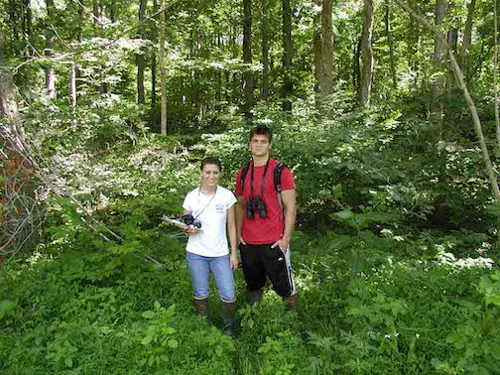 The USI Nature Preserve comprises 730 acres of mostly mesic forest land adjacent to campus. Since its creation in 2010, several research projects involving dozens of students have been conducted in the areas of biology, geology, and engineering. The combination of the size of the preserve and its proximity to campus is unique among Indiana colleges and universities.
Our students have the opportunity to work in the USI Nature Preserve as part of coursework and as part of research projects. This location has been the source of multiple peer reviewed publications and presentations involving our students.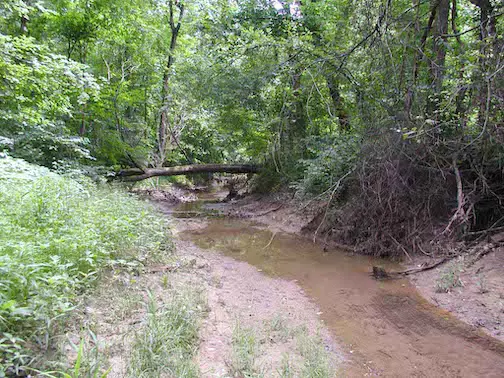 Biology Publications from the USI Nature Preserve
McCloud, E. and J. Bandoli. 2018. Construction of a suburban-rural recreational trail produces developing edge effects. Proceedings of the Indiana Academy of Science, 127:28-36.

Bandoli, J. 2016. Filial cannibalism in spottail darters (Etheostoma squamiceps) includes the targeted removal of infected eggs. Behavioral Ecology and Sociobiology, 70:617-624.

Vertebrate surveys as part of the process of creating a nature preserve in southwestern Indiana. E. Haines, J. Behrens, J. Bandoli, Indiana Academy of Science (poster), 2012.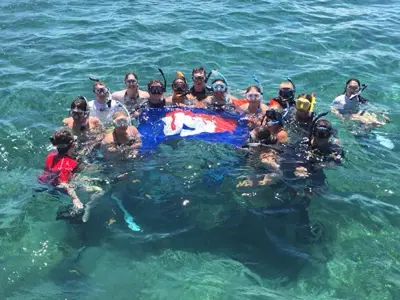 For over 20 years, USI has had a partnership with the Belize Tropical Research and Education Center (TREC), an organization dedicated to research, education, and conservation. Located on Ambergris Caye, Belize Marine TREC provides all of the components necessary for conducting both science courses and field research experiences.
Our Tropical Marine Biology course is the ultimate "out of classroom" experience. This elective allows students to study marine species and ecology in the classroom in Indiana, then travel to Belize to observe those species up close and personal. Students take two or more snorkeling trips each day to explore the meso-American barrier reef. The barrier reef, abundant charismatic megafauna (sharks, rays, sea turtles, and manatees), intertidal and mangrove communities are all highlights of the experience.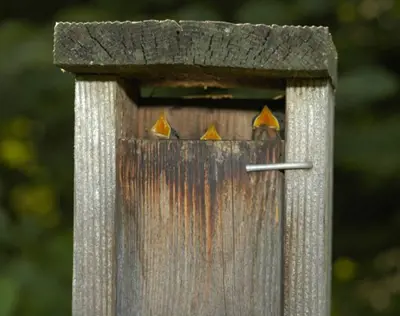 USI has maintained and monitored bird boxes on our campus since 1973. This effort is currently coordinated by Associate Professor of Biology Alex Champagne and Professor Emeritus Jim Bandoli. This project has provided insights into how nesting behavior changes with weather and climate changes in Southern Indiana.
Our cedar bird boxes are found along the trails south of campus near Reflection Lake. Student researchers gain field and data analysis experience by checking the boxes regularly for signs of nesting activity and the presence of chicks or eggs.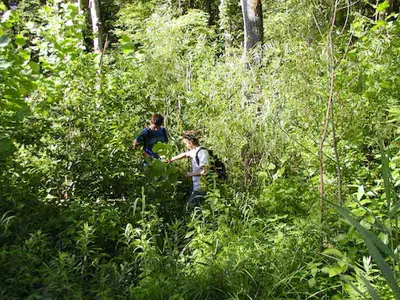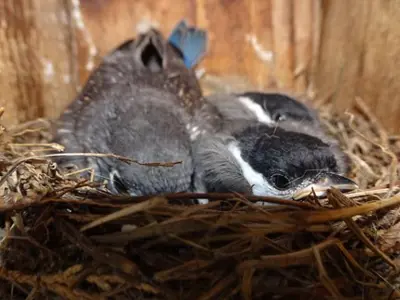 Our students made an interesting discovery in one of our bird boxes. Carolina Chickadees and Eastern Bluebirds don't usually share nests. However, a pair of chickadees kicked bluebird parents out of their nest and proceeded to lay their own eggs and raise both the chickadee and bluebird chicks! You can read more about this story in the Evansville Courier & Press.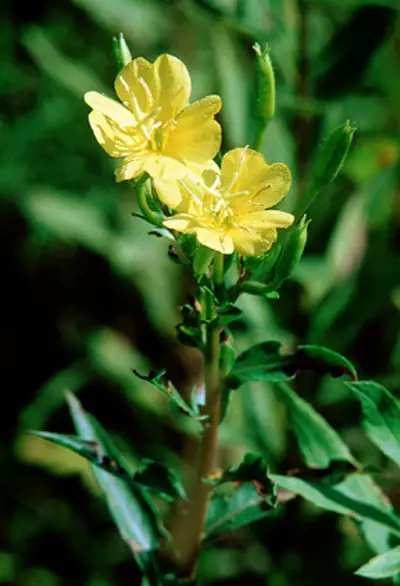 Twin Swamps Nature Preserve is just west of USI's campus and provides a wonderful opportunity for our students to explore the native species of plants an animals in this unique environment. Twin Swamps consists of two actual swamp ecosystems - a Cottonwood-Bald Cypress Swamp and an Overcup Oak Swamp, separated by an area of southern flatwoods. Twin Swamps is one of the few remaining ecological communities of this kind, though this type of swamp used to cover large portions of the Ohio and Wabash River Valleys.
The 500-acre site is home to a wide variety of plants, including a large spread of Virginia bluebells (shown to right).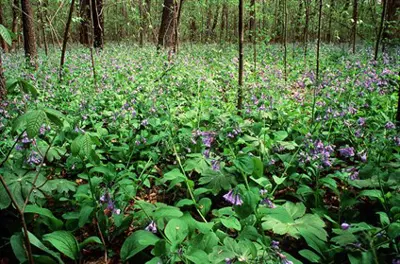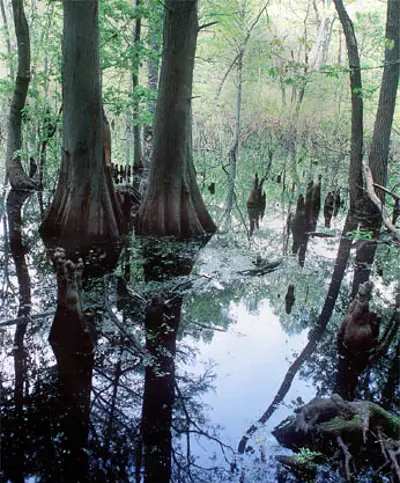 Southern Indiana once had tens of thousands of acres of bald cypress trees, but farming and river dams
have taken their toll. Twin Swamps Nature Preserve was set aside in 1987 to help save one of Indiana's
last stands of bald cypress tress (pictured left).
Biology Publications from Twin Swamps
Mark R. and S.A. Gordon. An inventory of the herbaceous plants of the Twin Swamps Nature Preserve, Posey County Indiana. Proceedings of the Indiana Academy of Sciences. 2004. 113(1): 17-25.