---
Biology Club
---
USI's Biology Club aims to unify Pott College students and provide a supportive, hands-on club environment for students exploring science! We strive to give back to USI and involve students in a comfortable, cohesive environment that inspires individual growth and learning. We invite you to join us for monthly meetings and participate in outreach events throughout the year that collaborate with organizations such as Mesker Park Zoo and Girl Scouts of America.
The Biology Club Faculty Advisor is Dr. Henri Maurice
All students interested in biology are invited to join the Biology Club. Members of this organization participate in a variety of activities including Mesker Park Boo at the Zoo, Boy Scout Day and USI Biology Club Poinsettia Sale. The Biology Club also hosts a Halloween Party and an end of the semester dinner. Our activities and volunteer opportunities are in no way limited to what is listed above. We encourage active participation and welcome any ideas for additional activities from our club members.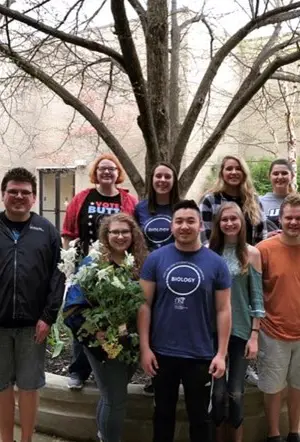 All meetings take place at 7:00 pm in ED2113 with a virtual option via Zoom.
For More Information
Contact Hayden Martin, President
rnfulkerso@eagles.usi.edu
Follow us on Instagram:
usi.biologyclub
---
TIMMY Global Health
---
Timmy is a a community-based organization that initially started in Indiana but is now nation wide. Our chapter, along with those across the country, works to help people globally access primary health care. We focus both on local activities and international work through trips, fundraising, and volunteer service.
The TIMMY Global Health Faculty Advisor is Dr. Kim Delaney
Timmy Global Health expands access to health care and empowers students and volunteers to tackle today's most pressing global health challenges. Timmy sends medical service teams to support the work of international partner organizations and channels financial, medical, and human resources to community-based health and development projects. 
---
Pre-Professional Health Club
---
PPHC is an organization for anyone interested in pursuing a health-focused Professional career such as Medicine, Dentistry, Optometry, PA, PT, Chiropractic, Pharmacy, Veterinary, or Podiatry. We offer resources and networking opportunities for students looking to help find the best path to reach their goals in professional school.
The PPHC Faculty Advisor is Dr. Alex Champagne.
---
Be The Match
---
Be The Match is an organization that helps connect patients with their donor match for life-saving bone marrow transplants. Our campus chapter works on awareness, bone marrow registry drives, and fundraisers.
The Be The Match Faculty Advisor is Dr. Becky Sparks-Thissen.
---
Animal Club
---
Animal Club is an educational, social, and involvement-based club open to anyone interested in learning more about the animals humans share the world with. It aims to educate students, through discussion and experience, on the complexity of animals, their habits, and their interactions both inside and out of southern Indiana. We are committed to:
Cultivating a community of animal lovers
Discussing the impact of humans on animal habitats and species endangerment and challenging the norms that create them
Creating a space for members to interact directly with nature
Participating, collaborating, and hosting events to provide awareness of animals and endangered species
The Animal Club Faculty Advisor is Dr. Kyle Mara.
---
Dental Club
---
The Pre-Dental Club at USI hopes to serve as a one-stop shop for all students pursuing a career in dentistry. This includes students majoring in dental hygiene or dental assisting and pre-dental students applying to dental school. Students are provided with opportunities to learn from experts in the field, network with students pursuing similar careers, and serve the community. Some of our semester activities include the following:
Inviting experts in the field to speak at meetings, including dentists, dental students, and more
Traveling to local elementary schools to teach students about oral hygiene
Volunteering at the Evansville Christian Health Clinic Blitz Days
Through Pre-Dental Club, we hope to foster a community of students who are passionate about oral health and expanding their knowledge and love for the field of dentistry. If you are interested, please email Emilee Adams or Charity Pflederer (ekadams1@eagles.usi.edu and crpfledere@eagles.usi.edu) for more information!
The Dental Club Faculty Advisor is Dr. Alex Champagne.