Accredited by ABET.
Bachelor of Science in Engineering (BSE) program is Accredited by the Engineering Accreditation Commission (EAC) of ABET, http://www.abet.org.
In 2016, the College won funding for an advanced engineering challenge: to design, test, deploy and monitor a satellite for NASA. A team of engineering students developed the UNITE CubeSat over the span of about 30 months. Work conformed to NASA criteria, which included more than 100 tests of hardware and systems. NASA launched UNITE on a Space-X rocket in December 2018 and it was deployed from the International Space Station in January 2019. The satellite relays information on location, temperature and plasma and will do so until reentry into the atmosphere terminates its mission. In May it reached a milestone—over 100 orbits.
The Bachelor of Science in Engineering (BSE) is the flagship baccalaureate degree in engineering at the Pott College of Science, Engineering, and Education. Your interest in solving problems and your competence in mathematics are essential for completing this course of study. As you work toward graduation, you concentrate studies in one of five emphasis areas: mechatronics, mechanical, civil, industrial and manufacturing, and electrical and computer. See the curriculum requirements for achieving the BSE.
Our faculty work for you—and with you.
Professors devote themselves to your academic fulfillment, teaching both in the classroom and laboratory. Many have come from careers in industry, so you learn from both theoretical and practical perspectives. Student-teacher interaction is a hallmark of the College; class size is typically 24 students or fewer, and professors keep an open-door policy. Learn more about the engineering faculty.
"As a faculty member, I enjoy the smaller class sizes here. I get to know each student, hear their concerns and help them get where they want to go."
- Dr. Art Chlebowski, PhD Bioengineering, Assistant Professor of Engineering
Engineering for health care
As a leader in the production of orthopedic devices, Indiana presents an extraordinary opportunity for bioengineering talent. Prepare for a position in this field by learning how the science of engineering can be applied to improve medical outcomes.
Where graduates go to work.
Your journey from student to professional practitioner can take many directions. The College's graduates in engineering find employment in industries of all kinds. See a recent snapshot of where USI graduates are building careers.

The first step toward your professional license.
With a degree in engineering from USI, you complete the first step toward attaining your license as a professional engineer (PE). Your senior year also prepares you for the second step, the Fundamentals of Engineering (FE) exam. The pass rate for USI students who sit for this exam is consistently above the national average. Depending on the state where you apply for licensure, you may need to work under a licensed engineer for a qualifying period (four years in Indiana) before you take the PE exam.
Working for NASA.

Engineering students work on the development of a CubeSat, a U-class spacecraft for orbiting Earth to gather data.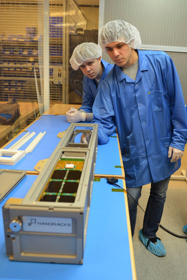 In 2016, the College won funding for an advanced engineering challenge: to design, test, deploy and monitor a satellite for NASA. Under the direction of Dr. Glenn Kissel, Associate Professor of Engineering, a student team worked approximately 30 months to develop the UNITE CubeSat. Work conformed to rigorous NASA criteria in more than 100 tests of hardware and systems. NASA deployed UNITE from the International Space Station in March 2019.
Project UNITE is one of several extracurricular opportunities for practical experience. Learn more about the College's professional affiliations for engineering students.
Are you considering the study of engineering?
Let us help you see clearly the opportunities at USI. Ask our faculty a question or schedule a tour of campus.