"Aubade in the Old Apartment"
Leila Chatti
I wake inside the old apartment. No—I wake
in the apartment two doors and one floor
down, in the 1920s building slightly past
its prime, but still charming, with its rust-
colored trim and wide, wooden staircase, the foyer
tiled and smelling intermittently and vaguely
of piss, the electronics store underneath,
next to what was once cheap and decent
Korean food, now gone. I wake today to
the artificial dawn we learned to love
through acclimation, early mornings
of our early twenties when
I rode the BART and my bike
to teach and you sold people succulents
and lemon trees. I wake to
that familiar aurora of pink
neon signage reading glamor
in two different spellings, the street-
lights on their sturdy green posts
winking like girls, soft sigh then hum
of the bus coming to a stop at the curb.
Through the blinds, sky still black
as asphalt and the dependable sing-song
of the crosswalk. A woman shuffles
down 40th with all her possessions
in a wheelchair, her shadow
dragging behind her like a tide, a siren
shrill in the distance, so far I can imagine
all danger a dream, and
it does not wake you. You are still
asleep in this just-breaking morning
I have been so lucky
to wake to like any other, your face
turned towards mine on the pillow we share.
I know it will not always be like this: you and I
so poor and wise or desperate
enough to think anything we own is beautiful
just because it's ours. But for now,
we are here, back in the old apartment
building where we came at 21 and now
again at 26, the same
subways rattling into the station
just down the block, the donut shop and the wig shop
and the pizza place no one goes into
and the neighbors who remembered us and will
stir in a few hours to tramp through
nearly identical rooms above us, everything so similar to
how it was I could almost forget
this life isn't endless—not a series
of these simple and good enough days.
---
After my MFA, I floated. I spent the fall in Southern France with my partner, then spring with Dorianne Laux in Raleigh, and hopped that summer between residencies and countries. When I ended up back in Oakland, the city we had left three years earlier for graduate school, I had been living out of my suitcase for a year. My partner had just biked across the country, and had only what he could strap to its frame. Our stay was brief—H. had come to California for a short internship, and I would be leaving in October for a fellowship at the Fine Arts Work Center—but during those two months in Oakland, back in the old apartment building, we again made a home for ourselves. The studio was sparsely furnished from our landlady's storage. H. worked at a vertical farm in Berkeley and brought home greens and day-old baked goods from the Whole Foods the farm supplied. We made extra money as test subjects for a study, walking to get there. I spent most of my time at a borrowed desk by the window, with an enormous stack of library books, unsure of how to write about my newfound happiness. After years of illness and chaos, I found myself back where I had started, where I had been so happy, where I was now happy again. I wrote this poem at that desk one day, wanting to hold on to the life I had slipped back into, knowing it would, once more, slip away. 
---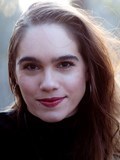 Leila Chatti is a Tunisian-American poet and author of the chapbooks Ebb (Akashic Books, 2018) and Tunsiya/Amrikiya, the 2017 Editors' Selection from Bull City Press. She is the recipient of scholarships from the Tin House Writers' Workshop, The Frost Place, and the Key West Literary Seminar; grants from the Barbara Deming Memorial Fund and the Helene Wurlitzer Foundation; and fellowships from the Fine Arts Work Center in Provincetown, the Wisconsin Institute for Creative Writing, and Cleveland State University, where she is the inaugural Anisfield-Wolf Fellow in Publishing and Writing. Her poems have received awards from Ploughshares' Emerging Writer's Contest, Narrative's 30 Below Contest and 10th Annual Poetry Contest, the Gregory O'Donoghue International Poetry Prize, and the Academy of American Poets. Chatti is the consulting poetry editor for the Raleigh Review, and her work appears in Ploughshares, Tin House, The American Poetry Review, The Virginia Quarterly Review, The Kenyon Review Online, and elsewhere.