"For the Doctor's Records"
by Clint Smith
          After Nicole Sealey

My father has chronic kidney disease.
He has had two transplants thanks to
two people who were generous in
ways I'm worried I am not. My mother
has a nerve in her neck that doesn't let
her sleep through the night. My mother's
mother died of blood clots. My father's
father died with Alzheimer's casting a
shadow over everything inside of him.
My wife had complications while she was
pregnant with both my son & daughter.
Both arrived early & I held my breath
until each of them released their first.
My wife's mother escaped a war & lived
to tell us how the memory is still a soft
decrescendo in her hands. I enjoy
fried foods. I eat too much salt. I worry
about having more than one drink.
I've seen people in my family become
consumed by things they didn't know
could kill them. My knees hurt some days.
I feel my bones ache when it rains like
the old folks used to say. I don't know
what is in my body & what is in my head.
I want to take pain medicine but I'm afraid
of what I can't control. My chest gets tight
when I lie to people I love. My mother's
sister had breast cancer. My mother's brother
let alcohol become his silence. I remain
astonished by how cicadas live for seventeen
years underground & then die within weeks
of coming up to meet the world.
---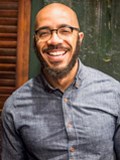 Clint Smith is a doctoral candidate at Harvard University and has received fellowships from Cave Canem, the Art for Justice Fund, the Callaloo Creative Writing Workshop, and the National Science Foundation. He is a 2014 National Poetry Slam champion and a recipient of the 2017 Jerome J. Shestack Prize from The American Poetry Review. His work has appeared in The New Yorker, The Atlantic, The Paris Review, The New Republic, and numerous other publications. Smith is the author of Counting Descent (2016), which won the 2017 Literary Award for best poetry book from the Black Caucus of the American Library Association and was a finalist for an NAACP Image Award. He was born and raised in New Orleans.