"hearsay"
by Renia White
OK so you are telling me the girl dared say

"I can't just let you have my life,

not like that, your honor"


and he sentenced her to a bedazzled tightrope

and a room without a window, and a son

that doesn't know her name?              middle passage

for this? think the girl doesn't know her own

shame? given that face she wears? think she doesn't

know where she is ain't where she was put down

to begin with?           that her first season was

someone else's harvest?


some people get to want and need

and be met in it.       some just the mouth,

just the teeth


some eat and they say

"why all the hunger?"
---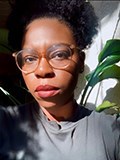 Renia White is a poet and writing instructor from the East Coast. She earned her BA from Howard University and her MFA from Cornell University, where she also taught. Her work has been recognized by the likes of the Hurston/Wright Foundation, Sonora Review, and Indiana Review, and also appears or is forthcoming in The Offing, Slice, Poetry Daily, Ruminate, Witness, The Southampton Review, and elsewhere. She lives in Brooklyn, New York.