"Ode to Damage"
by Idris Goodwin
Not to be confused with Used
The innovators of baggy, distressed
Designer jeans with fringe
Tears and patches
The urban take on the torn knees
Of metal slingers with hairy rage
Damaged jeans were full of holes
As if riddled by the firing squad
Boosted and remixed
Flashed like we do
Deep purple denim, deeper than
X Klan lyrics and crew packed in the pink caddy
Ahnks and kinte blended
With the newest latest useless
Disposable overpriced
Bubble yum colored disrespect
To respectable suited bow tied
Bean pie selling
Deacon board sitting
Good
Clean
Upstanding
Negros
And at 15 that's the last thing I wanted
To be mistaken for
Even though I was daily made
Whole, supported, clothing and shelter
To the passing eyes at least
I stood up, clean in navy blue
Pressing tears so tight my stomach broke
I was pieces in search of a frame
Thread to weave me a real boy not a marionette
Reenacting so as not to react
---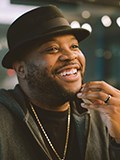 Idris Goodwin is a multiple award-winning playwright, breakbeat poet, director, educator, and organizer. His poetry collections include Can I Kick It? and These Are The Breaks. He is the author of over sixty original plays ranging from his Hip Hop inspired breakbeat play series to historical dramas to works for young audiences. Goodwin has appeared on HBO's Def Poetry, Sesame Street, NPR, BBC Radio, and the Discovery Channel. He is a 2021 United States Artist Fellow.