"When Everything Is Too Much, I Praise What Didn't Break"
by Kelli Russell Agodon
Sometimes the smallest bones end up for sale at a flea market
and the world is overdosing on loss. There's a box of black
and white photographs, a failure of tea cups.
Today is a wilderness of why not. Choose a winter
where you didn't weep. Once when I was in a bed
of sadness, a lover left a note on my nightstand that read:
You are exactly where you need to be.
Handwritten optimism. Place lurks in the corners.
Sometimes I reach down and lean the seat back
to watch the meteor shower through the moonroof.
The universe exits the theater when the sun begins
to rise. Sometimes the smallest bones of me
are the ones that refuse to break.
Like the summer we spent barefoot and returning to the boy
we called Pleasure, the girl we called Desire.
We never wanted to be facedown, we never wanted
the bottlerockets to go off in our hands, but we loved the spark
of what could hurt us, and how we held it. The box
of photographs. The winter of weeping willows. Failure. Failure. Fail
here. Sometimes bumperstickers hold confusion. Like when I think
I'm walking toward God but I'm driving home in rush-hour traffic
and praising what didn't break today, the smallest bones,
the bed of sadness, and even though I am not exactly
where I need to be, I'm somewhere near where I live, the sun
is on my neck and I praise the warmth, praise each other's skin,
mouth, drink, the boundaries we couldn't hold.
---
"When Everything Is Too Much, I Praise What Didn't Break" came from a surrealist question writing prompt I did with Martha Silano and Ronda Broatch at the early part of the pandemic. The strange questions just took me on this journey where I didn't try to focus too much on what I was writing about, but just letting my subconscious direct the poem moving from present to a younger self and wherever the poem wanted to go. The phrase "praising what didn't break today" reminds me that in the beginning of the pandemic, I was feeling anxious and it's one of those moments in the poem where I can see a past-self searching for a little hope.
---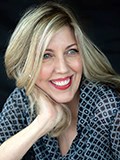 Kelli Russell Agodon's fourth collection of poems, Dialogues with Rising Tides, was recently published by Copper Canyon Press. She is the co-founder of Two Sylvias Press as well as the co-director of Poets on the Coast: A Weekend Retreat for Women. Agodon lives in a sleepy seaside town in Washington State where she is an avid paddleboarder and hiker. You can write to her directly at kelli@agodon.com.