"The Groomsman"
by Alexa Patrick
          for Ralph
I imagine him fixing my father's
collar before the wedding.
The stained glass breaking
his strong jaw to soft colors,
corner store god turned
hallowed shatter,
skin, shaded, foreshadowed
Everybody called him cousin,
had a smile mamas
wanted to fatten. Maybe
smelled like sweat and peppermint
after a shift driving the truck.
He cleaned up nice, though,
casket sharp, cuttin'
niggas a 20 when they needed
Thanks, man and maybe
a smaller version of my father
walked away thinking about groceries.
The story goes, he had a temper.
Curdled his fist into sharp prayer,
boiled saliva to the back of his throat,
thought every officer was the officer
who swole his mama's face.
When they'd walk by,
all dressed in hubris,
his tongue wrung out
something slick so
they took his name,
frisked the clean Black
of his suit, adorned
his precious neck,
in a bowtie of bullet—
Oh, how the doves fled!
One week after my parents tied the knot,
the officers did too
---
"The Groomsman" is a product of many conversations I've had with my father. When I have the pleasure of hearing my father speak about his childhood in a positive light, he describes a bouquet of characters in a way that holds their rough edges to the light, exposing their unexpected beauty, their textured gentleness. The sad truth is that many of the people who populated my father's childhood seldomly lived beyond his childhood. Therefore, he befriends their ghosts.
Ralph is one of these friends. Whenever my father would speak about him—his vibrancy, as well as his witness to my parents' love—it was always met with the stark contrast of how he died. And that is a unique tragedy of Blackness, the way our honeymoons turn into burials. After one long conversation with my father in particular, when he spoke a little longer about his friendship with Ralph than he had before, I was called to write a piece that reflected that contrasted reality. I wanted to blur the imagery of marriage and death. I wanted to honor Ralph by writing him with the same grace that my father uses to remember him.
---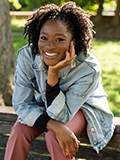 Alexa Patrick is a singer and poet from Connecticut. She holds fellowships from Cave Canem, Obsidian, and The Watering Hole. Patrick was the 2019 head coach of the D.C. Youth Slam Team, and has held teaching positions through Split This Rock, The University of the District of Columbia, and the Center for Creative Youth at Wesleyan University. You may find her work in publications including The Quarry, ArLiJo, CRWN Magazine, and The BreakBeat Poets Vol. 2: Black Girl Magic. Patrick's debut collection, Remedies for Disappearing, will be published by Haymarket Books in 2023.