"How to Let Go, or, I Smudged Lost Loves Away into the Ocean"
by Ashley M. Jones
-For Y, P, A, L, M, & V
and the ocean said give it to me and I did, and I watched it floating out among the
crosshatched ripples, and I prayed it away, prayed it drowned in the ever-loving
ocean, and the ocean said breathe and I did, and I let another fly from my hands
to the ocean's hand, I watched that hand pull itself toward the moon, I heard
the ocean sigh and I knew that was my own heart sighing, I knew it was my own
heart unshouldering this burden/this love, and the ocean said anything else and I
said yes, and I pulled another from my bundle and I saw his face this time when
I threw him away, and the ocean caught him on her tongue and let him dissolve
there, slowly, the last thing I saw was his smile/his greatest lie, and the ocean
pulled her tongue away from shore and swallowed, and the ocean showed me her
teeth, and I understood: anything that hurts she said, my smile is sharper, my belly
has a room shaped just like your wounds, you'll be surprised, my darling, at how well
each hurt can fit, at the way that even my killings are clean.
---
At Hedgebrook three years ago, I cleansed myself of pain at the ocean in a smudging ceremony with my dear friend, the poet Yaccaira Salvatierra. All the ladies who were there that summer were pure and abounding magic, and they, along with the frothy ocean waves in the Pacific Northwest, each showed me the way to take agency away from those who hurt me and expel their poison out of my body and spirit.
---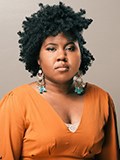 Ashley M. Jones holds an MFA in poetry from Florida International University, and is the author of Magic City Gospel, dark / / thing, and REPARATIONS NOW! (Hub City Press, 2021). Her poetry has earned several awards, including the Rona Jaffe Foundation Writers Award, the Silver Medal in the Independent Publishers Book Awards, the Lena-Miles Wever Todd Prize for Poetry, a Literature Fellowship from the Alabama State Council on the Arts, the Lucille Clifton Poetry Prize, and the Lucille Clifton Legacy Award. Her poems and essays appear in or are forthcoming at CNN, POETRY, The Oxford American, Origins Journal, Obsidian, and many others. Jones teaches at the Alabama School of Fine Arts, co-directs PEN Birmingham, and is the founding director of the Magic City Poetry Festival.