"We Are Soft Between Hours"
by I.S. Jones
There's a sweetness to these nights of surrender.
It's true, the heart beats two rhythms: one for me, then you.
I emerge from the shower, drip on Momma's good floor,
trail a gown of water towards your door.
Down the hall, you stretch in your skin, I saunter in mine.
I tried before to rest but my jaw aches from grinding teeth,
so, I kneel at your altar. I watch you touch yourself
through a blade of light leaking into the hallway.
Earlier, we went to the river if only to relieve
the body of the sun's tirade. I didn't mean to see at first:
you slip out of your blue bathing suit, step into the water. Blue promise
memorizing the muscles of your back. I'm old enough to understand
too much longing can make any creature feral. My problem
is that I fall in love with beauty. You are the grape going into my mouth,
the lone tear of riverwater tracing my breast. I've spent my small life
as two bodies yearning to be one. I want to know how it felt
the first time you discovered God's eye blooming between your legs.
A flowering of dark red poppies in a field. What pleasure possesses you,
sister, I want for myself. In this night, everything is about the moon—
even her absence, even you. Eventually, someone wants something,
that's the nature of power. O patient light, grant me passage. I want
no beast but the night to hear me. Your soft, indelible labor,
fingers roving the field until you shutter into a gilded song. I long to kiss
the hands of this submission. I dream we crash into each other:
cainabel cainabel cainabel. That even when you catch me
and close the door, I fever for the taste of you. I said I have a problem
I didn't say I wanted to be saved.
So much of what makes myth-making delightful is the space into a story from a more nuanced lens. In my writing, I find myself captivated by girlhood and those "firsts" (that sometimes, but don't always, mark the end of girlhood): first secrets, first lie, first touch of shame, first pleasure. "You are the grape going into my mouth, the lone tear of river water tracing my breast" were the first lines of the poem before I fully knew its shape. They recall Cain watching Abel as she takes off her bathing suit and skinny dips in the water.

I am curious about a feminine gaze, yes, but specifically Cain's as a young girl who discovers her younger sister masturbating while spying on her—simultaneously "joining" her younger sister. What Cain understands about pleasure is inexplicably tied to power. Touching the hem of taboo without lifting its blouse, "We Are Soft Between Hours" is a window into one sister who can't tell her body or pleasure from another sister. One name erodes into another. And there's an Isaiah Rashad reference sprinkled in somewhere.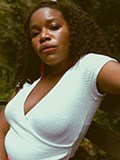 I.S. Jones is an American / Nigerian poet, essayist and former music journalist. She is a Graduate Fellow with The Watering Hole and holds fellowships from Callaloo, BOAAT Writer's Retreat, and Brooklyn Poets. Her works have appeared or are forthcoming in Guernica, Washington Square Review, Hayden's Ferry Review, LA Review of Books, The Rumpus, The Offing, and elsewhere. She received her MFA in Poetry at UW–Madison where she was the inaugural 2019­­–2020 Kemper K. Knapp University Fellowship and is the 2021-2022 Hoffman Hall Emerging Artist Fellowship recipient. She is the Director of the Watershed Reading Series with Art + Literature Laboratory as well as the editor-in-chief of Frontier Poetry. Her chapbook Spells of My Name (2021) is out with Newfound.