Dear O—
by Vandana Khanna
At first, I gave up on meat and men,
applied myself to my bad luck, wore
it like a precious stone around my neck.
Back then, I did invite any ruin that
would have me, forgot the names of
trees, my melancholy map-less and feral.
I looked for a suitor I could practice on—
to remember how it felt to clutch a fistful
of hair, that particular thistle of pleasure.
Their eyes frigid pools a girl could drown
in, blue-lipped and stuttering a dead
language the tongue barely recalls.
Every fish on my plate tasted of the cold
currents of its past—silver-skinned, and
bitter, washed up on my shores from an
ugly river named for death. To think
anyone would cross an ocean for this.
I was strictly first edition, an origin
story with small bones and brine. All
that hemming and hawing and I still
end up alone, the spoiled sun beating
against my skin like a clock ticking off
each hour we're apart—one, then two.
---
This poem is part of a longer sequence that considers absence and memory and how memory betrays, shifts over time. I wanted to capture the complicated relationship that a person has to her past, how a taste can remind you of the person you were once. I began with this idea of bad luck and whether or not it's possible to "cheat fate," and how someone might go about doing that. Is the trajectory of our lives out of our hands? From there, I thought about different ways one might change her destiny, how the act of waiting in itself might be a subversive act.
---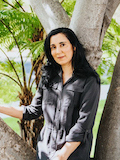 Vandana Khanna's work has appeared in the Academy of American Poets' Poem-a-Day, The New Republic , New England Review, and The Poetry Review. Her third collection of poems is forthcoming from Alice James Books and previous collections have won the Crab Orchard Review First Book Prize and The Miller Williams Poetry Prize. Khanna is a poetry editor at The Los Angeles Review.