The Angel of Farewell
by Bernardo Wade 
                after John Keene
      I wake to winter's reply—
in mid gait, the snow, as it falls, shapes
      this silence & I'm afraid,
again, of today. The angel grinds her teeth
      on empty bottles,
covering the dead grass, shimmering
      the earth with what
I can't say: we were young & newly naked,
      mangled in precarity,
that Paris room reeked of love—like spring
      dew, so I wrote a poem
about the eagerness of May—an elegy for naivety,
      now tucked away.
Remember? I used words like, perfect & fate.
      Yet, it's here, I lie
next to you, tracing the words, I'm sorry
      over your lips,
listening to a stack of plates tremble
      inside your breath.
Each morning, the sun rises in my mistakes.
---
Once deemed—in my head—a breakup-that-hasn't-happened-yet poem, most of these words seemed to come, not from the reality of my inter-personal relations, but from a weariness I felt as I awoke one winter morning in southern Indiana. Outside of my accustomed habitation, New Orleans, I get cold feet, so to speak. The snow seems to remind me how the cyclical nature of things can feel, at times, cruel. How there is the capital D, Death, yet we experience all these lowercase deaths as our minds, bodies, and spirits pass through their own constellations of seasons. Simply put, the grey mid-western winters had me in a dreary fatalistic mood and I thought, ok let's follow this feeling.
---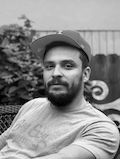 A Black writer from New Orleans, Bernardo Wade tries at poems and rides his bike around Bloomington, Indiana, because Indiana University funds his present period of studying with others. He currently serves as the editor-in-chief of Indiana Review, is a Watering Hole Fellow, and is infatuated with Ed Roberson's question, "Can you O.D. on life?" He was recently awarded the 2021 Puerto del Sol Poetry Prize and has words in or forthcoming in Crazyhorse, Black Warrior Review, Southern Review, Guernica, The Cincinnati Review, and others.