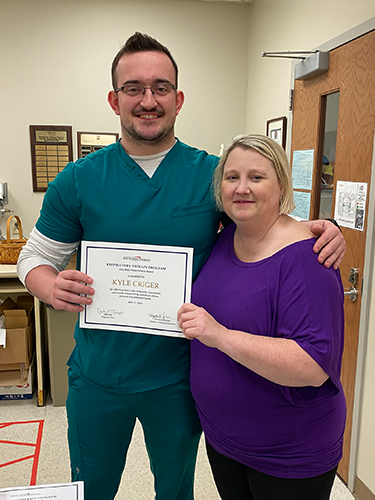 Jody Delp Perseverance Award
The road to a college degree is not always a straight path. Many students encounter twists and turns along the way, and it takes tenacity and commitment to get to the finish line. This was the experience for Kyle Criger, a member of the USI Respiratory Therapy Class of 2023, who received the inaugural Jody Delp Perseverance Award because of his resolve in overcoming adversity.
Mary Phillips and Beth Schnarr, Assistant Professors of Respiratory Therapy, established this annual award to honor their colleague, Jody Delp, Clinical Assistant Professor and Chair of Respiratory Therapy. On February 17, 2022, Delp experienced a fall at home which resulted in a spinal cord injury. Initially, she was paralyzed, and it was uncertain whether she would ever be able to walk again. After spending six months recovering at two different hospitals where she received intensive inpatient physical therapy, Delp regained her ability to walk—primarily because she was so determined to return to her post at USI. She resumed teaching and her duties as chair of the Respiratory Therapy program during the Fall 2022 semester.
Criger, of Bloomfield, Indiana, says he is "forever thankful" that Delp encouraged him to reapply for admission into the Respiratory Therapy program after he was not accepted the first time he applied in 2020.
"Jody Delp called me and encouraged me to apply again," he says. "I took online classes to bring my GPA back to where I needed it. Outside of the classroom I put in countless hours at the library, asked questions when needed and always asked how to improve my clinical skills. I told myself I would do whatever it took to succeed in becoming a respiratory therapist. I did not want to let myself down, but I didn't want to let Jody down because she gave me a second chance."
Criger says his father, a firefighter, inspired him to pursue a career where he could help others. "I was able to take some ride-a-longs and see what he got to do for his job when I was younger," he says. "Seeing him help people in their time of need gave me that drive to pursue healthcare.
He attended Ivy Tech Bloomington after graduating from Eastern Greene High School. He first learned about USI when area colleges came to Ivy Tech to recruit students.
"I knew when I started college, I wanted to help people in the hospital, but I did not know where to begin. I had never heard of respiratory therapy until I arrived at USI," he says. "I eventually did some job shadowing and got to see what they do in the hospital. I learned that not every day is the same and you get to experience a little bit of everything, no matter the scenario."
Criger's plans post-graduation are to work as a respiratory therapist at Deaconess Gateway Hospital in Newburgh.
In addition to presenting the Jody Delp Perseverance Award to Criger, faculty recognized two other students at the end of the Spring semester: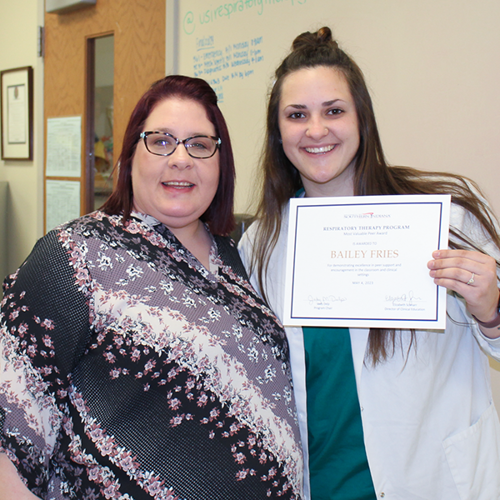 Most Valuable Peer Award
Bailey Fries received the Most Valuable Peer Award for demonstrating excellence in peer support and encouragement in the classroom and clinical settings.
---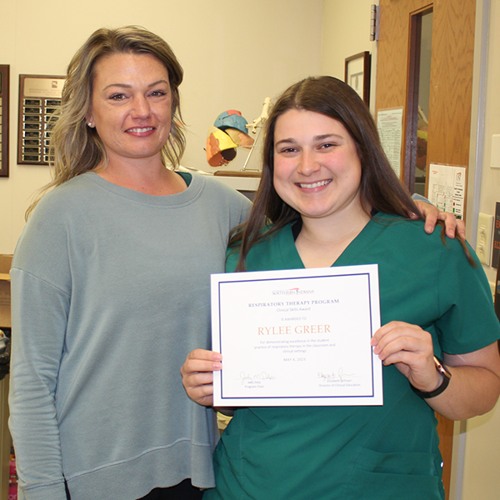 Clinical Skills Award
Rylee Greer received the Clinical Skills Award for excellence in the student practice of respiratory therapy in the classroom and clinical settings.
---
Read More Articles in the Synapse Newsletter: