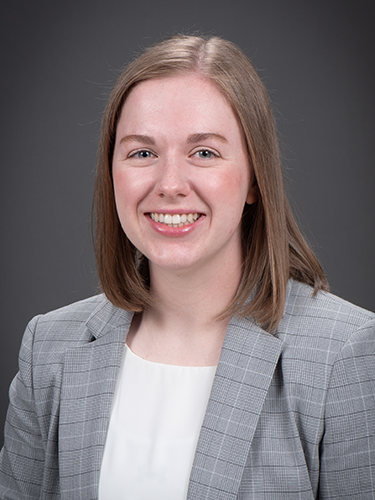 Major: Dietetics, with a minor in Personal Training
Where are you from? Evansville, Indiana
Sarah Fruit was named the USI Student Volunteer of the Year award at the Volunteer USI Dinner in August and is also the 2022 recipient of the prestigious Bill Sands Communication Scholarship, a University-wide award established by USI faculty members – the late William and Helen Sands – in memory of their son, Bill, who died in a car accident in 1998.
She answered a few questions about why she chose her Dietetics as her major and her USI experience.
How did you first get interested in a dietetics major? I come from a family that loves food. My Grandma and Mom taught me so much about cooking and baking. It was something we always did together. My Dad is a chef, and he would teach me his fancy culinary techniques. Food is truly the love language of my family. But if I am being honest, the main reason I got into dietetics was because I was struggling with eating and had some very disordered views of what healthy eating is. I came into this program wanting to "fix" myself, and I will leave this program wanting to diminish the misinformation and toxic diet culture that is rampant on social media.
What do you plan to do with your degree? After completing my undergraduate degree, I plan to attend graduate school where I will complete my supervised practice for dietetics and a master's degree in nutrition and dietetics. It has been a dream of mine to work with athletes as a sports dietitian. Because of the incredible experience I have had at USI, I would also like to someday be a professor and teach the next generation of dietitians.
What are some projects/activities you have been involved with in the Food and Nutrition program at USI? We have a lot of opportunities within the Food and Nutrition program at USI. One of my favorites was getting to demonstrate a tube feeding insertion for students in the Evansville area.
In our Community Nutrition course, two of my classmates and I were able to give a presentation at SWIRCA & More discussing Evansville-area farmers' markets and eating healthy on a budget. Also in this class, we were able to practice our lobbying skills and contact state legislators about bills directly impacting the profession.
I've even had the opportunity to present some research about protein intake and cardiovascular disease through our Medical Nutrition Therapy course.
Over the summer, I had the opportunity to help Mrs. (Beth) Young with a cooking class for the USI volleyball team. I love how many opportunities we have in this program because it shows just how much you can do as a dietitian.
Are you involved in any campus activities? This year I will serve as the president of our Food and Nutrition Student Organization (FNSO). For the past three years, I have been involved as an Orientation Leader as well as a Student Ambassador. I am also a lead tutor in Academic Skills where I tutor nutrition and anatomy and physiology.
In addition to the Sands Scholarship and USI Student Volunteer of the Year, have you received any other awards? My sophomore year, I received one of the Distinguished Sophomore awards. I am also a Harolyn Torain Multicultural Leadership scholar and have made the Dean's List the past six semesters.
Any comments on the program at USI or instructors you have had? We are so fortunate to have such an incredible dietetics program at USI. I know that my professors have prepared me well and I will be well equipped to take the next step in my journey to becoming a registered dietitian. As for the professors in the department, they are some of the most brilliant and caring individuals I know. Even with their busy schedules, they take time to get to know us and help us with whatever it is we need. I am appreciative of the support they show each of us and how they push us to do our best. Truly they are some of our biggest supporters.
Any comments on how it feels to receive the Bill Sands Communication Scholarship to help with your education? This scholarship has truly been a tremendous help and has helped lighten the burden that is college tuition and has also motivated me to continue to do well in my studies.
Did you have to submit an essay for the Sands scholarship? If so, could you provide a few excerpts? 
In the healthcare setting, strong communication is vital to the success of the team and the health of the patient. According to the National Institutes of Health, an estimated 27% of medical errors occur because of a lack of communication. These are errors that can be minimized by better written and verbal communication. Strong communication is necessary within the interdisciplinary team, when writing medical charts, and when meeting with patients and their families. Additionally, communication is how we make patients feel safe and welcomed.
But strong communication is not simply speaking. It also includes listening. Listening may include nonverbal cues such as nodding your head, making eye contact and facing the individual speaking. These cues send a message that you are attentive and interested in what the speaker has to say.
My personal and professional communication skills have improved through my involvement and academics. Being a peer tutor and a mentor for students has taught me the importance of listening and patience, which are two vital components of communication. I may need to repeat or rephrase what I am saying to ensure the student understands. It is also important to ask follow-up questions to make sure there are no misunderstandings.
---
 Read More Articles in the Synapse Newsletter: