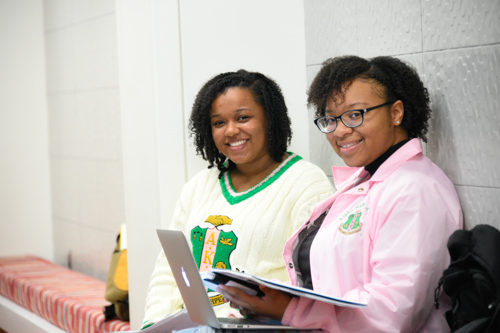 Major: Health Services 
Graduation: May 2023
Why did you choose USI?
Jade: Judaea and I both went to Springfield Southeast High School in Springfield, Illinois. We became close friends after we both tried out for the cheer team and made it. I found out about USI when our literature teacher gave the class a free day to research colleges. I decided to look up nearby schools that offered dental hygiene as a major, and USI happened to be one of them. The University wasn't too far from home, and I decided on it because of the scholarships offered. Having someone I knew coming to the same school was an additional plus.
Judaea: We did not decide to attend USI together – it just happened that way. Like Jade, I searched for schools and came across USI. I then was given the chance to tour the campus while in the process of interviewing for the Multicultural Leadership Scholarship. I really enjoyed the welcoming environment and the positive individuals I talked to. I also liked that the campus was small.
How did you choose your major?

Jade: Originally, I was a Dental Hygiene major, but ultimately, I realized dental hygiene wasn't really the best fit for me. I was in a healthcare policy class with Dr. Zachary Ward. I loved how we discussed the U.S. healthcare system and learned about its flaws. This course also talked about how different policies affect American citizens. It was very timely because this was at the height of COVID-19. Dr. Ward was a great teacher and worked hard to make sure we understood the material and were engaged in learning. I also enrolled in a course focused on public health taught by Mr. Thomas Rich. We looked at a lot of data, and the final project was to design a grant proposal to fund an intervention for a public health issue, which is why I decided to go into public health after graduation. Talking to my advisor, I found out I could change my major to Health Services, and it wouldn't add any extra time.
Judaea: I had not thought about a career in Health Services. I started on the Nursing track, but I did not make it into the program. My advisor then mentioned Health Services as an alternative. I was skeptical at first but decided to go forward with it. I enjoyed most of my classes, but the Healthcare Delivery System and Healthcare Policy course (HP 211) with Dr. Ward really sparked my interest in a career in health services. Dr. Ward applied the things he taught us to real world problems. My favorite part of the class were the discussions. It was interesting and fun hearing the different viewpoints on questions he asked and participating in a healthy debate/discussion.
What are your plans after graduation?
Jade: I plan to go back home to Springfield, Illinois, where I will work. I also plan to pursue my master's degree in public health in an online format.
Judaea: I am planning on earning my master's degree. However, I have not committed to any school as of now. The programs I have been looking into are human development and family services or a social and behavioral public health degree with a concentration in either human development and family services or mental health.
What clubs and organizations have you been involved with on campus?
Jade: I am a member of the Black Student Union, Designed by Grace Gospel Ensemble, Women Unlocked and Alpha Kappa Alpha Sorority, Inc. (Tau Rho chapter), for which I serve as the chapter president.
Judaea: I am a member of Alpha Kappa Alpha Sorority, Inc., where I serve as vice president, membership chair, as well as some other positions. I am also a Multicultural Leadership Scholar and a member of the Black Student Union. Throughout my academic career, I have been a part of programs such as Women Unlocked and Designed by Grace Gospel Choir.
Do you have any hobbies or interests?
Jade: My favorite things are listening to music and singing. I have been singing since I was a little girl, and I grew up singing at my church. I also like sleeping whenever I can. It gives me the chance to reset.
Judaea: I enjoy art and dancing. I am a choreographer, and I specialize in jazz and liturgical dancing. I also enjoy coaching cheer, specifically stunting techniques. Back home, I have my own business hosting camps on stunting drills and motion technique.
---
Read More Articles in the Synapse Newsletter: