The University of Southern Indiana Nursing Programs uses the American Association of Colleges of Nursing Baccalaureate and Graduate Essentials documents and other specialty specific national guidelines and standards as guides to offer high quality programs that meet national standards.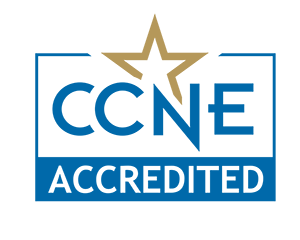 The Undergraduate Nursing Program has been accredited by the Indiana State Board of Nursing since inception.
The Doctor of Nursing Practice Program is accredited by the Commission on Collegiate Nursing Education (http://www.ccneaccreditation.org).
The RN to BSN post licensure program was initiated in 2006. The ASN to BSN (A2B) dual enrollment program began with a pilot program in Fall 2021 with Ivy Tech Evansville.
The MSN program was approved by the Indiana Commission for Higher Education in 1994, and the DNP program in 2008. The Post MSN APRN Certificate Program is offered for all MSN specialty tracks. The MSN specialty tracks are based upon national guidelines developed by the AACN Essentials and Clinical Nurse Specialist Core Competencies.