Two Doctor of Nursing Practice (DNP) students, Kimberly Heathcotte and Anita Hagan, recently traveled to Washington, D.C., to represent the University of Southern Indiana at two conferences.
They showcased their DNP projects via a poster presentation at the Sigma Theta Tau Creating Healthy Work Environments conference.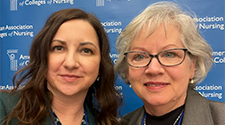 Then, they attended the American Association of Colleges of Nursing Student Summit Conference, where they contacted their legislators and voiced their support for legislation directly impacting the nursing profession.
"This conference included inspiring speakers with insight into how to make an impact in nursing policy and how to lead others to advocate for the nursing profession," said Healthcotte. "There was emphasis on being aware of current legislation and the importance of making our voices heard to our elected officials. As the most trusted profession, our stories and experience have influence on policy makers. We are in position to educate our legislators on the issues affecting nursing and healthcare."