Strong Clinical Education Partnerships
The University of Southern Indiana's College of Nursing and Health Professions has adopted the Dedicated Education Unit (DEU) model, which is a clinical education partnership. USI first piloted DEUs in early 2013 at St. Mary's Medical Center's Renal and Diabetic Unit (6 West) and Deaconess Hospital's Oncology-Pulmonary Care Center (Unit 5100).
A DEU is a hospital unit that is dedicated (reserved for) only one school of nursing. The unit staff (not just the RNs) are committed to providing quality clinical education for the students. Students are paired with one particular staff nurse for the entire clinical rotation to ensure consistency with clinical skill progression and to allow the staff nurse to identify the student's learning style and learning needs. DEUs offer "real world" educational experiences by optimizing the expertise of staff nurses and by student clinical placements occurring on all shifts and all days of the week, including weekends.
Interprofessional Education
USI Nursing and Dental Hygiene students have been working side-by-side at the hospital, conducting oral assessments, providing oral care and oral health education for acute care patients. The presence of Dental Hygiene students and faculty on the units has enhanced nursing practice and improved patient outcomes. Due to this collaborative educational approach, students and medical staff have diagnosed xerostomia, oral fungal and bacterial infections, and have helped to educate patients and staff on the importance of routine oral cancer screenings. This partnership has also resulted in the units stocking different evidence-based oral care products.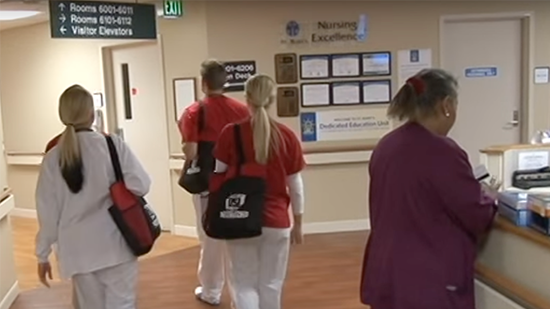 Ascension St. Vincent
USI first piloted a DEU in early 2013 on the Renal and Diabetic Unit (6 West) at Ascension St. Vincent Evansville.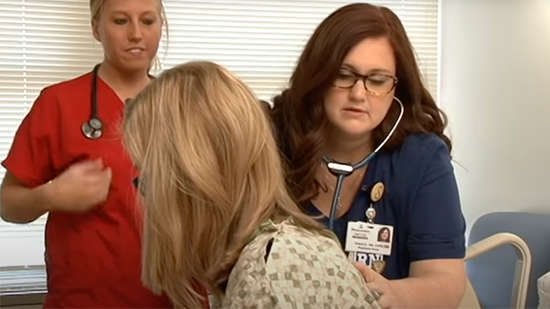 Deaconess
USI nursing students gain clinical experience at Deaconess Hospital, Evansville.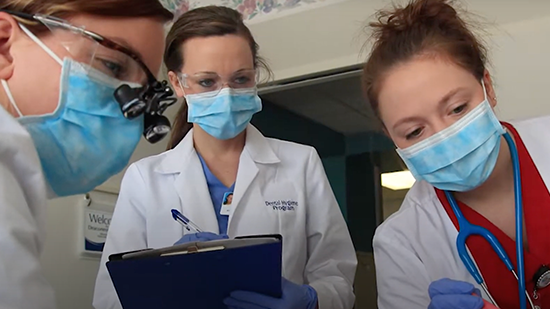 Nursing and Oral Health
Nursing and dental hygiene students pair up to develop oral health care plans for patients.