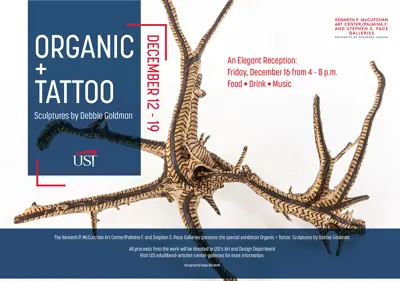 Organic + Tattoo: Sculptures by Debbie Goldman
Exhibition: December 12 – December 19
Reception: 4 p.m. | Friday, December 16
The Kenneth P. McCutchan Art Center/Palmina F. and Stephen S. Pace Galleries is excited to present a special exhibition in our galleries to conclude the fall semester. Organic + Tattoo: Sculptures by Debbie Goldman is selection of the dozens of artworks she has made over the past three years, since 2019.  All of her sculptures begin as found objects, wooden roots and tree branches carefully recovered from shorelines which are then cleaned and ornamented with hand-carved marks or paint.
Trained as a pediatrician at Indiana University and Washington University in St. Louis, Dr. Deborah Goldman has no formal training as an artist. She has lived in Evansville since 1982, having practiced medicine for 36 years.  
The exhibition includes fifty artworks by Debbie, all made within the past three years. The artist is generously donating all proceeds from the exhibition to the USI Art and Design department; all works will be available as gifts to those who donate to the Art and Design program through the USI Foundation. Each sculpture available has a minimum suggested donation, artworks can be shipped to buyers at an additional cost.
An elegant reception for the exhibition will be held on Friday, December 16th beginning at 4 p.m. Live music and refreshments will accompany the artworks, with time for conversation with the artist. 
This exhibition will be displayed in the galleries from December 12 through December 19. The MAC/PACE, located in the lower level of the Liberal Arts Center, is open Monday through Friday from 10 a.m. to 4 p.m. and open on Sundays from 1 p.m. to 4 p.m.
Please click an image below for details, availability, and a full view.
Dimensions are height x width x depth in inches. All works created 2019-2022. Most works have two images shown. 
Items without a reserve price listed are no longer available.
For more information or to request a call-back, please email Brett Anderson. To purchase a work, please phone him at 812-228-5176. 
Photography by Bailey Roby and Amanda Meuth.