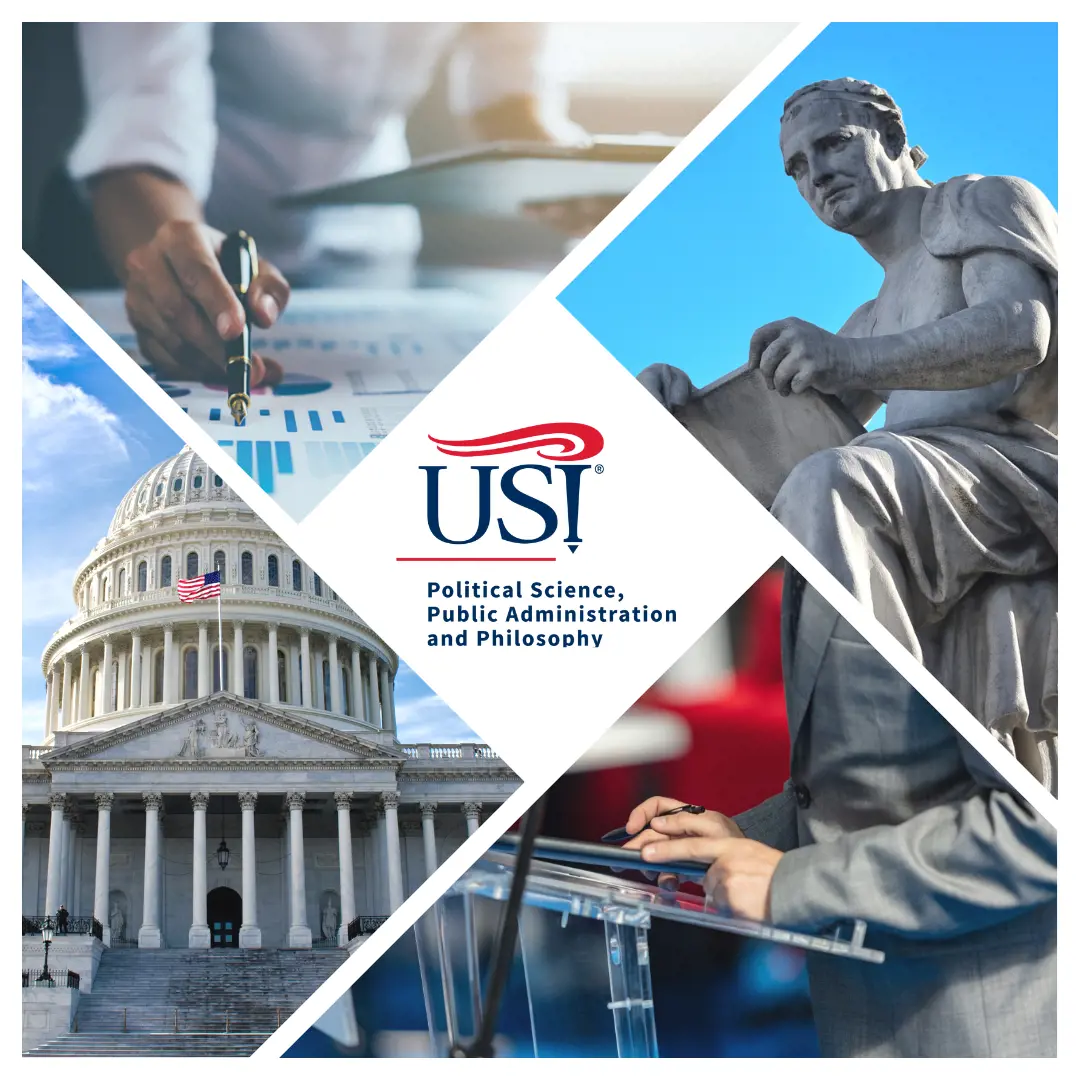 Political Science
Political science majors are some of the most articulate and dynamic students at USI. They acquire experience in campaign, legislative and nonprofit internships. Our graduates have taken jobs at all levels of government and in politics, law, business, nonprofit sector, education, and media. The skills acquired during the program will prepare you to be a positive force for change in our society no matter your chosen career path.
The political science major offers two concentrations of study: Government, Law and Diplomacy (GLAD) and Public and Nonprofit Administration (PNPA). Each student will select a concentration. A student may earn a second concentration by adding a minimum of 12 unique hours not previously applied to the major/concentration. The program offers a Bachelor of Arts and a Bachelor of Science degree options. For those wishing to pursue graduate-level education, the department also offers a Master of Public Administration.
Choose a major concentration:


---
Philosophy
Philosophy majors are some of the best regarding analytical, critical thinking, verbal, and quantitative reasoning skills. The courses in the philosophy major teach students to think logically, critically, and ethically. Philosophy majors are appreciated on the job market for their portable skills and occupy top positions in business and government. Their higher than average scores on standardized tests like LSAT, GMAT and GRE facilitates excellent admission to law school and graduate schools. Philosophy majors pursue a variety of careers, such as law, health professions, local, state, and federal government, business, and science.
Students pursue a Bachelor of Science or Bachelor of Arts degree. The latter, requiring 12 hours of a non-English modern or classical language, is preferable for those interested in more advanced degrees.
---
Pre-Law and Legal Studies Minors
Students interested in legal careers can gain valuable experience by completing the interdisciplinary minor programs in pre-law and legal studies. The pre-law minor is aimed at students who wish to attend a law school. The legal studies minor is aimed at students who wish to pursue legal careers that do not require a law degree (such as paralegals).
---
Religious Studies Minor
The Religious Studies minor is an interdisciplinary program which brings together courses and faculty from a variety of departments, such as Philosophy, Political Science, History, Economics, English, and Art. The minor will be an excellent complement to any major offered at USI and can enhance career opportunities in such areas as ministry, history, journalism, philosophy, law, psychology, social work, world languages, and international business.
---
Associate Degree
The department also offers the Associate of Science interdisciplinary degree designed for students who anticipate the need for only two years of college education.