---
Where Are Our Majors Today?
---
Caitlin Daymon
May 2023 - Global Studies, Political Science, and French Studies Majors
After graduation, I am going to serve as a Peace Corps volunteer in Madagascar! There I will work closely with the community to increase food stability through bio-intensive agriculture techniques. Additionally, I will have the opportunity to provide nutrition education for women and children that promotes a diverse and nutrient-rich diet.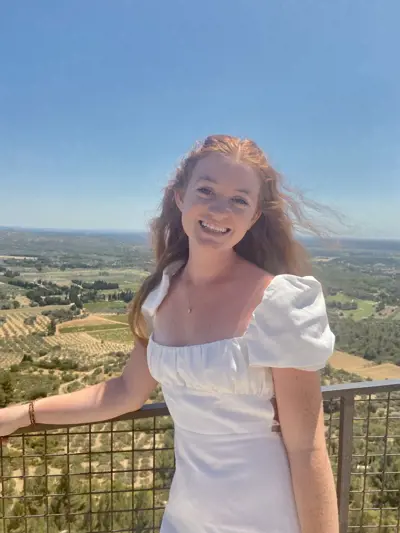 Grant Beaman
Dec 2019 Global Studies and Spanish Majors
Dec 2020 MBA 
Training Specialist in the medical manufacturing industry. Does the following: - translate and correct quality documents in Spanish and English - deliver new hire orientation in Spanish and English - creating and implementing training strategy to improve production needs.
Hunter Bair
Dec 2020 Global Studies & Spanish Majors, Minor Marketing
Administrative Specialist at the English Language Institute (Intensive English Program) at the University of Tennessee. Job includes:  -issuing I-20 documents for F-1 students as DSO -Advising and recruiting prospective students via phone, email, and social media -Oversee and budget for 3 departmental accounts (accounts receivable, accounts payable, and procurement card transactions -Plan and coordinate a variety of educational, academic, social, and adjustment activities including international orientation, training sessions, and departmental outreach.
Hope Baker

Global Studies Minor, 2020
I recently got my dream job as an assistant English teacher in Japan! I will be working for a company called Altia Central, which is based in central Japan. I will graduate from USI with an English Literature degree and a minor in global studies. Through my love of English, and children, I knew I wanted to become an English teacher and through the global studies program and my study abroad experience in Nagoya, Japan, I knew exactly where I would like to teach English. Thanks to the global studies program I was able to find a job that truly called to me. I realized how much I love learning about the world, and how I can continue to do this by getting a job in another country. By combining my English major and global studies minor I got the best of both worlds with becoming an assistant English teacher within Japan. I have done a ton research on recruiting companies in Japan, and besides the JET program, Altia is one the of the best recruiting companies in Japan. While there is not a lot of information on this company, I found Youtubers who have videos talking about their experience with Altia, blogs, and have even got into contact with people previously employed.
Through several years of research, because one should not take lightly uprooting your life to move across the world, I decided Altia was the best fit for me. I applied for the position on September 1st, 2020 and had my first interview September 3rd. Typically, interviews are done face-to-face but because of COVID we had to do it over Skype. It was very focused on getting to know me, and what I believe is needed to be an assistant English teacher. Then, I got asked to send in a 5-minute demo lesson along with a survey, that showed how I would interact with the class. September 27th was my second interview, which involved going over my demo lesson, the survey, and then a Japanese language interview (this is not required for most recruiting companies, Altia happens to prefer you know basic Japanese). After this interview they informed me that they were going to contact my references, and then on October 29th, I got offered the position. Their reply time was remarkable considering the time difference. I also felt like this company truly cares about their employees and want the best for the children we will be teaching. Ultimately, this helped me decide this was the company for me. I would highly recommend this company or teaching English in Japan!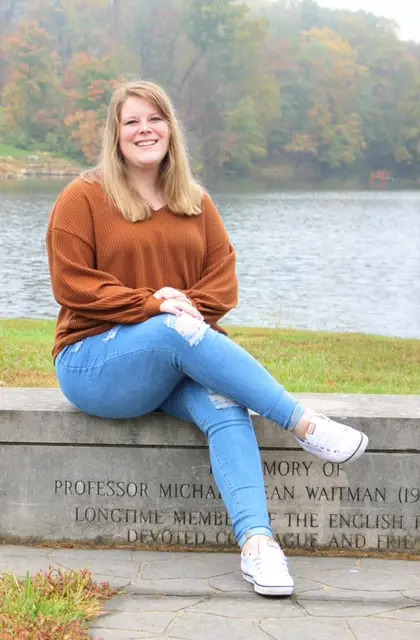 Balkis Chaabane

Global Studies Major, 2018
Balkis Chaabane (right) is a member of the World Youth Alliance (WYA) - an organization started in 1999 that has grown to include tens of thousands of members around the world, all dedicated to the defense of the dignity of the person through education, culture, and advocacy. As a member of WYA, Balkis attended the 2018 International Solidarity Forum (ISF) training session in New York at the United Nations.
"The ISF provided a first-hand on experience, a chance to meet like-minded change makers and WYA members from all over the world. It most importantly allowed us to talk to professionals in the field, people who spent most of their lives working in favor of such solutions and promoting human dignity."
You can read more about her experience here.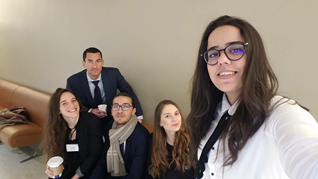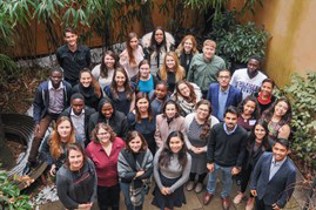 US Embassy in Indonesia
Toni Brink: "I am posted to the US Embassy in Indonesia… What USI gave me was the opportunity to study under creative and caring faculty, like Dr. Aakhus, Dr. Mackay, and Heidi Gregori Gahan, who encouraged experiential learning and resourcefulness. This mindset and the habits formed at USI ultimately made me competitive, and five years into my diplomatic career I am on equal footing with my Ivy league colleagues. My most memorable IR courses were actually "Alchemy, Magic, and Mysticism" and "Travel Writing." These courses have proven more valuable to me than international politics or international law because they made me a more interesting person. Patty also encouraged us to study abroad in a foreign language and to pursue more than one foreign language. I studied abroad in French and German, and being able to demonstrate my ability to navigate different cultures and learn languages quickly was critical to my diplomatic career. I would encourage current students to complement their IR degree with at least one language and language-based study abroad. I would also encourage them to take courses simply because they are intellectually interesting; those are, after all, the only courses they'll likely remember anyway."
French Teacher at International School, GA
Tharushi Wattewewa: "I was an International Studies and a French major at USI from which I graduated in April 2018. I currently live in Atlanta, GA where I am a Teacher of at International School. I teach French and serve as a cultural bridge for parents of other cultures who have difficulties in communicating with the team. Although this is not frequent, working with children of different cultures and countries makes my day. Every day brings a new challenge and being the bridge between two groups brings me much joy. International Studies majors don't necessarily focus on the corporate job market. Have an open mind and challenge yourself to see how far you can go."
Peace Corps, Albania
Damien Lee: "I am currently serving in the peace corps in the country of Albania. I teach English for grades 8-12 in a small village. I also lead a Girls Empowerment Group and help coordinate cultural activities, celebrations and different ways to engage students. I have done things from showing locals how to cook American foods and teaching self-defense courses."
Masters degree in International Business Law (ESADE Law School)
Mauricio Paniagua: "My name is Mauricio Paniagua a former student-athlete at USI with double major in International Studies and Spanish Language. Thanks to my studies at our prestigious university I was able to work in many places around the world during the last years such as:
OSK Marketing and Communications at New York, Mercedes Benz public relations department
G-77 + China Summit at Santa Cruz
Bolivia, international press department
TMF group, at Barcelona-Spain. Legal department. Also my bachelor in INST helped me to get my masters degree in International Business Law at ESADE Law School where I had the experience to take part of the European Union seminar for lawyers in the headquarters at Brussels."
Senate in Indianapolis
Katie Weber: "I an international studies and Spanish double major. I graduated in 2016 and since then I have been working for the Indiana State Senate as a legislative assistant to two senators. I'm currently earning my MBA trough USI's accelerated online program while working my full time job at the Senate in Indianapolis. I will be at USI's job fair with the legislature later this month if anybody wants to stop by and chat with me."
Transportation planner in Nashville, TN
Peter Williams: "I graduated from USI in 2011 double majoring in International Studies and Spanish. During the program, I studied abroad in Argentina and did a research project in the Dominican Republic. After graduating, I earned a TEFL certification and taught English in both Guadalajara and Veracruz, Mexico. Later, I toured Europe. Professionally, I served with AmeriCorps in the University Division at USI and worked as a graduate research assistant while earning a Master of Urban Planning degree from the University of Louisville. I now work as a transportation planner in Nashville, TN. For me, the International Studies program cultivated a sense of adventure, compassion, and learning and prepared me well for additional education and graduate school."
Travel Agent in Louisville, KY
Heather Hurst: "I graduated in 2011 with a degree in International Studies from USI. I am currently working full-time as a Travel Agent in Louisville, KY. I worked previously at the Frazier International History Museum. I interned at the Muhammad Ali Center. I travel frequently both internationally and domestically.  A large part of our business is leading school groups to destinations like Washington, DC, New York, and Boston. We also book large groups that we guide on international trips. The Travel Industry is a huge field, and they are many ways to work within the field. I encourage anyone with a passion for travel, or interest in international relations, to explore a career in tourism. From airlines, to cruise ships, to vacation planners, or even business travel, people will always travel, so be a part of this wonderful industry."
General Counsel and Director of Practice Growth for SmartBox Dental Marketing

Gary Wilson
College: Studied abroad in Florence, Italy for a semester; Studied abroad in Buenos Aires, Argentina for an Academic Year
Law School: Attended Case Western Reserve University School of Law on an Academic Scholarship and graduated; held an internship with the Chilean Ministry of Justice; did a research trip to Guatemala as part of a course on child welfare. 
Career: "Currently I am the General Counsel and Director of Practice Growth for SmartBox Dental Marketing; a digital marketing agency based in New Albany, IN, that serves more than 500 clients in 3 continents." 
Other Updates
Cody Draper is an Archives Intern with the City of Evansville.
Amanda Parker interned with Uncharted International in Evansville.
Irene Villanueva interned at the Evansville Museum in summer 2017.
Hope Peckenpaugh '17 was admitted to the Master of Health Administration program at USI and works as a graduate resident advisor at USI.
Taylor Heath '17 was admitted to the Master of Public Administration at USI and works as a graduate assistant in International Programs and Services.
Damien Burge '16 is an English teacher for the Peace Corps in Albania.
Kaitlyn Weber '16 is a Legislative Assistant with the Indiana State Senate. 
Tiguidanke Diakaby '15 is working with Americorps Vista and the Marion County Commission on Youth.
Chelsey Mayser '14 worked at Uncharted International in Evansville.
Amy Shipman '13 is a Study Abroad Coordinator at San Jose State University. 
Chelsey Mullins '11 is a Study Abroad Advisor at Purdue University.