---
CROSSROADS OF GEOLOGY
---
by William S. Elliott, Jr., Chair, USI Geology and Physics
---
---
---
---
---
---
---
---
---
---
---
The science of Geology has a long history in southwestern Indiana.  For almost 200 years, New Harmony has been the home of pioneers that led groundbreaking geological excursions, explorers of natural science, and the first State Geologists of Arkansas, Illinois, Indiana, Kentucky, Missouri, and Tennessee.  In addition, this community of thinkers led to progressive educational views, establishment of public libraries, and vitality of art to civilization.  The Geology and Physics Department at the University of Southern Indiana (USI) continues the important study of the Earth and addressing critical issues facing modern society such as global climate change, renewable energy, and fresh drinking water.  Additionally, Historic New Harmony continues to engage artists, educators, scientists, and the public through cultural and educational programs and management of historic properties.
---
---
---
---
---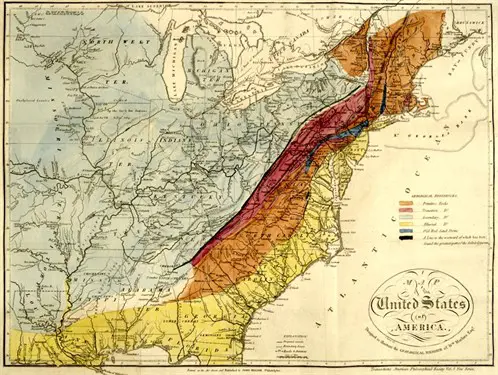 Geologic map of the eastern portion of the United States published by William Maclure in 1818.
William Maclure (1763-1840) was born in Ayr, Scotland and made a fortune through a mercantile career that permitted him early retirement in 1797, and thus the freedom to undertake academic pursuits.  In particular, he was intrigued by geology and the progressive Pestalozzi School System, named for the Swiss educator Johann Heinrich Pestalozzi (1746–1827).  Although not clearly established, William Maclure's interest in geology probably originated by ideas proposed by fellow Scottish Geologist James Hutton (1726-1797), Father of Modern Geology, who lived most of his life in in Edinburgh, Scotland.  Hutton published a two volume "Theory of the Earth" in 1795 concluding that "we see no vestige of a beginning… no prospect of an end."   Hutton also established that some rocks formed from lava, in comparison to other theories of the time.   William Maclure is known as the "Father of American Geology", publishing the world's first geologic map in 1809.  The 1809 geologic map of the United States predates the first detailed geologic map of England and Wales published in 1815 by William Smith (1769-1839).  Prior to a detailed Geologic Time Scale, Abraham Werner (1749-1817) postulated age relationships of rocks.  This early time scale was used by William Maclure for his 1809 geologic map of the United States, and his revised geologic map of the United States published in 1817.  Modern geology is much more comprehensive in determining age relationships, but was developed by these early pioneering geologists.
The Harmonists, led by Father Johann Georg Rapp (1757–1847), established the town of New Harmony in 1814.  The settlers of this self-sustaining pioneer town in the American frontier used natural resources such as local stone for building, clay for brick, and water for milling.  The Harmonists grew citrus trees using seasonal greenhouses, established a Midwest viniculture, and produced market goods, such as rope and textiles.  Because of difficulties in transport to eastern markets, the Harmonists moved their community to western Pennsylvania and founded the town of Economy in 1825. 
Robert Owen (1771-1858) was born in Newton, Wales, and married Caroline Dale in 1799 in Scotland, the daughter of the New Lanark mill's proprietor David Dale.  Robert Owen's success with mill operations made him a rich industrialist by the early 19th Century.  In his industrial pursuits, Robert Owen evolved into a social reformer interested in developing a balanced and educated society. 
To expand his ideas on social reform, Robert Owen purchased the town of New Harmony from the Harmonists to establish a Utopian society of artists, scientists, and social reformers in 1824.  William Maclure collaborated with Robert Owen and encouraged many educational reformers and natural scientists to join this social experiment.  The first group of scientists, artists, and reformers arrived in New Harmony in January 1826.  This arrival has been traditionally referred to as the "Boatload of Knowledge".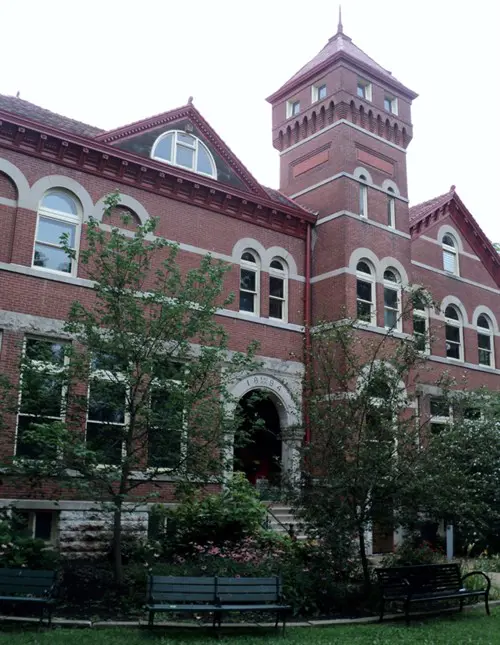 The WMI Building in New Harmony, Indiana (2014).
William Maclure was committed to education, the natural sciences, and the arts.  While in New Harmony, Maclure established the Disseminator, a newspaper sharing insights into science, the arts, and education.  In 1838, Maclure founded the Working Men's Institute (WMI) to provide a learning resource to common persons.  Upon his death in 1840, his estate allocated funds to establish similar institutes across Indiana.  The WMI in New Harmony is the only one that remains open, and is the longest continually operating public library in Indiana.
The Victorian Romanesque Revival building that currently is home to the WMI was built in 1894, funded by Dr. Edward Murphy.  The second floor of the WMI houses a Museum containing art, natural history, and artifact collections.  As part of the Bicentennial Celebration, a new exhibit celebrating the historical significance of New Harmony to geology in North America was opened in August 2014.  In addition, there are two classroom kits and guides available to teachers that introduce students to fossils and minerals.  These teaching kits may be signed out from WMI, or used for activities at the WMI.